Powerful Graphical Support Software for Industrial Ethernet from Ethernet Direct
Taipei, Taiwan

, (PresseBox) -
Ethernet Direct Corporation, a professional and primary provider of Industrial Networking and communication solutions, offers the most powerful graphical support software for Industrial Ethernet.

Ethernet Direct now offer several different versions of IntraVUE that can match customer's applications as well as budget. Ethernet applications in the Industrial market are continually evolving. Moving from traditional IT based high level communications to real time applications in separate and sometimes isolated networks, Ethernet support by local resources is now becoming more important.

IntraVUE Lite is a full featured version targeted at PLC and Process control applications providing useful information minutes after deployment. Unlike SNMP and Shareware applications which can takes hours if not days to configure, and then require constant updating for newly connected devices, IntraVUE Lite's ease of use along with automatic discovery and mapping will provide immediate value. Continuous monitoring will provide immediate notification while powerful graphics will mean reduced time to identify a problem. This powerful graphical support software allows control engineers and technicians to troubleshoot and configure Ethernet networks. The software works "Out of the Box" without configuration and constant adjustment for new devices.

Ethernet Direct is very serious about becoming the leading supplier of Industrial Ethernet Hardware and Software. There are now over 600 successful applications of IntraVUE worldwide. IntraVUE software has also evolved over the last several years to provide faster response times and enhanced graphics such as our new Trending Features, and Advanced Event Log.

To learn more about IntraVUE Lite, please visit the Ethernet Direct Global Network, www.ethernetdirect.com or www.ethernetdirect-tw.com.
PcVue GmbH
Die 2006 gegründete PcVue GmbH ist deutsche Tocher der ARC Group, einem privat geführten Unternehmen mit Sitz in Paris, Frankreich. Das Unternehmen produziert und vermarktet fortschrittliche, hoch flexible und skalierbare HMI, SCADA Software, die einfach zu konfigurieren, schnell einsatzbereit und sowohl in kleinen, aber auch sehr großen Projekten einsetzbar ist. Ursprünglich für die Prozessindustrie entwickelt, wird die Software des Unternehmens nun auch in den Branchen Infrastruktur, Utilities, Energie und Gebäude-Management eingesetzt. PcVue GmbH bietet Software, Hardware und Anwendungs-Support als globaler Dienstleister für die Infrastruktur, HMI, OEM, Gebäudeautomation, Energieerzeugung und Verteilung, Flughafen, Batch-und kontinuierlichen Prozess Automatisierung an. Das Hauptaugenmerk liegt auf erstklassigen Service und Support für End-Kunden, Distributoren und Systemintegratoren.
Sowohl ISO 9001 und ISO 14000 zertifiziert, ist das Unternehmen über eine internationale Präsenz durch direkte Vertriebsniederlassungen in den USA, Europa und Asien international aufgestellt.. Das Unternehmen hat OEM-Vereinbarungen und erlaubt, Versionen von ARC Informatique Software unter anderen Marken zu nutzen. Bis heute wurden mehr als 58.000 Lizenzen ausgeliefert.

Press releases you might also be interested in
Weitere Informationen zum Thema "Netzwerke":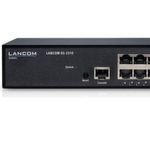 Gigabit-Switch für Filialen, KMU und Homeoffices
Sei­nen 8-Port-Gi­ga­bit-Switch GS-2310 hat Her­s­tel­ler Lan­com für die Ver­net­zung in klei­ne­ren Bür­os, Fi­lia­len und Ge­schäfts­räu­men vor­ge­se­hen. Hier­für ha­be man dem Switch ein kom­pak­tes, lüf­ter­lo­ses De­sign und ein ro­bus­tes, rutsch­fes­tes Me­tall­ge­häu­se ver­passt.
Weiterlesen