Increased VAS Opportunities for Mobile Operators in 2011 and Large Variety of Dictionary Titles from the World's Top Publishers by Paragon Software
Available for all mobile platforms, latest handsets, in 34 world languages
Mobile World Congress, Barcelona, SPAIN

, (PresseBox) -
Paragon Software Group, a leading software developer for mobile devices and desktop computers, announces the MTS Mobile Portal and Chat, the latest additions to its development services for wireless mobile carriers, including branded applications and custom services designed to add value to offerings provided by mobile operators to their customers. The MTS Mobile Portal and Chat were developed by Paragon Software exclusively for Mobile TeleSystems ("MTS" - NYSE: MBT) in a flagship agreement that launches a lineup of similar development services available to mobile operators worldwide.

Paragon's award-winning partnership development with Russian mobile operator MTS, the largest mobile operator in Russia and the Commonwealth of Independent States (CIS) with over 102 million customers, made headlines in 2009 with the launch of the MTS Catalogue - a customizable, single-point directory of essential applications and services provided free of charge to MTS subscribers. Within the first two months of launch, nearly 27,000 MTS subscribers accessed the Catalogue, a mobile content repository that includes dictionaries, weather forecasts, foreign exchange rates, email tools, newsfeeds and Kaspersky antivirus software. MTS reports that its web traffic increased by 124 percent during the period and allowed the carrier to offer valuable, custom-branded solutions for a wide range of available mobile platforms. The program was honored by UK-based Global Telecom Business as the "Best Consumer Mobile Service Innovation" of 2009.

In 2011, Paragon Software launches two additional services for MTS - the Mobile Portal and Chat. The Mobile Portal application allows MTS subscribers to easily access phone bills and manage applications and MTS services - all on the same interface from a single point. Mobile Portal benefits MTS subscribers who want to independently manage their telecom services, billing information and plan options at any time of day without the need to engage MTS consumer helpline.

Also launched under the same partnership initiative was MTS Chat - an online, real-time communication method that allows the instant exchange of messages. Previously designed as a communication tool for desktop and laptop computers, the Chat technology connects MTS-activated mobile devices via a chat interface, enabling messages to be typed instantly to one or more users at a time, a method that has proven quicker and more convenient than SMS text messaging. The Chat technology is available to WAP- and GPRS/EDGE-enabled mobile devices across all platforms.

"Paragon's 15-year experience in developing mobile applications for the widest range of operating systems was a factor in our success with the MTS project," says Alexander Zudin, CEO of Paragon Software Group. "We see mobile app-based value-added software as a viable growth point, which will allow for increased carrier earnings due to the natural connection between the operator and its customers. Carriers are increasingly seeking out mobile app-based VAS to open up new revenue streams, and Paragon has proven experience in developing for this niche."

MTS and Paragon Software Group continue to cooperate to offer an increasing variety of new services and products, and to support new devices and mobile platforms coming to the market. Paragon Software Group is currently in the planning stages of developing similar custom-branded solutions for a number of global wireless carriers.

In addition to its partnership arrangement with mobile operators, Paragon Software Group continues its vision of providing the most complete collection of premium reference content to an increasing range of mobiles, including the newest iOS and tablet devices. Currently, Paragon Software Group has developed hundreds of dictionaries, thesauruses and phrase books for iPad through its partnerships with world-leading publishers Akadémiai Kiadó, AST-PRESS, Berlitz Publishing, Dar El Ilm Lilmalayin sarl, Duden Language Technology, Editura Litera, Enciclopedia Catalana, Encyclopedia Britannica, HarperCollins Publishers Limited, Kosmos Uitgevers, Larousse Editorial, S.L., Langenscheidt KG, Merriam-Webster Inc., PONS GmbH, Russkiy Yazik Media, SEV Matbaac?l?k ve Yay?nc?l?k E?itim Tic.A.?, Van Dale Uitgevers, Vydavatel'stvo Príroda. Monolingual and bilingual "talking" dictionaries and phrase books that take advantage of the richest device features can be found in Arabic, Chinese, Dutch, English, French, German, Greek, Hungarian, Italian, Japanese, Polish, Russian, Spanish, Turkish and other languages by searching "Paragon Software" at the iTunes App Store.

Follow Paragon Mobile Products on Twitter:
http://twitter.com/Paragon_Mobile

Find us on Facebook:
http://www.facebook.com/pages/Paragon-Software-GroupMobile-Products/188145097131
Paragon Software Group
Paragon Software Group invites Android and BlackBerry users to download the most recently released title developed in conjunction with Encylopaedia Britannica - Britannica Concise Encyclopedia 2011 (English and Spanish editions). Previously available as a 2010 version for iOS devices, the new 2011 version of the world's most trusted encyclopedias includes the latest content with more than 10,000 additional entries, nearly 2,700 full-color maps and images, hyperlinked articles, and easy-to-use search functions, empowering a diverse class of mobile users with a world of knowledge available locally to their mobile devices. A special 33% discount is available for Android and BlackBerry versions through February 17, 2011, at the Penreader site by using promo code "MWCPROMO" at http://www.penreader.com/... or http://www.penreader.com/.... The Spanish edition can be downloaded at http://www.penreader.com/... or http://www.penreader.com/....


Press releases you might also be interested in
Weitere Informationen zum Thema "Software":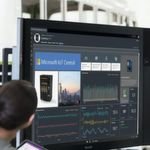 IoT-SaaS-Lösung für den einfachen Einstieg in das Internet der Dinge
Mi­cro­soft IoT Cen­tral ist ab so­fort als Pu­b­lic Pre­view ver­füg­bar. Mit der neu­en Soft­wa­re-as-a-Ser­vice (SaaS)-Lö­sung kön­nen Un­ter­neh­men ver­netz­te Pro­duk­te, Sys­te­me und Ma­schi­nen ent­wi­ckeln, be­reit­s­tel­len und zen­tral ver­wal­ten. So soll sich die Kom­ple­xi­tät beim Ein­s­tieg in das In­ter­net der Din­ge (IoT) ver­rin­gern: Ei­ne aus­ge­wie­se­ne Ex­per­ti­se für das Auf­set­zen und Ver­wal­ten von Cloud-In­fra­struk­tu­ren ist da­für nicht er­for­der­lich.
Weiterlesen