Vodafone & Telecom Italia get the iPhone - but the plot thickens
Independent analyst comment / Steven Hartley, Ovum senior analyst
Köln

, (PresseBox) -
"These announcements have somewhat predictably sent the media into frenzy, with discussions ranging from Apple's business model being proven to have failed, through to further speculation of a 3G capable device. However, we feel that the announcements show a great deal of expediency from all the players."

"Italy will be the first market in which Apple hasn't signed a purely exclusive deal and much has been made of how this shows the weakness of their approach. However, Italy has the second highest proportion of prepaid in Western Europe (87% in March 2008), far higher than any of the five major Western European markets. Given that the iPhone is likely to be available only to contract customers, the Italian market simply requires a different approach to attract sufficient customers. We expect there to be further markets where Apple needs to work with multiple operators to make offering the iPhone viable."

"The announcement has also done nothing to dispel rumours of an impending 3G version of Apple's iPhone. During last year's frenzied speculation Vodafone stated that it was not interested in the iPhone without 3G. Something has changed and with other rumours fuelling the flames, yesterday's announcement suggests that it wasn't Vodafone's position. Most importantly the timing of 'later this year' would imply a different product to that available currently. If it was the current product, why wait? Unfortunately, when we spoke to Vodafone it would neither confirm nor deny the speculation."

"From Vodafone's perspective the markets contain none of the juicy top tier markets, but this deal is the largest number of markets for any one operator to date. Also Italy and India offer large volume potential, while the Czech Republic and Australia are sufficiently mature to offer sizeable data-centric demand. Of course the issue of 3G licensing and availability in India and Turkey raises an interesting perspective on the above 3G device speculation. However, both networks are EDGE-enabled, in the main cities to which the device will be marketed, and with 3G licensing expected to progress this year, the iPhone could be a powerful tool to position Vodafone at the forefront of data services in the meantime. Ultimately, Vodafone can be pleased with the scale that the deal provides."

"From Apple's perspective the most notable market exclusion in Europe is now Spain, which with O2 the provider in the UK suggests that Telefonica is the logical choice. Furthermore, with the Vodafone announcement suggesting a major global expansion of the iPhone's legitimate distribution, it is logical to assume that Telefonica would also enable Apple to enter Latin America. Now that Vodafone has overcome its reservations, it will be interesting to see if Telefonica follows suit soon."

"So Apple has expanded its footprint and Vodafone and Telecom Italia have joined the iPhone circus. All the players will benefit from the heightened media interest. However, Vodafone, although not carrying the iPhone in the choicest markets, benefits most, particularly if 'later this year' it is found that it has got the device that it wanted last year."
Ovum
Ovum is a global advisory and consulting firm. Its primary activity is providing value-added advisory services and consulting to retained and project clients. The company acts as a well-respected and trusted source of industry data, knowledge and expertise on the commercial impact of technology, regulatory and market changes. Ovum engages in continuous research and industry analysis to determine market dynamics in its specialist sectors.

Ovum has developed long-standing relationships with many of its corporate clients, which include major international blue-chip companies such as Alcatel-Lucent, AT&T, BT, Cable & Wireless, Cisco Systems, Deutsche Telekom, Fujitsu, HP, IBM, Microsoft, Telstra and Vodafone.

Ovum is part of the Datamonitor Group.
Press releases you might also be interested in
Weitere Informationen zum Thema "Kommunikation":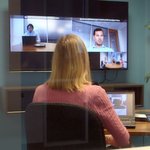 Lifesize integriert Cisco und Polycom
Die Cloud-ba­sier­te Vi­deo­kon­fe­renz­platt­form von Li­fe­si­ze bin­det Po­ly­com- und Cis­co-Sys­te­me nun so ein, dass die­se naht­los mit um­fang­rei­chen Col­la­bo­ra­ti­on-Funk­tio­nen funk­tio­nie­ren. Wei­te­re Up­da­tes sol­len zu­dem Qua­li­tät und Nut­zer­f­reund­lich­keit der Li­fe­si­ze-Lö­sung stei­gern.
Weiterlesen