electronica 2012: Osram - the complete supplier of semiconductor lighting solutions
Regensburg

, (PresseBox) -
Wherever there is light, you will also find semiconductor light sources from Osram Opto Semiconductors: in the automotive sector, the entertainment industry and even the security environment. At this year's electronica fair (booth 107 in Hall A3) the company will therefore be highlighting its role as a complete supplier of semiconductor lighting solutions. This leading international exhibition of components, systems and applications will provide an opportunity to see the new Displix LED for the first time. This LED has been designed specifically for outdoor displays. Osram will also be showcasing the Oslon LX LED, which is intended for daylight running lights for small automobiles, and a prototype of the smallest ever LED for vehicle forward lighting, the Oslon Compact.

Automotive - the complete range

The German semiconductor specialist will be using this Munich fair to highlight its expertise in lighting for the automotive sector. Osram Opto Semiconductors will be presenting a new generation of LED light sources for interior and exterior applications and also some infrared emitter diodes. These can be used for example in night vision devices for added road safety, and because they automatically increase the brightness of the interior lighting they make driving even more comfortable. All the semiconductor light sources can be seen directly in their particular applications. A forward lighting system will be used to demonstrate how the various functions such as high beam, low beam, daytime running light, fog lights and night vision can be implemented with different LED types.

The complete product portfolio will be on show. Osram Ostar Headlamp Pro will demonstrate what high beam looks like with LEDs, and the new Oslon Compact will do the same for low beam. Thanks to its compact design combined with high light output, this prototype will open the floodgates for the use of LEDs for all aspects of automotive forward lighting. The yellow Oslon Black Flat is installed in the flasher; in white it provides excellent visibility in fog. The Oslon LX 120 provides unmistakable daytime running light. The focus here is on the essential functions of brightness and quality so LED lighting is affordable even in subcompact vehicles.

Another highlight at the Osram booth can be found inside the vehicle: the air-conditioning can be controled by a gesture recognition system so that it reacts to hand movements. In this case the SFH 7770 E6 ambient light and proximity sensor operates in conjunction with two infrared Midleds in the background. The interior lighting reacts in a similar way when someone approaches the sensor. The lighting gets brighter or darker depending on the direction of movement. A dashboard equipped with Multileds can also provide fascinating color changes.

Better safe than sorry

Making invisible light visible - you can experience that too, live at the booth. The basis here is the high light output of the IR components, which are among the very best in the infrared illumination sector. The enormous potential of the infrared components is demonstrated with the aid of a surveillance camera equipped with infrared Dragon LEDs. The IR Dragon is based on nanostack chip technology which can achieve almost twice the optical output as conventional emitters. The infrared Oslon also benefits from this chip technology. It is currently the smallest infrared LED with an optical output of more than one watt and provides the basis for extremely compact lighting units for CMOS and CCD cameras. It is used in an iris scanner at the booth.

Entertainment - the ultimate light show

An outdoor display indoors. Osram's new Displix black and Displix blackprint multi-chip LEDs can be seen for the first time at the fair. They are resistant to fluctuations in temperature and high humidity levels, and offer high-contrast images even in bright ambient conditions.

The high power of state-of-the art projectors is demonstrated by some impressive light shows. The projectors used here come from different performance classes, and all have brilliant LEDs incorporated in them. The Osram Ostar Projection Cube is a good example. The new Osram Ostar Stage produces strong colors in powerful moving head spotlights, giving a superb performance.

For pure entertainment look no further than the Multitouch-Table. Behind its playful façade lies cuttingedge technology - an optical system with infrared transmitters and receivers producing stunning results thanks to nanostack chip technology.

For more information on Osram at electronica go to the Internet.
Osram Opto Semiconductors GmbH
OSRAM GmbH, a wholly owned subsidiary of Siemens, is one of the two leading lighting manufacturers in the world. Its subsidiary, OSRAM Opto Semiconductors GmbH in Regensburg (Germany), offers its customers solutions based on semiconductor technology for lighting, sensor and visualization applications. Osram Opto Semiconductors has production sites in Regensburg (Germany) and Penang (Malaysia). Its headquarters for North America is in Sunnyvale (USA). Its headquarters for the Asia region is in Hong Kong. Osram Opto Semiconductors also has sales offices throughout the world. For more information go to www.osram-os.com.
Press releases you might also be interested in
Weitere Informationen zum Thema "Elektrotechnik":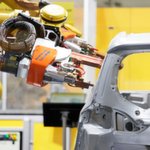 1,7 Millionen Industrie-Roboter erneuern Fabriken weltweit bis 2020
Bis 2020 wer­den mehr als 1,7 Mil­lio­nen neue In­du­s­trie-Ro­bo­ter in den Fa­bri­ken der Welt in­stal­liert. Die Ro­bo­tik-Bran­che in Asi­en ver­zeich­net da­bei ak­tu­ell das stärks­te Wachs­tum – an­ge­führt von Chi­na als Welt­markt­füh­rer. Im Jahr 2017 sind die Ro­bo­ter­in­stal­la­tio­nen in der Re­gi­on Asi­en-Aus­tra­li­en vor­aus­sicht­lich um 21 Pro­zent ge­s­tie­gen, in Nord- und Süda­me­ri­ka um 16 Pro­zent und in Eu­ro­pa um acht Pro­zent. Das sind Er­geb­nis­se aus dem World-Ro­botics-Re­port 2017, der von der In­ter­na­tio­nal Fe­de­ra­ti­on of Ro­botics (IFR) ver­öf­f­ent­licht wur­de.
Weiterlesen