LEDs from OSRAM Opto Semiconductors illuminate supermarkets in the Jerónimo Martins Group
Luminaires from Arquiled with Oslon SSL LEDs in all of the food retail group's new stores
Regensburg

, (PresseBox) -
The Jerónimo Martins Group is among the first European retail companies to equip its new stores entirely with innovative LED lighting, a move that will save the company 50 percent of its lighting energy costs in future - thanks to Oslon SSL LEDs from OSRAM Opto Semiconductors and the intelligent light management system of the luminaires supplied by the Portuguese lamp manufacturer Arquiled.

The Jeronimo Martins Group has been using the luminaire concepts from Arquiled in its new stores since spring 2011. The first LED-based lighting systems were installed in a newly opened Recheio store in Torres Vedras, a rapidly growing region north of Lisbon. The lighting in both the shop and the outdoor areas is being seen as a model and reference for the chain's other stores. The next project is already being planned for a store in Tavira, Portugal, where Arquiled will likewise incorporate products from OSRAM Opto Semiconductors in its special lighting concept, aiming to achieve the highest quality of the LEDs used. "Apart from the performance and efficiency of the products, which are unparalleled on the LED market, another winning feature of the LEDs from Germany is the excellent local support we receive," says Arquiled's CEO, Rafael Abelha Santos, explaining the background of the partnership.

Intelligent light management for outdoor areas

The Jeronimo Martins Group also elected to use luminaires from Arquiled and high-quality LEDs from OSRAM Opto Semiconductors for its outdoor lighting in the area of the parking lots and around the integrated gas stations. The Arquicity street lamps are equipped with light sensors and can adapt their brightness automatically to changing situations. The combination of intelligent light management and the low energy consumption of the LEDs will slash energy costs. "The technical properties of the LED technology will help to achieve considerable savings on power consumption and offer numerous advantages in terms of installation and maintenance, too. That means we save three different resources: power, time and money," said Antonio Sousa, OSRAM Opto Semiconductors Portugal.

Tailored supermarket lighting

The project began with a detailed analysis of the retail chain's lighting requirements. Based on the results, Arquiled developed a luminaire concept to meet the special needs of supermarkets. LED lighting not only offers the advantage of a long service life and the associated low maintenance costs, but is also ideal for direct product illumination. LEDs generally emit very little thermal energy and do not heat up the objects they are illuminating. They can hence be positioned closer to products without damaging them.

Three Arquiled modules are to be used at the Jerónimo Martins in Tavira: the Arquiway, a module comprising 4 Oslon SSL LEDs; the Arquistore, with 72 Oslon SSL LEDs per luminaire; and finally, Arquishelf luminaires, which will provide special shelf lighting with 56 Oslon SSL LEDs, illuminating products in the ideal color temperature and displaying them at their very best.

More information on the luminaires used is available from Arquiled (www.arquiled.com). Technical data on the Oslon SSL LEDs can be found in the product catalog.
Osram Opto Semiconductors GmbH
OSRAM AG (Munich, Germany) is a wholly-owned subsidiary of Siemens AG and one of the two leading light manufacturers in the world. Its subsidiary, OSRAM Opto Semiconductors GmbH in Regensburg (Germany), offers its customers solutions based on semiconductor technology for lighting, sensor and visualization applications. OSRAM Opto Semiconductors has production sites in Regensburg (Germany) and Penang (Malaysia). Its headquarters for North America is in Sunnyvale (USA), and for Asia in Hong Kong. OSRAM Opto Semiconductors also has sales offices throughout the world. For more information go to www.osram-os.com.
Press releases you might also be interested in
Weitere Informationen zum Thema "Elektrotechnik":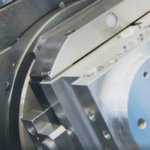 Eine offene Brücke für Big Data
Es klingt ganz ein­fach: In­du­s­trie 4.0 be­nö­t­igt Tech­no­lo­gie 4.0. Doch was ge­nau zeich­net ei­ne mo­der­ne Shop-Floor-Lö­sung aus? Auf wel­che Punk­te müs­sen Un­ter­neh­men ach­ten, wenn sie den Sprung ins IIoT wa­gen wol­len? In­du­s­trie-4.0-Spe­zia­list FOR­CAM stellt in ei­ner Ar­ti­kel­se­rie die wich­tigs­ten Mo­du­le vor.
Weiterlesen