Search and find quickly
OSRAM's new online tool makes it easy to search for the perfect vehicle lighting
München

, (PresseBox) -
Cars and commercial vehicles have a whole number of different light sources and lamps - from indicators to full beam and dipped headlights to reverse warning lights. But finding the right lamp right away is often not easy. At www.osram.com/applicationguide OSRAM now has a new online tool that simplifies product classification and selection.

Consumers who are looking for a lamp for their car now have the chance to find the right product to match their vehicle model online. A database of information on around 60 different manufacturers, plus the relevant makes and associated models allows them to select their particular vehicle. The tool then lists the lamps that fit each vehicle model and light source.

The website even provides a search function for all OSRAM light products that fit the large number of models produced by 13 of the major commercial vehicle manufacturers.

Here is how the online tool works in three easy steps:

1. Go to www.osram.com/applicationguide and click on "select your vehicle" to find the requested vehicle model.

2. An outline of the vehicle then shows all the lamps that are fitted to the particular car or commercial vehicle. By clicking on the relevant light an overview of the appropriate OSRAM lamps available appears. This includes information at a glance about the version, order number, ECE category to identify it clearly, precise technical details and the most important features. A photo provides additional convenience and guidance.

3. By clicking on "Select product" the selected lamp is placed in the product configuration, where the user's selection is stored and to which he or she can add any number of lamps. The selection can be easily printed out and used to buy the lamps at an OSRAM official wholesaler or retailer.

The tool also provides the option of selecting a product package. Users can pick out a combination of Night Breaker, Cool Blue or Light@Day lamps, for example, and ensure their vehicles are equipped with products from one family. The same applies to Xenon lamps - by using the online tool drivers can quickly and easily find the right lighting products in order to equip their cars with more light or bluish light.

A link to OSRAM's website provides a quick search for vendors of lighting products by postal address.

The welcome page of OSRAM's new online tool at (Go to www.osram.com/applicationguide and click on "select your vehicle" to find the requested vehicle model) provides an easy way of searching for the right vehicle lighting, where the user first selects the vehicle manufacturer and model.

Then the user can choose a new lamp - for any vehicle light that is required.

After choosing the light that requires a new lamp, an overview appears of the appropriate OSRAM solutions with all the important technical details and information about the product. A click on "Select product" at the lower left transfers the product into the user's product configuration, which can be printed out and used to purchase it subsequently.
OSRAM GmbH
OSRAM is part of Siemens' Industry sector and is one of the world's two leading lighting manufacturers. In FY 2008 (to 30 September 2008) it generated business worth €4.6 billion, of which 88% was in other countries. OSRAM is a high-tech business in the lighting industry - over 65% of its business is in energy-efficient products today. This globally oriented company employs over 43,500 people worldwide, supplies customers in around 150 countries and manufactures at 46 production facilities in 17 countries.
Press releases you might also be interested in
Weitere Informationen zum Thema "Fahrzeugbau / Automotive":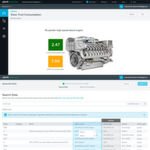 Splunk wertet industrielle IoT-Daten aus
Mit Sp­lunk In­du­s­trial As­set In­tel­li­gen­ce (IAI) stellt der Spe­zia­list für Ma­schi­nen­da­ten sei­ne ers­te Lö­sung für das In­ter­net der Din­ge (IoT) vor. Sie er­mög­licht die Aus­wer­tung in­du­s­tri­el­ler IoT-Da­ten.
Weiterlesen