Prestigious as well as energy-efficient
With energy-saving white light lamps OSRAM puts central Berlin in the right light
München

, (PresseBox) -
Hardly any other building symbolises Germany like Berlin's Brandenburg Gate. Which is why lighting the Pariser Platz in front of the monument is so vitally important. After all, the world-famous square ought to look impressive not only by day. However, the lighting's energy efficiency is at least equally important. For this reason the city of Berlin followed a recommendation by light planners of Kardorff Engineers to convert the approximately 250 Schupmann candelabras to halogen metal halide lamps, specifically OSRAM Powerball HCI-E 250W along Unter den Linden to the Brandenburg Gate on Pariser Platz.

With the Powerball HCI family OSRAM provides white light lamps for city lighting, which have a comparable light yield and therefore energy efficiency as sodium high-pressure lamps with their unbecoming yellow light. Compared with the mercury arc lamps that are still in widespread use today OSRAM Powerball HCI lamps are twice as efficient. The EU commission has acknowledged the far superior energy efficiency of Powerball HCI lamps and therefore plans to use them for climate-friendly city lighting, whereas mercury arc lamps are to be banned. In addition, the Powerball HCI lamps are dimmable by up to half the luminous flux, so lighting levels can be reduced during the small hours.

White light for prestigious and safe lighting

The conversion of Berlin's streetlights to Powerball HCI-E 250W lamps also means switching from yellow to white light. Until now local authorities had to use yellow sodium high-pressure lights to achieve energy-saving lighting. With the Powerball HCI family there is now a white light that saves as much energy and whose bulbs last longer. The lamps are normally replaced every three years.

In contrast to yellow light white light looks classier on the whole and makes prominent buildings gleam at night. Plus, there is the safety aspect - the human eye's perception of contrast is far better in the peripheral field of vision with white light than yellow. It means people can identify obstacles sooner. And another good reason to improve the square's lighting is that it may discourage criminal activity.

With these attributes, halogen metal halide lamps like the Powerball HCI family are suitable both for side streets as well as main thoroughfares. OSRAM's Powerball HCI-TT series has lamps starting at 35W for light spots in side streets and HCI-E series lamps for main thoroughfares. The HCI-E/P series also has integrated shatter protection, which allows for easy conversion from mercury arc lamps.

Other benefits of OSRAM Powerball HCI lamps with their patented round ceramic burners include superior colour stability and a fast run-up. As the ceramic burner only measures one centimetre in diameter, new reflectors can direct the light to the target area with minimum stray light.

Light planning: Kardorff Engineers, Berlin
http://www.osram.com/osram_com/News/index.html

Powerball HCI-E 250W halogen metal halide lamps by OSRAM bathe Berlin's splendid avenue Unter den Linden in an attractive white light leading to the Brandenburg Gate on Pariser Platz.
OSRAM GmbH
OSRAM is part of Siemens' Industry sector and is one of the world's two leading lighting manufacturers. In FY 2008 (to 30 September 2008) it generated business worth 4.6 billion Euro, of which 88% was in other countries. OSRAM is a high-tech business in the lighting industry - over 65% of its business is in energy-efficient products today. This globally oriented company employs over 43,500 people worldwide, supplies customers in around 150 countries and manufactures at 46 production facilities in 17 countries.
Press releases you might also be interested in
Weitere Informationen zum Thema "Elektrotechnik":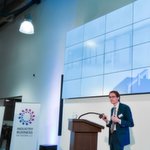 Industry Business Network 4.0 präsentiert neuen Industriestandard
IF4.0 soll der neue In­du­s­trie­stan­dard zum her­s­tel­ler­über­g­rei­fen­den In­for­ma­ti­ons­aus­tausch in ei­ner Smart Facto­ry wer­den. Der Stan­dard wur­de vom In­du­s­try Bu­si­ness Net­work 4.0 e.V. kon­zi­piert und wird von den Ver­bands­mit­g­lie­dern künf­tig kon­ti­nu­ier­lich wei­ter­ent­wi­ckelt.
Weiterlesen