The press service for journalists and influencers in the technological sector
Option N.V.

BoxId: 103859 – Option reports first quarter 2007 results
Press release BoxID: 103859 (Option N.V.)
Option N.V.
Gaston Geenslaan 14
3001 Leuven
http://www.option.com
Contact person
Frederic Convent
+32 (0) 16 317 411
Recommend Option reports first quarter 2007 results press release
QrCode
What its a QR code?
Three steps: Scanning of a QR code: Find your way to a press release without typing. Use the QR code on the print version of a press release to get redirected to the corresponding page on PresseBox.
How does scanning a QR code work? Just follow these simple steps.
Everything you need is an internet-enabled mobile phone or smartphone with a built-in camera and a QR code reading software.
QR stands for Quick Response - with one step you can quickly reach a website. QR codes work like bar codes, which you can find on your milk carton, for example. A software decrypts the QR code and directs you to a web page - so you do not even need to know the web address to reach it.
Download and print your digital press kit now
Please send the following information to my email address:
*) Please confirm your email address to get daily information about new releases with PresseMail.
Option reports first quarter 2007 results
(PresseBox) (
Leuven
,
2007-04-26
)
Option N.V.
Option, the wireless technology company, is a leading innovator in the design, development and manufacture of 3G HSUPA, HSDPA, UMTS, EDGE, and WLAN technology products for wireless connectivity solutions. Option has built up an enviable reputation for creating exciting products that enhance the performance and functionality of wireless communications. Option's headquarters are in Belgium (Leuven). The company has Research & Development in Belgium (Leuven) and Germany (Düsseldorf and Adelsried), and an ISO 9001 production engineering and logistics facility in Ireland (Cork). Option also has offices in Europe, US, Asia, Japan and Australia. For more information please visit www.option.com.
You may also be interested in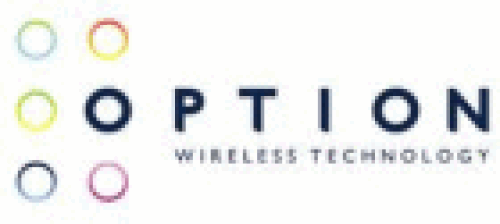 Company address
Option N.V.

Gaston Geenslaan 14

3001

Leuven