ON Semiconductor Introduces New Family of PWM Buck Regulators Featuring Unique Auto-Tracking and Sequencing Capabilities
New NCP312x devices are ideal for power regulation in set-top-boxes, LCD-TVs, cable modems and other consumer applications
Phoenix, AZ

, (PresseBox) -
ON Semiconductor (Nasdaq: ONNN), a global leader in efficient power semiconductor solutions, today introduced the NCP312x family of dual output pulse width modulation (PWM) buck regulators that offer unique auto-tracking and sequencing capabilities. Featuring integrated MOSFETs that deliver 2 amperes (A) (NCP3120, NCP3122) or 3 A (NCP3121, NCP3123) output current with switching frequency up to 2.2 megahertz (MHz), the new devices are ideal for a variety of consumer applications including set-top-boxes (STB), LCD-TVs and cable modems.

"One of the biggest challenges facing power supply design engineers is the power-up and power-down timing requirements for multi-voltage systems," said Tim Kaske, ON Semiconductor product line marketing manager for the Power Regulation Product Group. "ON Semiconductor offers a solution to help ease this design challenge with the new NCP312x family of switching regulators. These new regulators eliminate the need to use expensive voltage tracking controllers with a unique built-in auto tracking and sequencing capability."

The auto-tracking and sequencing features of the NCP312x devices enables exact timing and control over both output channels. A Digital Signal Processor (DSP), Field Programmable Gate Array (FPGA) or other signal processor requires multiple power supplies generating different voltage levels for core and Input/Output (I/O) peripherals and specific timing of each voltage. This timing control prevents latchup conditions that can cause immediate damage or even latent damage that produces failures in the field. The NCP312x family of devices offers programmable ratiometric, sequential and tracking control to manage the output voltage behavior during start-up and power-down. Additionally, multiple NCP312x devices can also be daisy chained together to control multiple outputs.

NCP312x converters reduce input capacitance requirements by switching 180 degrees out-of-phase at a frequency of 200 kilohertz (KHz) up to 2.2 MHz. The out-of-phase operation allows the use of a single low cost electrolytic capacitor or ceramic capacitor for the input filter versus two capacitors in a standard configuration. The outputs can also be paralleled to provide a dual-phase, single output regulator with low ripple voltage.

Additional Features
- Input voltage range of +5 volts (V) to +12 V
- Adjustable 200-2200 kHz operation
- Stable with low ESR ceramic output capacitor
- 0.8 ±1.5% reference voltage
- External soft-start
- Enable/disable capability
- Low shutdown power (Quiescent current (Iq) < 100 microamp (uA))

The NCP3120, NCP3121, NCP3122, and NCP3123 are available in a QFN-32 package with budgetary price from $1.30- $1.55 USD per unit in 1,000 unit quantities.

For additional technical information visit www.onsemi.com
ON Semiconductor
With its global logistics network and strong product portfolio, ON Semiconductor (Nasdaq: ONNN) is a preferred supplier of efficient power solutions to customers in the power supply, automotive, communication, computer, consumer, medical, industrial, mobile phone, and military/aerospace markets. The company's broad portfolio includes power, analog, DSP, mixed-signal, advance logic, clock management and standard component devices. Global corporate headquarters are located in Phoenix, Arizona. The company operates a network of manufacturing facilities, sales offices and design centers in key markets throughout North America, Europe, and the Asia Pacific regions. In March, 2008, ON Semiconductor acquired AMI Semiconductor and all products formerly owned by AMIS. For more information, visit http://www.onsemi.com.
Press releases you might also be interested in
Weitere Informationen zum Thema "Hardware":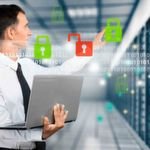 Die fünf wichtigsten Kriterien für ein Next Generation Datacenter
Un­ter­neh­men müs­sen ein­mal mehr neue We­ge fin­den, wie sie Kun­den für sich ge­win­nen. Die Ge­schäfts­ent­wick­lung er­folgt heu­te nicht mehr li­near. Statt­des­sen kön­nen sich Chan­cen je­der­zeit aus al­len Rich­tun­gen auf­tun. Mit ei­nem tra­di­tio­nel­len Re­chen­zen­trum kann die be­nö­t­ig­te Fle­xi­bi­li­tät nicht her­ge­s­tellt wer­den. Ein Mi­kro­re­chen­zen­trum ist der Aus­weg.
Weiterlesen