ON Semiconductor's New High Current Integrated Switchers Increase Power Density in Embedded Systems for Telecom and Datacom Applications
The NCP3101 and NCP3102 simplify embedded power designs by integrating 6 A and 10 A synchronous switching regulators that deliver both high efficiency and increased power density
PHOENIX, Ariz.

, (PresseBox) -
ON Semiconductor (Nasdaq: ONNN), a global leader in efficient power semiconductor solutions, today introduced the NCP3101 and NCP3102 – two new switching regulators designed to simplify embedded designs in high density applications. The new level of integration provided by these devices enables customers to replace dc-dc modules with embedded designs to reduce system cost while increasing power density.

According to an industry report by Darnell Group Inc., dc-dc modules in the 5 ampere (A) to 10 A range are experiencing the greatest dynamics and market growth. While the market for non-isolated dc-dc converter modules in this range is either declining or experiencing slowed growth, the integrated converter/regulator IC market, is expected to grow 16 percent between 2006 and 2011.

The Devices

The NCP3102 and NCP3101 are both integrated switching regulators that address the industry's growing need for efficient high power density designs.

NCP3102 is a 10 A synchronous switching regulator that enables high efficiency power conversion from a +5 volt (V) or +12 V supply. The internal 8 milliohm (mW) high-side FET (HS-FET) and 8 milliohm (mW) low-side FET (LS-FET) enable efficiencies greater than 92 percent for typical buck applications. The NCP3102 also features an internal voltage reference of 0.8 V for sub 1 V operation which is now being required.

NCP3101 is a 6 A synchronous switching regulator that is pin-for-pin compatible with the NCP3102. This pin compatibility allows design engineers to scale their power solutions without having to redesign their printed circuit board (PCB). In many designs that use an FPGA for example, the final power requirements are not known until late in the design cycle. By offering true design flexibility, the NCP3101 allows the design engineer to scale up or scale down the power requirement based on the system need.

Additional Features
- Programmable soft-start
- Cycle-by-Cycle Current Limit
- Programmable current limit
- 6 mm x 6 mm QFN Package

"The NCP3101 and NCP3102 enable our customers to quickly and easily reduce the cost of their systems by simply switching from an existing dc-dc module to an embedded design," said Tim Kaske, ON Semiconductor product line marketing manager for the Power Regulation Product Group. "This is especially true in FPGA designs where the current consumption is typically higher and our customers currently use a dc-dc module or other expensive integrated solution. In some cases, we have helped our customers reduce their system cost by as much as 50 percent with our new solution."

The NCP3102 and NCP3101 are available in commercial temperature grade as well as industrial temp grade as the NCP3102B and NCP3101B. The NCP3102 and NCP3101 are offered in a 6 mm x 6 mm QFN package and priced at $1.90 and $1.75 respectively per unit in 10,000 unit quantities.

For additional information, visit http://www.onsemi.com/tech or contact Tim Kaske at tim.kaske@onsemi.com.
ON Semiconductor GmbH
With its global logistics network and strong portfolio of power semiconductor devices, ON Semiconductor (Nasdaq: ONNN) is a preferred supplier of power solutions to engineers, purchasing professionals, distributors and contract manufacturers in the power supply, computer, consumer, portable/wireless, automotive and industrial markets. For more information, please visit ON Semiconductor's website at http://www.onsemi.com.
Press releases you might also be interested in
Weitere Informationen zum Thema "Elektrotechnik":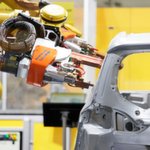 1,7 Millionen Industrie-Roboter erneuern Fabriken weltweit bis 2020
Bis 2020 wer­den mehr als 1,7 Mil­lio­nen neue In­du­s­trie-Ro­bo­ter in den Fa­bri­ken der Welt in­stal­liert. Die Ro­bo­tik-Bran­che in Asi­en ver­zeich­net da­bei ak­tu­ell das stärks­te Wachs­tum – an­ge­führt von Chi­na als Welt­markt­füh­rer. Im Jahr 2017 sind die Ro­bo­ter­in­stal­la­tio­nen in der Re­gi­on Asi­en-Aus­tra­li­en vor­aus­sicht­lich um 21 Pro­zent ge­s­tie­gen, in Nord- und Süda­me­ri­ka um 16 Pro­zent und in Eu­ro­pa um acht Pro­zent. Das sind Er­geb­nis­se aus dem World-Ro­botics-Re­port 2017, der von der In­ter­na­tio­nal Fe­de­ra­ti­on of Ro­botics (IFR) ver­öf­f­ent­licht wur­de.
Weiterlesen