Oerlikon Solar further reduces production costs for thin film silicon PV panels - significant decrease in cost of process gases per panel
Major reduction in cost of process gases / panel, supported by the leading global gas suppliers
Truebbach

, (PresseBox) -
Oerlikon Solar announced today another milestone to further reduce the cost of production for its Micromorph® thin film silicon PV panels. Based on individual agreements between Oerlikon Solar and major global gas suppliers Air Liquide and Linde, Oerlikon Solar customers will be able to achieve a total gas budget of less than EUR 8,5 / panel*, realizing more than 20 % reduction in total cost of all gases and precursors supplied to new Oerlikon Solar's ThinFab(TM) 120 MWp going into full production by end of 2012. This achievement lowers module production costs by up to 5 %.

In support of the agreements with Oerlikon Solar, each of these leading gas supply firms will set up necessary infrastructure and supply chain investments and continue to work together with Oerlikon Solar to co-develop solutions for reducing cost and consumption of process gases. Peter Owen, Head of Linde Electronics, said: "Linde is honored to have been selected by Oerlikon as a gas partner for this program. Since thin film silicon technology emerged, Linde has worked successfully with many major end-users to reduce their cost per watt, and the opportunity to work more closely with the leading global equipment manufacturer will deliver even more benefits to module producers. This partnership further strengthens the existing R&D collaboration between Linde and Oerlikon on the EU funded PEPPER project, which was announced in November 2010."

"Air Liquide is proud to demonstrate that high-volume supply solutions, innovation in new precursors, and global project & services infrastructure, can help Oerlikon Solar - the leading thin film silicon equipment supplier - to further improve the competitiveness of its thin film silicon technology," said Olivier Blachier, Vice-President Electronics & Solar Markets for Air Liquide.

"Thanks to the strong support from leading gas suppliers, we are now able to further reinforce the competitiveness of our Micromorph® technology for current and future market conditions," said Helmut Frankenberger, CEO of Oerlikon Solar.

* subject to local adjustments for logistics, tax or infrastructure

About Oerlikon

Oerlikon (SIX: OERL) is a leading high-tech industrial group specializing in machine and plant engineering. The Company is a provider of innovative industrial solutions and cutting-edge technologies for textile manufacturing, drive, vacuum, thin film, coating, and advanced nanotechnology. A Swiss company with a tradition going back over 100 years, Oerlikon is a global player with more than 16 500 employees at over 150 locations in 38 countries and sales of CHF 3.6 billion in 2010. The Company invested in 2010 CHF 239 million in R&D, with over 1 200 specialists working on future products and services. In most areas, the operative businesses rank either first or second in their respective global markets.

About Linde

The Linde Group is a world-leading gases and engineering company with around 48,500 employees working in more than 100 countries worldwide. In the 2010 financial year, it achieved sales of EUR 12.868 bn. The strategy of The Linde Group is geared towards long-term profitable growth and focuses on the expansion of its international business with forward-looking products and services. Linde acts responsibly towards its shareholders, business partners, employees, society and the environment - in every one of its business areas, regions and locations across the globe. Linde is committed to technologies and products that unite the goals of customer value and sustainable development. For more information, see The Linde Group online at http://www.linde.com.

About Air Liquide

Air Liquide is the world leader in gases for industry, health and the environment, and is present in over 75 countries with 43,000 employees. Oxygen, nitrogen, hydrogen and rare gases have been at the core of Air Liquide's activities since its creation in 1902. Using these molecules, Air Liquide continuously reinvents its business, anticipating the needs of current and future markets. The Group innovates to enable progress, to achieve dynamic growth and a consistent performance.

With over 3,000 employees and €1,17 Billion revenue in 2010, Air Liquide Electronics has activities in ultra-pure and specialty gases, new molecules, related equipment, and customized services. The Electronics division management is based in Asia to enhance its proximity to the semiconductor, TFT-LCD and PV markets.
Oerlikon Mechatronics AG
Oerlikon Solar designs and manufactures field-proven equipment and turnkey manufacturing lines for the mass production of environmentally sustainable thin film silicon solar modules. With its amorphous and high-efficiency Micromorph® tandem technology, Oerlikon has dramatically increased the efficiency of thin film silicon and created innovative turnkey manufacturing solutions for thin film PV, enabling new entrants in the fast-growing, global PV manufacturing business. Oerlikon Solar leads the thin film solar equipment sector with 14 customers in production in seven countries, and almost 5 million modules and 450 MW of capacity produced worldwide.

Oerlikon Solar has Micromorph® patents dating back to 1993, was the first to integrate the high-efficiency Transparent Conductive Oxide (TCO) layer, and the first to commercialize the high-efficiency Micromorph® process and support the majority of its customers in migrating to it. To date it is the only proven end-to-end Micromorph® solution available on the market, offering lowest cost of electricity $/kWh, and proving highest future cost reduction potential.

Oerlikon Solar is headquartered in Switzerland, has about 700 employees in 13 locations worldwide, numerous production sites around the globe and maintains sales and service centers in the USA, Europe, China, Taiwan, Korea, Singapore and Japan. For more information, please visit www.oerlikon.com/solar and www.oerlikon.com/...
Press releases you might also be interested in
Weitere Informationen zum Thema "Energie- / Umwelttechnik":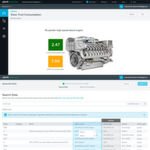 Splunk wertet industrielle IoT-Daten aus
Mit Sp­lunk In­du­s­trial As­set In­tel­li­gen­ce (IAI) stellt der Spe­zia­list für Ma­schi­nen­da­ten sei­ne ers­te Lö­sung für das In­ter­net der Din­ge (IoT) vor. Sie er­mög­licht die Aus­wer­tung in­du­s­tri­el­ler IoT-Da­ten.
Weiterlesen