Gidue USA and Kempsmith join hands for service in North America
TAVARNUZZE (FI)

, (PresseBox) -
Nuova GIDUE S.r.l. is glad to announce the establishment of GIDUE USA LLC, a dedicated company for sales and service of its machines and equipment for North America.

GIDUE USA LLC sales for the labels and packaging market will be headed by Mr. Mat Jones, Jones Printing Equipment responsible, distributor of printing and converting equipment for the flexible packaging and label printing industries in the North American market.

Coming from a joint venture between Nuova GIDUE srl and Jones Printing Equipment (JPE), GIDUE USA LLC, will take direct sales responsibility in the American market, constantly dealing with Nuova GIDUE as for technical trainings and support on the GIDUE projects.

"We perceived the real need of a stronger presence in the North American territory, so a local GIDUE partnership seemed to be the best choice for granting customers a better service and a long lasting presence" says Mr. Federico d'Annunzio, MD of Nuova GIDUE.

"Recent innovations confirm that GIDUE expertise excels among others in the printing sector. We look forward to introducing also to the American market our qualitatively superior machines and technologies and, to do so, the establishment of GIDUE directly in the US ground definitely represents a privileged starting point" he continued. "Cooperation with a long established and high quality company like Kempsmith could also lead us in the future to further developments in the carton packaging industry".

Mr Mat Jones commented: "I believe success is right around the corner. Right now we have clear advantages to our competitors and that is resonating. They are noticing and paying attention. Here in the US though you can make the argument, but that does not take place of showing and demonstration to the customer that what you say is true and legitimate. In most cases the customer must see, touch, and feel for themselves ".

Furthermore, GIDUE appointed Kempsmith Machine Company as its official service point for US and Canadian markets.

Based in Milwaukee, Wisconsin, Kempsmith Machine Company is one of the long established US leading player in the construction of custom flatbed and rotary die-cutters for the folding carton market and paper converting equipment since 1888.

The partnership between GIDUE and Kempsmith started when the first one met the Kempsmith team in the US in January 2012. The 2 teams went along immediately, as they also share common values and expertise.

Then, during the Label Expo America 2012, held in Chicago last September, Brett Burris, President of Kempsmith, visited the GIDUE booth.

On that occasion, My Burris confirmed his impression on the M5 Digital Flexo(TM) technology and the GIDUE commitment towards continuous improvement and constant efficiency that the deal with the Italian manufacturer arrived.

Mr Burris, commented: "The high quality of GIDUE products is well known at an international level, but it has started to be strong and recognized in the US as well. I am myself impressed by the amount of innovation GIDUE developed. At Kempsmith, we are very excited to start the collaboration with GIDUE and hope it will bring outstanding results also in the US and Canadian markets, contributing to the company success".

In the next months, Kempsmith operators are going to come to the GIDUE plant in Florence, Italy, for attending a comprehensive technical training on the GIDUE machines and, when the first GIDUE press will be sold and installed in the US or Canadian markets, Kempsmith technicians will be supported by the GIDUE ones.

So, good luck to GIDUE US and to Kempsmith and finger crossed for the first sale!
Nuova GIDUE S.r.l
Nuova GIDUE is a manufacturer of printing and converting machines, providing exclusive technology for the Label and Packaging industry. Most technologies are developed by Nuova GIDUE in cooperation with the end-users to manufacture original solutions for long-term profitability and innovation.

Since 1999 GIDUE has provided the Label and Packaging industry with innovative solutions that have set new standards in productivity.

Nuova GIDUE 's product range includes solutions for the label industry such as combination presses and finishing solutions for Offset, Flexo, Gravure, Screen, Digital, Hot Stamping, Cold Foil, Embossing, Label and Carton Die-Cutting, Sheeting, Perforation and others. Most of the processes are interchangeable.

For the flexible packaging industry Nuova GIDUE offers substrate solutions such as aluminium foil for yoghurt lids, laminated tubes for tooth paste and cosmetics, sausage skins, shrinkable sleeves, ROSO, wrap-around, stand-up pouches, IML, PE 20 M PET 12 M, PA, PVC, BOPP, aluminium foil 12 m etc. Lamination solutions complete the product range with in-line solventless, hot-melt, pre-adhesive lamination.

Press releases you might also be interested in
Weitere Informationen zum Thema "Maschinenbau":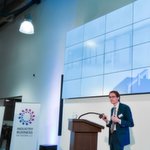 Industry Business Network 4.0 präsentiert neuen Industriestandard
IF4.0 soll der neue In­du­s­trie­stan­dard zum her­s­tel­ler­über­g­rei­fen­den In­for­ma­ti­ons­aus­tausch in ei­ner Smart Facto­ry wer­den. Der Stan­dard wur­de vom In­du­s­try Bu­si­ness Net­work 4.0 e.V. kon­zi­piert und wird von den Ver­bands­mit­g­lie­dern künf­tig kon­ti­nu­ier­lich wei­ter­ent­wi­ckelt.
Weiterlesen