Nuevolution Announces Technology Licensing Agreement
Copenhagen, Denmark

, (PresseBox) -
Nuevolution A/S today announced that it has entered into a non-exclusive technology licensing agreement with Novartis for use of Nuevolution's Chemetics® technology.

The Chemetics® platform uses proprietary innovative DNA labeling to allow fragment-based drug screening at an unprecedented scale forming drug-like small molecules for lead discovery. The technology allows efficient screening of billions of molecules against biological targets. Nuevolution has patented its Chemetics® technology and holds a strong validated patent portfolio within the technology field. In its existing collaborations and internal pipeline development, Nuevolution has successfully addressed several challenging targets including protein-protein interactions by the identification of drug-like small molecules.

Nuevolution will transfer know-how to Novartis to enable Novartis to practice the technology for its internal use, and the companies will work together to co-produce novel screening libraries.

Under the terms of the agreement, Novartis will provide Nuevolution with an upfront payment, research funding, and milestone payments as technology transfer progresses. Further financial details are not disclosed.

"It's a main strategy for us to boost the application of our Chemetics® technology both by having internal programs as well as by application of the technology in partnerships and licensing arrangements. By entering into this agreement with Novartis, multiple Novartis research projects will benefit from having efficient access to much broader chemistry space in the search for the best drug candidates addressing major unmet medical needs," said Alex Gouliaev, CEO of Nuevolution A/S and continued, "We are looking forward to continue the excellent working relationship with Novartis' dedicated team to successfully transfer our technology for the practice by Novartis."

This is the second agreement between Nuevolution and Novartis. In 2009, the companies entered into a drug discovery collaboration in which Nuevolution applied its proprietary Chemetics® drug discovery technology against a limited number of drug targets of interest to Novartis.
Nuevolution A/S
Nuevolution is a leading small molecule lead discovery company founded in 2001 and based in Copenhagen, Denmark. The company has developed Chemetics®, a unique, patent protected hybrid of proven wet chemistry and molecular biology which represents the ultimate fragment based drug discovery technology. Chemetics® enables rapid oligonucleotide e.g. DNA encoded synthesis of up to billions of chemically diverse drug-like small molecule compounds and the efficient screening of these, facilitating the identification of potent drug leads at unprecedented speed and scale.

Nuevolution partners its technology with pharmaceutical and biotechnology companies. Nuevolution has entered into agreements with Merck & Co., Lexicon Pharmaceuticals, GlaxoSmithKline, Novartis, Boehringer Ingelheim and Cancer Research Technology, where Lexicon Pharmaceuticals, GlaxoSmithKline and Novartis have entered into licensing agreements with Nuevolution. Nuevolution has entered a joint venture consortium between Nuevolution, EpiTherapeutics, ExpreS2ion Biotechnologies and Professor Kristian Helin (Biotech Research & Innovation Centre, University of Copenhagen) aiming at discovery and development of novel small molecule drugs against epigenetic factors. This $4 million budgeted project is supported by the Danish High Technology Fund. Nuevolution has also entered a scientific collaboration by and between Duke University, Howard Hughes Medical Institute, Lexicon Pharmaceuticals and Nuevolution.

Nuevolution has demonstrated the power of Chemetics® by identification of highly potent and drug like novel ligands with the potential to address major unmet medical needs across a range of therapeutic areas and target classes. Nuevolutions internal programs are focused on therapeutically important targets within inflammation and oncology.

Nuevolution is a privately owned company by key Scandinavian investors, including SEB Venture Capital, Sunstone Capital, Industrifonden, SLS Invest, Novo Ventures and Innoventus Life Sciences.


Press releases you might also be interested in
Weitere Informationen zum Thema "Medizintechnik":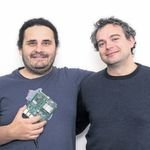 Diagnose mit der Intelligenz des Bauchgefühls
Ein Sound-Er­ken­nungs­sys­tem ana­ly­siert tech­ni­sche Pro­b­le­me bei Ma­schi­nen auf der Grund­la­ge von Be­triebs­ge­räu­schen und löst Alarm aus.
Weiterlesen