Nortel to Showcase VoIP, Metro Ethernet, 4G Mobile Broadband at NXTcomm 2007
Demonstrates Carrier Ethernet Interoperability, WiMAX and SIP/IMS-enabled Applications
Frankfurt am Main

, (PresseBox) -
Next week at NXTcomm 2007, Nortel(1) (TSX: NT)(NYSE: NT) will show carriers how to exploit the increased bandwidth, cost savings and operational simplicity of Ethernet as the primary technology for transporting high-bandwidth services like video that are straining today´s network capacity. Nortel will also showcase new and enhanced SIP applications and 4G WiMAX mobile solutions that improve user experience through converged communications options that provide more control over when, where and how they choose to communicate.

Strain on network capacity through an explosion of bandwidth demand is being driven by several factors. These include high-bandwidth services such as VoIP, video and large file sharing as well as greater demands in the new era of Hyperconnectivity where everything that can be connected to the network, will be connected.

"Hyperconnectivity is fast becoming a reality. This industry trend is fueled by business and consumer demand for bandwidth-hungry services and applications like video, gaming and streaming music, as well as seamless connectedness all the time, anywhere, and on any device," said John Roese, chief technology officer, Nortel. "At NXTcomm 2007, Nortel will showcase powerful, cost-effective innovations that will help carriers to benefit from this megatrend and provide the network capacity and the IP core essential to tomorrow´s wireline and wireless networks - critical to coping with the demand of a hyperconnected world."

Roese will participate in the Deloitte and Touche CTO Roundtable at NXTcomm - Convergence Conversations, Wednesday, June 20, 2pm to 3 pm in Room S103 at the McCormick convention center.

Nortel´s NXTcomm demonstrations will give real-world examples of how operators, business users and consumers will benefit from significantly enhanced communication and entertainment capabilities in the office, at home or while traveling with mobile devices. The demonstrations include:

- Carrier Ethernet, powered by Provider Backbone Transport (PBT), to enable Ethernet as the primary means of network transport. Ethernet is simple to deploy and maintain compared to other approaches and provides network agility, great bandwidth capacity and reach. Nortel and key industry solutions providers will launch the Carrier Ethernet Ecosystem at the show and, for the first time, demonstrate how PBT can seamlessly operate a multi-vendor environment.

- High Performance VoIP for regional carriers driven by the Nortel Communication Server 1500. This complete solution uses Ethernet transport and broadband access to replace today´s aging rural networks with a simple and inexpensive solution custom designed for small to medium carriers.

- A true mobile broadband experience delivered over WiMAX, including video conferencing and video surveillance on mobile devices. Nortel will also showcase an end-to-end solution for the delivery of VoIP over mobile WiMAX.

- New revenue-generating quadruple play services such as Interactive web-based applications blended with entertainment and communications over IMS. This demonstration will showcase a voting application integrated with IPTV and IMS and include communications with a call center operator and mobile subscriber.

- New carrier SIP applications including Fixed-Mobile Convergence with Call Grabber functionality, Web Services and, from the Nortel Microsoft Innovative Communications Alliance, computer desktop applications that enable instant messaging, click-to-call, voicemail and conferencing capabilities.

Nortel will showcase these technologies at booth 2051 in Exhibit Hall A during exhibit hours. More information regarding NXTcomm can be found at www.nxtcommshow.com.(2)
Nortel GmbH
Nortel is a recognized leader in delivering communications capabilities that make the promise of Business Made Simple a reality for our customers. Our next-generation technologies, for both service provider and enterprise networks, support multimedia and business-critical applications. Nortel´s technologies are designed to help eliminate today´s barriers to efficiency, speed and performance by simplifying networks and connecting people to the information they need, when they need it. Nortel does business in more than 150 countries around the world. For more information, visit Nortel on the Web at www.nortel.com. For the latest Nortel news, visit www.nortel.com/news.
Press releases you might also be interested in
Weitere Informationen zum Thema "Netzwerke":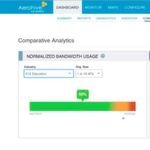 Vergleichende Analyse mit historischen Daten
Mit dem Com­pa­ra­ti­ve-Ana­lytics-Tool von Aer­o­hi­ve Net­works sol­len sich ab so­fort his­to­ri­sche Da­ten zur Netz­wer­k­leis­tung er­fas­sen und dar­s­tel­len las­sen. Aer­o­hi­ve-Kun­den könn­ten so die Leis­tung ih­res Netz­werks mit ähn­li­chen De­p­loy­ments und Bran­chen ver­g­lei­chen.
Weiterlesen