Nortel Joins World´s First Public Mobile Backhaul over Carrier Ethernet Interoperability Showcase
Openly Demonstrating the Readiness and Cost-Efficiency of Ethernet for Backhaul Applications
Paris,France

, (PresseBox) -
The demand for mobile broadband is growing at a staggering pace, driven by new high-bandwidth video, Internet and multimedia content, requiring mobile operators to search for affordable ways to overhaul networks and keep pace with exploding demand. To show operators how they can meet this growth, before it cripples network performance, Nortel(1) (TSX: NT)(NYSE: NT) will be joining the world´s first multivendor interoperability demonstration of its carrier Ethernet and PBB-TE solution at the MPLS & Ethernet World Congress in Paris, France, February 6 - 8. Interoperability demonstrations are also planned for other wireless industry events including: Mobile World Congress, Barcelona, February 11 - 14, and CTIA, Las Vegas April 1 - 3.

The Paris interoperability demonstration is organized by the European Advanced Networking Test Center(2) (EANTC) and supported by the IP/MPLS Forum(2) and the Metro Ethernet Forum(2)(MEF) to demonstrate the viability of mobile backhaul over carrier Ethernet technologies including Provider Backbone Transport. The interoperability test will include members of the Carrier Ethernet Ecosystem: Ixia, Lightstorm Networks, Nortel, RAD Data Communications and Spirent Communications.

PBT, currently being standardized by the IEEE as PBB-TE (802.1Qay), is a key carrier Ethernet technology pioneered by Nortel, which is increasingly being adopted by the industry for delivering scalable, deterministic and reliable carrier Ethernet services for enterprise, residential and now mobile networking applications.

"Bandwidth demands from consumer and business mobile video content and applications have the potential to place unacceptable strain on the wireless network, stretching capacity and limiting the quality of services to users," said Philippe Morin, president, Metro Ethernet Networks, Nortel. "The increasing popularity of mobile video and video-enabled cell phones will only increase the network burden. Through these public demonstrations, Nortel will be showing just how PBB-TE-enabled carrier Ethernet can be used to deliver the bandwidth and cost advantages that are so important in helping operators worldwide address the backhaul challenge."

Key aspects of the public demonstration in Paris will include:

- Testing interoperability between Nortel´s Metro Ethernet Routing Switch (MERS) 8600 and four other vendors in the PBB-TE portion of the backhaul network.

- Demonstrating ATM and TDM traffic over pseudowires between Nortel´s Multiservice Switch 15000 and access devices, including a Nokia Siemens Networks Flexi WCDMA BTS and RAD Data Communications´ ACE-3200 pseudowire-enabled Cell Site Gateway. Traffic will be carried over a PBB-TE network that includes the Nortel Metro Ethernet Routing Switch 8600, and will show for the first time that mobile operators can use carrier Ethernet to backhaul 3G, R99, and HSDPA traffic. Showing how the networks can be extended with PBB-TE trunks over a MPLS core, demonstrating that PBB-TE metro networks are compatible with existing MPLS core deployments.

- Showing support for running PBB-TE trunks over a microwave links, extending the reach of trunks to locations where it is not feasible to access fiber.

- Testing the latest Ethernet Operations, Administration and Maintenance (OAM) standards, designed to simplify operations using comprehensive network management tools: Including end-to-end fault management (supported by IEEE 802.1ag) and service performance statistics (based on ITU-T Y.1731).

Nortel also has a number of speaking engagements at MPLS & Ethernet World Congress:

- Hyperconnectivity and Carrier Ethernet - Bilel Jamoussi, director of technology, CTO Office, Nortel -Tuesday 5 February, 09:00.

- Utilising Carrier Ethernet for Mobile Backhaul - Simon Brueckheimer, Nortel Fellow, Tuesday 5 February, 16:00.

- The Ethernet Metro Convergence Toolkit - Dave Allan, consultant architect, Office of the CTO Office, Nortel, Wednesday 6 February, 14:00.

- Carrier Ethernet and Control Planes - Don Fedyk, senior advisor, strategic standards, Office of the CTO , Nortel, Wednesday 6 February, 15:00:

- Ethernet and MPLS OAM - Comparison and Synergy - Dinesh Mohan, Carrier Ethernet PLM and Standards, Nortel, Thursday 7 February, 14:00.

The Nortel Metro Ethernet portfolio offers a wide range of mobile backhaul solutions that address the challenges of delivering cost efficient, scalable and reliable backhaul, including: carrier Ethernet, optical Ethernet, and multiservice switching options. Nortel continues to lead in the innovation of carrier Ethernet technology, as a pioneer in the development of PBB-TE and having founded the Carrier Ethernet Ecosystem which now has 22 members worldwide. In 2007 Nortel had 30 new carrier Ethernet customers including BT, Frontier Communications, Mumbai International Airport and Southern Light.

(1)Nortel, the Nortel logo and the Globemark are trademarks of Nortel Networks.
(2)This is a 3rd party link as described in our Web linking practices.
Nortel GmbH
Nortel is a recognized leader in delivering communications capabilities that make the promise of Business Made Simple a reality for our customers. Our next-generation technologies, for both service provider and enterprise networks, support multimedia and business-critical applications. Nortel´s technologies are designed to help eliminate today´s barriers to efficiency, speed and performance by simplifying networks and connecting people to the information they need, when they need it. Nortel does business in more than 150 countries around the world. For more information, visit Nortel on the Web at http://www.nortel.com. For the latest Nortel news, visit http://www.nortel.com/news.

Certain statements in this press release may contain words such as "could", "expects", "may", "anticipates", "believes", "intends", "estimates", "targets", "envisions", "seeks" and other similar language and are considered forward-looking statements or information under applicable securities legislation. These statements are based on Nortel´s current expectations, estimates, forecasts and projections about the operating environment, economies and markets in which Nortel operates. These statements are subject to important assumptions, risks and uncertainties, which are difficult to predict and the actual outcome may be materially different from those contemplated in forward-looking statements. For additional information with respect to certain of these and other factors, see Nortel´s Annual Report on Form10-K, Quarterly Reports on Form 10-Q and other securities filings with the SEC. Unless otherwise required by applicable securities laws, Nortel disclaims any intention or obligation to update or revise any forward-looking statements, whether as a result of new information, future events or otherwise.
Press releases you might also be interested in
Weitere Informationen zum Thema "Kommunikation":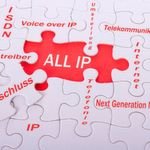 All-IP: Migrationsanreiz für KMUs
Mi­t­el möch­te mit sei­ner Kam­pag­ne "Mo­ve-to-IP" KMUs da­bei un­ter­stüt­zen, durch die Mi­g­ra­ti­on auf All-IP den di­gi­ta­len Wan­del zu be­sch­leu­ni­gen. Bis­lang ha­be erst ein klei­ner Teil der KMUs in Deut­sch­land auf All-IP um­ge­s­tellt, ob­wohl das ISDN-En­de kurz be­vor­ste­he.
Weiterlesen