Nokia Siemens Networks announces its end-to-end solution for Long Term Evolution
Barcelona, Spain / Espoo, Finland

, (PresseBox) -
Nokia Siemens Networks' solution helps mobile operators meet the demands for high data speeds and capacity beyond 3G with the industry's smoothest upgrade to Long Term Evolution (LTE) / System Architecture Evolution (SAE) networks.

At the Mobile World Congress 2008 in Barcelona, Nokia Siemens Networks today launched its LTE solution for radio and core networks, including the new Flexi Multimode Base Station, Mobility Management Entity (MME) and System Architecture Evolution (SAE) Gateway.

Nokia Siemens Networks' LTE solution is well suited for new operators and for operators upgrading existing GSM/WCDMA/HSPA networks to provide fast and low-delay Internet services via mobile broadband. LTE will provide joint evolution for both 3GPP and 3GPP2 operators, which makes LTE a true global roaming technology. Therefore, this solution is also ideal as a next step for CDMA operators to reach higher speeds and capacities.

"Today we are proud to present Nokia Siemens Networks' new high-power Flexi Multimode Base Station, which is software upgradeable to LTE. Operators will greatly benefit from LTE as it lowers the cost per gigabyte of data, decreases the network latency and improves capacities and data throughput for mobile broadband. And, consumers will be able to enjoy an optimal user experience with the highest data speeds of mobile Internet services", says Ari Lehtoranta, head of Radio Access, Nokia Siemens Networks.

Nokia Siemens Networks Flexi Multimode Base Station is the newest member of the small, modular and energy-efficient Flexi Base Station family, making full use of the software defined radio concept, truly smoothening the path to LTE. The Flexi Multimode Base Station can be deployed with WCDMA/HSPA starting from 3Q 2008 and software upgraded to LTE from the second half of 2009. This new base station, with the highest power in the smallest size, will help operators minimize network deployment and operational costs, and brings energy consumption down to a new level. The Nokia Siemens Networks Flexi Base Station family, which already today supports FDD and TDD based technologies, is an optimal platform for LTE.

To support the launch of our end-to-end LTE solution we are proud to announce the readiness of our LTE/SAE core network to serve the market with the Nokia Siemens Networks' SGSN, as well as the Flexi ISN, upgradeable to LTE/SAE," says Petri Pöyhönen, head of Converged Internet Connectivity, Nokia Siemens Networks. "With direct tunnel functionality, we are already providing innovative flat core architecture in today's HSPA networks, setting the stage for streamlined core networks that will be able to carry the massive Internet payloads we expect to see over LTE."

Nokia Siemens Networks' core network will provide a smooth evolution from GSM/WCDMA/HSPA to support LTE/SAE. The Mobility Management Entity and SAE Gateway functionalities will be implemented in Nokia Siemens Networks' SGSN and Flexi ISN and will be available during the second half of 2009.

A comprehensive set of services supports deployment and operation of LTE networks covering network implementation, consulting and systems integration services, managed services and maintenance. This helps operators to efficiently build, expand or modernize their networks and to overcome commercial, operational and technical challenges and gain real business results.

Nokia Siemens Networks, leading provider of mobile broadband solutions and driver of related standardization, is the forerunner in LTE with its I-HSPA flat architecture innovation providing a smooth migration path for operators to LTE. Nokia Siemens Networks was the first in the industry to demonstrate LTE technology at record speeds, as well as a successful LTE–HSPA handover and a multi-user field trial in an urban environment with peak data rates of 173Mbps.

Nokia Siemens Networks is highlighting its Flexi Base Station products and demonstrating LTE on the Flexi Multimode Base Station at the Mobile World Congress 2008 in Barcelona.
Nokia Siemens Networks
Nokia Siemens Networks is a leading global enabler of communications services. The company provides a complete, well-balanced product portfolio of mobile and fixed network infrastructure solutions and addresses the growing demand for services with 20,000 service professionals worldwide. Nokia Siemens Networks is one of the largest telecommunications infrastructure companies with operations in 150 countries. The company is headquartered in Espoo, Finland. www.nokiasiemensnetworks.com
Press releases you might also be interested in
Weitere Informationen zum Thema "Kommunikation":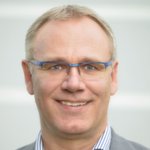 Wachstumsfaktor All-IP und digitaler Arbeitsplatz
UC- und TK-Her­s­tel­ler bli­cken vol­ler Vor­f­reu­de auf das Jahr 2018. All-IP und die Di­gi­ta­li­sie­rung von Ar­beits­plät­zen sch­rei­ten voran. Die Cloud, UCC-Lö­sun­gen und ein Ver­sch­mel­zen von IT und TK sind dann nicht mehr weg­zu­den­ken. Da­von ist auch Uni­fy-Chef Dr. Bernd Wag­ner über­zeugt.
Weiterlesen