Daktel subscribers to enjoy cutting-edge IPTV experiences
Service provider one of the first in the U.S. to deploy Nokia Siemens Networks' new IPTV platform
Carrington, North Dakota, United States

, (PresseBox) -
Daktel Communications can now create personalized and more intuitive video viewing experiences for its subscribers. The service provider has completed the upgrade to Nokia Siemens Networks' nextgeneration IPTV platform, enabling highquality video services, including advanced personal video recording (PVR), as well as ondemand and interactive content.

"Today's subscribers require higherquality television experiences and content that is for their individual interests," said Keith Larson, chief executive officer of Daktel. "With its support for highquality video services and an open environment for application development, Nokia Siemens Networks' platform allows us to satisfy our customers' needs for digital entertainment."

"The opportunities that our platform offers for revenue growth and personalized subscriber experiences will allow Daktel to protect and grow its business, reaffirming its position as one of North America's most cuttingedge telecommunications companies," said Jouni Welander, head of IPTV for Nokia Siemens Networks in North America. "We're looking forward to serving Daktel's customers with new home entertainment services like never before."

The Nokia Siemens Networks platform will allow subscribers to enjoy a richer media experience for information and entertainment, including widgets (specialized, small applications), Internet content and video, social networking, sports scores, localized weather, advertising and other thirdparty applications and services.

The new platform includes an enhanced version of Nokia Siemens Networks' awardwinning interactive applications toolkit based on Interactive Markup Language (IML). The open platform facilitates faster development of applications around the TV stream and greater flexibility in user interface customization. This leads the way to an open environment for applications in the media market, freeing operators to partner with developers and create competitive advantages quickly, without being bound to any one vendor's roadmaps.

About Daktel Communications

Daktel Communications, LLC is a subsidiary of Dakota Central Telecommunications Cooperative. Dakota Central provides a full line of voice, video and data services to residential, education and commercial clients. Dakota Central prides itself on bringing affordable, stateoftheart technologies to central North Dakota.
Nokia Siemens Networks
Nokia Siemens Networks is a leading global enabler of telecommunications services. With its focus on innovation and sustainability, the company provides a complete portfolio of mobile, fixed and converged network technology, as well as professional services including consultancy and systems integration, deployment, maintenance and managed services. It is one of the largest telecommunications hardware, software and professional services companies in the world. Operating in 150 countries, its headquarters are in Espoo, Finland. www.nokiasiemensnetworks.com


Press releases you might also be interested in
Weitere Informationen zum Thema "Kommunikation":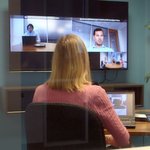 Lifesize integriert Cisco und Polycom
Die Cloud-ba­sier­te Vi­deo­kon­fe­renz­platt­form von Li­fe­si­ze bin­det Po­ly­com- und Cis­co-Sys­te­me nun so ein, dass die­se naht­los mit um­fang­rei­chen Col­la­bo­ra­ti­on-Funk­tio­nen funk­tio­nie­ren. Wei­te­re Up­da­tes sol­len zu­dem Qua­li­tät und Nut­zer­f­reund­lich­keit der Li­fe­si­ze-Lö­sung stei­gern.
Weiterlesen