China Telecom kicks starts 3G mobile video streaming
Selects Nokia Siemens Networks to launch China's first high end 3G video streaming services
Beijing, China

, (PresseBox) -
Close on the heels of its 3G service launch, China Telecommunications Corporation (China Telecom) rolls out high end video streaming services across mainland China. Subscribers now for the first time have access to higher speed and richer mobile applications such as live Mobile TV, video on demand and download. The new features are a result of the 3G CDMA EVDO (Evolution, Data Optimized) Video Streaming Service delivered by Nokia Siemens Networks.

The centralized 3G CDMA EVDO video streaming platform supports nationwide diversified audio/video format, with quality that is at least 50% higher than the traditional 2G solution. The large capacity, advanced features, high stability and reliability of the streaming server engine makes it an ideal solution to support live broadcasts, video on demand and downloading, not to mention highly convenient for new application expansions.

"As the main supplier of China Telecom's video streaming service platform, we are very proud to provide unique and compelling 3G video services in the region," added Zhang Tong, Vice President of Nokia Siemens Networks Greater China Region. "Our flexible and secure streaming control capability ensures service stability and an improved user experience. What's more, given our previous deployment experience, we are ideally positioned to adhere to China Telecom's launch schedule."

Nokia Siemens Networks leveraged its initial 2G video streaming base at China Telecom to successfully complete the first phase of the new platform delivery within a month. This allowed China Telecom to comfortably launch commercial services by end March - well within its stipulated time frame.

Nokia Siemens Networks has implemented 3G video streaming solutions for more than 25 operators across the globe. With rich know how of the technology, Nokia Siemens Networks can offer operators a suite of customized applications.

In addition, the company has more than 2,600 consulting & systems integration professionals globally to help in project execution and support. It has the scale & experience to bring new elements into the network quickly and effectively and is executing more than 500 system integration projects worldwide. As operators seek to improve the customer experience, shifting from a hardware centric view to a solution/services centric view, the company's Services business is in a strong position to add value.
Nokia Siemens Networks
Nokia Siemens Networks is a leading global enabler of telecommunications services. With its focus on innovation and sustainability, the company provides a complete portfolio of mobile, fixed and converged network technology, as well as professional services including consultancy and systems integration, deployment, maintenance and managed services. It is one of the largest telecommunications hardware, software and professional services companies in the world. Operating in 150 countries, its headquarters are in Espoo, Finland. www.nokiasiemensnetworks.com


Press releases you might also be interested in
Weitere Informationen zum Thema "Communication":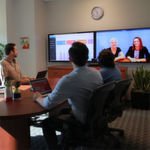 4 Tipps für sichere Videokonferenzen
Cy­berse­cu­ri­ty ist in al­ler Mun­de und wird täg­lich wich­ti­ger. Trotz­dem fin­det Uni­fi­ed Com­mu­ni­ca­ti­ons in der Si­cher­heits­de­bat­te nur we­nig Be­ach­tung. Die Si­cher­heit in die­sem Be­reich ist je­doch ein wich­ti­ger Aspekt für je­des Un­ter­neh­men – ins­be­son­de­re, weil da per Vi­deo­kon­fe­renz auch oft sehr sen­si­b­le In­for­ma­tio­nen aus­ge­tauscht wer­den.
Weiterlesen