Mobision Selects Newtec for First Ever Middle East Commercial Mobile Television Offering
St-Niklaas

, (PresseBox) -
Newtec announced today that Mobision - part of independent Iraqi television network, AlsumariaTV - has selected the company's Horizon HZ420 equipment for use in the Middle East's first ever paid-for mobile television service for mobile phones and DVB-H compliant devices.

The service consists of a package of 22 popular television channels broadcasted over satellite and received in four cities in Iraq by Newtec's Horizon HZ420 equipment, which then converts the signal into DVB-H, and re-transmits it using medium and high power terrestrial transmitters. Newtec was selected for this project due to the multifaceted nature of its Horizon technology. The solution includes demodulation of the satellite signal and DVB-S2 Multistream compatibility, GPS functionality to enable compatibility with single frequency networks as well as a COFDM modulator to allow television signals to be converted into DVB-H signals.

Jad Atallah, Senior Vice President at Mobision said, "Newtec is distinguished for its efficiency, quality of equipment used and competent service. Mobision selected Newtec for the gap fillers installation which combines multiple functions in one device all over Iraq avoiding the high shipping, installation, and cabling and configuration costs of mass deployment. Mobision highly recommends Newtec for its excellence and commitment."

Didier Tymen, Business Development Director for Mobile TV at Newtec said, "Newtec is very proud of its international reputation for innovation, and we are extremely pleased to be involved in the very first commercial mobile television offering for the Middle East."

"Our Horizon family of products is specifically designed for the primary satellite distribution of video and radio content for mobile and terrestrial television networks, and also maximises available satellite capacity, minimizing investment and operational costs, making it the ideal combined solution for Mobision."

About Mobision

Mobision is the first commercial Mobile TV service in the entire Middle East and North Africa region to use groundbreaking Digital Video Broadcasting Handheld (DVB-H) technology. At Mobision we believe that empowerment through technology will lead us toward a better future. We broadcast a menu of the region's most popular satellite channels direct to our customers' handheld mobiles, empowering them to live a life of freedom and mobility. Our state-of-the art DVB-H network offers strong geographical coverage, delivering high picture resolution and delay-free signal transmission. No matter where our customers are, or what time of day, Mobision provides them with live digital TV in tune with their lifestyle.

Our corporate branding embodies the elements that make us unique. The butterfly symbol represents transformation and rebirth, signifying the new era initiated by our innovative services. Mobility and freedom are also signified through the lightness and dynamism of butterfly movement. The use of primary colors and squared wings connect with our expertise in the domain of television broadcasting.

As an Alsumaria Broadcast Service Company, Mobision was founded on the same principles of providing premium quality television content that reaches a wide audience. Mobision is part of the Communication Entertainment and Technologies Group (CET), a regional leader in implementing the technology of the future today and in positioning Iraq as a pioneer in the personalized delivery of digital, live TV content.
Newtec Communications GmbH
Newtec is one of the market leaders in Satellite Communications, offering highly reliable products and solutions including DVB-S2 modulators and modems, Digital TV & Radio Distribution and Exchange networks, IP Broadband Access Networks as well as software solutions for the optimization of Internet traffic to customers worldwide.

With its ambitious policy of re-investment in R&D, Newtec is recognized as a forerunner in several innovative satellite communication technologies, which have been published as industry standards (DVB, DVB-S2, DVB RCS and iSatTV Cenelec pr EN50478).

Established in 1985, and headquartered in Belgium, the company has regional offices located in Stamford (US), Singapore (Singapore), Beijing (China), Dubai (UAE) and São Paulo (Brazil). Newtec's Tellitec® IP software products for Internet traffic optimization and data communication are engineered in Newtec's research and development facilities in Berlin (Germany). Newtec's subsidiary TurboConcept in Brest (France), develops Intellectual Property Cores for turbo and LDPC building blocks.

More details are available at www.newtec.eu
Press releases you might also be interested in
Weitere Informationen zum Thema "Kommunikation":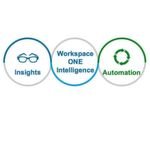 Digitaler Arbeitsplatz mit künstlicher Intelligenz
VM­wa­re er­wei­tert die Platt­form Work­s­pace One: "In­tel­li­gen­ce" kom­bi­nie­re per De­ci­si­on Ma­chi­ne die Ag­g­re­ga­ti­on und Kor­re­la­ti­on von Be­nut­zer-, An­wen­dungs-, Netz­werk- und End­punkt­da­ten, "Trust Net­wor­k" in­te­grie­re Part­ner-Si­cher­heits­lö­sun­gen, "Air­Lif­t" mo­der­ni­sie­re das Win­dows-10-Ma­na­ge­ment.
Weiterlesen