swarm bee: Achieve the Impossible in just one day!
How to have a fully functional prototype for precise zoning in less than 24 hours
Berlin

, (PresseBox) -
On June 17 and 18 Deutsche Bahn invited the Technology Community to their mindbox – the hangout for innovation and creativity underneath S-Bahn station Jannowitzbrücke in Berlin. At water-level and only disturbed by the occasional boat passing by 191 engineers participated in the DB Infrastructure Challenge. Twenty-two project teams presented their results at the awards ceremony on day 2 at 6pm. Among them: The team K-zone comprising of engineers from Kärcher and nanotron with a safety and productivity application for a Kärcher scrubber. A scrubber is highly productive cleaning machine that is operated by a driver sitting on top of the machine (Figure 1).

In the morning the team had started their project by identifying a common and reoccurring problem when cleaning large diverse facilities like train stations: Currently the scrubber operator does not have real-time feedback about the job at hand. If it is possible to provide immediate guidance automatically then machine productivity could be significantly increased. Differences in required cleaning intensity could translate into moving slowly or fast. Pre-warning with regards to stairs, hazards like sharp corners or other no-go areas would safely prevent material damage both to the machine and to the facility to be cleaned whilst also preventing accidents proactively.

Kärcher brought the scrubber and a separate copy of its control and communication box. Nanotron contributed its swarm bee tools for developing location-aware applications (Figure 2). One of the swarm bee location sensors was directly connected to the control unit of the scrubber. Other swarm bee location sensors were placed as marker-nodes at the centre of each of the zones (Figure 3) to be detected. The prototype was built as team-work: nanotron focused on providing distance values between the scrubber and the zone marker-nodes, Kärcher worked on the business logic and created the driver notification app which was also the user interface (Figure 4).

Predicting the zone boundaries and associating zone attributes in real-time was perhaps the biggest challenge of the project given the short available time. However the prototype was functional for the award ceremony – only 9 hours after the team came together! Playing with the tools and the Scrubber (!!!) was so much fun. The team continued working together even after the awards ceremony to further refine the prototype. Now with the basic concept demonstrated optimization of the solution followed by productization would be next.

Zoning applications like K-zone can be found in real life quite often. For example precise exclusion zones help to increase operator safety for cranes and other heavy machinery with hand-held remote control-units. Thanks to off-the-shelf swarm development tools from nanotron zone implementation is easy and straight forward. Chirp technology with a distance measurement accuracy of about 1 meter is well suited for long range applications with zones dimensions between 10 and 500 meter. UWB technology provides higher resolution of up to 10 cm and is used in closer proximity. There are filter techniques to further refine the raw distance and zoning results applicable for both Chirp and UWB radio technology.

The K-zone project provides a good outline for any such solution: Real-time precise distance measurement provides the basis for any zoning. Swarm bee modules provide point to point distances in real-time with only one API command. The business logic software helps to shape zones and associates them with certain attributes. The user interface controls the business application – in our example the scrubber control unit. Prototyping with swarm bee modules and tools has been demonstrated to only take hours as opposed to several months when starting from scratch with location chips. Developers can now focus on the application right from the beginning of their project.

About the swarm product family

Swarm bee modules are available with Chirp or UWB radio technology. Both versions are sharing the common swarm API. The swarm product family targets the growing market for autonomous smart items and cuts time to market for location-aware products by 12 months. Very precise low-cost location technology can now be used without the need for RF-design capabilities or expertise on low level device drivers. Developers focus on application design.

About Alfred Kärcher GmbH & Co. KG

Kärcher is the world's leading provider of cleaning technology. The family owned enterprise employs over 11,333 people in 60 countries and 100 companies. More than 50,000 service centers in all countries ensure continuous and comprehensive supplies to customers all over the world. In 2015, Kärcher reached the highest sales with 2.22 billion euros and 12.87 million units sold, the highest number of quantities in its history.
Press releases you might also be interested in
Weitere Informationen zum Thema "Hardware":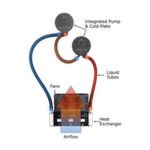 Asetek und Intel kühlen gemeinsam
Ase­tek ar­bei­tet ab so­fort mit In­tel zu­sam­men, um Re­chen­zen­t­ren und Ser­ver mit Was­ser zu küh­len. Dem­nächst soll die Vor­stel­lung ei­nes ers­ten ge­mein­sa­men Pro­duk­tes fol­gen.
Weiterlesen