VisionMobile 100 Million Club Report Marks Myriad's Continued Dominance in Mass-Market Mobile Software
Dubendorf

, (PresseBox) -
.
- Myriad featured in three categories with combined shipments now reaching over 3.5 billion software applications
- Myriad Messaging software leads middleware category, shipped in over 1 billion phones

Myriad Group AG (SIX: MYRN), a global leader in mobile technology with software in over two billion phones, welcomed the latest results released today by leading global analyst firm, VisionMobile. The 100 Million Club, VisionMobile's embedded mobile software watchlist, cites Myriad's continued dominance and growth in mobile application environments, mobile browser and mobile middleware.

Only 30 mobile software products from 26 companies have shipped in more than 100 million devices, and so qualify for their place in the 100 Million Club. More exclusively, Myriad is one of only two companies to have multiple software products included in the list. The software products are Myriad's Browser, Messaging Client and Jbed(TM) Java ME; and Nuance's T9/XT9, eZiText and Vsuite.

"At the end of H2 2009, cumulative shipments for software products by the 100 Million Club members reached 24.6 billion, showing an 11% increase since the first half," said Andreas Constantinou, VisionMobile's Research Director. "We congratulate the vendors who have succeeded in crossing the 100 million handsets barrier and placed themselves in the league of established software vendors, clearly above the industry hype."

Leading the Browser category in the report, Myriad's (ex-Openwave) Browser has now shipped in over 2.1 billion handsets, while Myriad's Messaging solutions (originally acquired from Openwave and Magic4), moved from second to pole position in VisionMobile's Middleware category, having shipped in over one billion devices. Myriad's Jbed(TM) Java ME, embedded in over 383 million handsets, completes the trio of listed marketleading products from Myriad, appearing in the Application Environment category.

"Myriad's continued dominance in VisionMobile's watchlist is testament to our leadership and ongoing mission to innovate and bring superior features and functionality to massmarket phones," said Simon Wilkinson, CEO of Myriad Group. "We are proud to have these marketleading products in our portfolio, in addition to our innovations in other new and highgrowth mobile software segments such as mobile social networking and Android software solutions."

Further information on the report can be found on the VisionMobile website: www.100millionclub.com.

About VisionMobile

VisionMobile is a market analysis and strategic advisory firm that offers research reports, industry maps, workshops and advisory services on under?the?radar market sectors and emerging technologies.

Researched, authored and published by VisionMobile, The 100 Million Club is the watchlist of software companies whose products have been embedded on more than 100 million mobile handsets. Updated semi?annually, the 100 Million Club celebrates software businesses that have succeeded in establishing a significant share in the mobile handset market.

For an analysis of the research behind the 100 Million Club and its impact, see www.100millionclub.com. For more information on VisionMobile, please visit www.visionmobile.com
Myriad Group AG
Myriad Group AG is a global leader in mobile technology and has shipped over 3.5 billion software applications in more than 2 billion mobile phones. Its comprehensive portfolio includes browsers, messaging, Java, social networking, user interfaces and middleware for all types of mobile phones, from ultra‐low cost handsets to advanced smartphones.

The company provides both individual components and complete solutions, which enable handset manufacturers and operators to deliver amazing experiences on mobile phones. Myriad also develops USSD‐based customer self‐care platforms that deliver over 10 billion messages a year to 220 million mobile users across more than 30 mobile operators worldwide.

Myriad was created from the combination of industry‐leading companies, Esmertec and Purple Labs. It operates worldwide, with offices in Switzerland, France, UK, USA, Mexico, China, South Korea, Taiwan, Japan and Australia. Headquartered in Dübendorf‐Zürich Switzerland, Myriad is listed on the SIX Swiss Exchange (SIX Symbol: MYRN). For more information, please visit www.myriadgroup.com.
Press releases you might also be interested in
Weitere Informationen zum Thema "Software":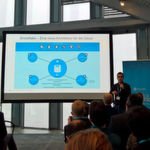 Renaissance der SQL-Datenanalyse, diesmal in der Cloud
Sno­wfla­ke, ein durch Ven­tu­re Ca­pi­tal fi­nan­zier­tes US-Start-up, ver­la­gert die Da­ten­ana­ly­se mit SQL in die Cloud. Der Reds­hift-Kon­kur­rent wur­de ei­gens für die­se Um­ge­bung ent­wi­ckelt und soll sich durch be­son­de­re Sch­nel­lig­keit und Fle­xi­bi­li­tät aus­zeich­nen.
Weiterlesen