Myriad Group and MIPS Technologies Accelerate Android(TM) Application Performance up to 5x
Myriad's Dalvik Turbo Engine Optimized for MIPS® Architecture
COMPUTEX TAIPEI, Taiwan

, (PresseBox) -
MIPS Technologies, Inc. (NASDAQ: MIPS), a leading provider of industrystandard processor architectures and cores for digital consumer, home networking, wireless, communications and business applications, and Myriad Group AG (SIX:MYRN), a global leader in mobile technology with software in over 2 billion phones, today announced availability of a highperformance full methodbased Dalvik Turbo virtual machine (VM)optimized for the MIPS® architecture. Myriad's Dalvik Turbo VM replaces the standard Android Dalvik engine, accelerating performance up to 5x on realworld Android(TM) applications running on MIPS-Based(TM) devices.

With Dalvik Turbo VM, MIPS licensees can create SoCs with faster, more complex applications and richer game graphics optimized for Android smartphones and other highperformance consumer devices without requiring significant increases in device memory. The VM also provides substantial battery life improvements when running resource intensive tasks, all while retaining full compatibility with existing software. Myriad's Dalvik Turbo VM is operational on all current versions of Android up to and including versions 2.1 (Éclair) and soon to be available for 2.2 (Froyo).

"We have a longstanding relationship with MIPS Technologies and are pleased to continue our successful track record with this latest milestone," said Malcolm Dawe, chief product officer, Myriad Group. "With Myriad's heritage in virtual machines and Android platform expertise combined with MIPS Technologies' Android on MIPS initiative, we are bringing highperformance Android applications to mobile handsets and other consumer electronic devices, leading to a greatly enhanced user experience."

"MIPS Technologies has taken the lead in bringing the Android platform to a wide range of consumer electronics devices, and with this performance increase, our licensees will be able to create even richer and more compelling products with Android," said Art Swift, vice president of marketing, MIPS Technologies. "With this optimized Dalvik JIT engine, we are offering our licensees not only enhanced performance, but also a fully supported, commercialgrade product that will speed their time to market."

As a founder of the Open handset Alliance (OHA), Myriad has contributed significantly to the Android platform and today continues to heavily invest in technological advances specifically targeted at Android. These include standalone applications such as a WAP browser, MMS messaging, SyncML client, DRM module and IMPS client. The company is also responsible for the Compatibility Test Suite (CTS) framework within OHA, which is used for testing the compatibility of Android systems.

Availability

An evaluation version of the optimized VM will be available freeofcharge through the Android on MIPS community at www.mipsandroid.org as of August 1, 2010. For information on commercial distribution, contact Myriad Group at sales@myriadgroup.com.

About Android on MIPS

Leveraging its leadership position in the digital home, MIPS Technologies is spearheading efforts to make Android a reality for a wide range of consumer electronic devices. With Android and the dynamic open source development community around it, developers can easily and quickly create new applications, and OEMs can leverage a fastgrowing set of applications for their devices. The extensive MIPS ecosystem around Android enables OEMs to quickly optimize Android for their specific platforms and debug their solutions across the entire software stack. For more information about the Android platform and MIPS Technologies, or to access the full source code for MIPS Technologies' port of Android to the MIPS32® architecture, including a reference binary, tools and documentation, please visit www.mips.com/android or email android@mips.com.

About MIPS Technologies, Inc.

MIPS Technologies, Inc. (NASDAQ: MIPS) is a leading provider of industrystandard processor architectures and cores that power some of the world's most popular products for the home entertainment, communications, networking and portable multimedia markets. These include broadband devices from Linksys, DTVs and digital consumer devices from Sony, DVD recordable devices from Pioneer, digital settop boxes from Motorola, network routers from Cisco, 32bit microcontrollers from Microchip Technology and laser printers from Hewlett-Packard. Founded in 1998, MIPS Technologies is headquartered in Sunnyvale, California, with offices worldwide. For more information, contact (408) 530-5000 or visit www.mips.com.

MIPS and MIPS-Based are trademarks or registered trademarks in the United States and other countries of MIPS Technologies, Inc. All other trademarks referred to herein are the property of their respective owners. Android is a trademark of Google Inc. Use of this trademark is subject to Google Permissions.
Myriad Group AG
Myriad Group AG is a global leader in mobile technology and has shipped over 3.5 billion software applications in more than 2 billion phones. Its comprehensive portfolio includes browsers, messaging, Java, social networking, user interfaces and middleware for all types of mobile phones, from ultralow cost handsets to advanced smartphones.

The company provides both individual components and complete solutions, which enable handset manufacturers and operators to deliver amazing experiences on mobile phones. Myriad also develops USSDbased customer selfcare platforms that deliver over 10 billion messages a year to 220 million mobile users across more than 30 mobile operators worldwide.

Myriad was created from the combination of industryleading companies, Esmertec and Purple Labs. It operates worldwide, with offices in Switzerland, France, UK, USA, Mexico, China, South Korea, Taiwan, Japan and Australia. Headquartered in Dübendorf-Zürich Switzerland, Myriad is listed on the SIX Swiss Exchange (SIX Symbol: MYRN). For more information, please visit www.myriadgroup.com.


Press releases you might also be interested in
Weitere Informationen zum Thema "Software":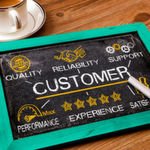 Was bringt 2018 für die Customer Experience?
Cu­sto­mer-Ex­pe­ri­en­ce-Lö­sun­gen und ih­re Tech­no­lo­gi­en ha­ben 2017 in mehr als ei­ner Hin­sicht Fahrt auf­ge­nom­men. Den Un­ter­neh­men wur­de end­lich klar, dass sie ih­re Da­ten­si­los auf­b­re­chen und al­le Da­ten in Echt­zeit in­te­grie­ren müs­sen, um re­le­van­te Ein­bli­cke zu er­hal­ten und die Ver­brau­cher über kun­den­o­ri­en­tier­te Om­nichan­nel-An­wen­dun­gen ver­läss­lich an sich zu bin­den.
Weiterlesen