Mitel Advances Real-Time Communications for Mobile Workers and Consumers
New Suite of Contact Center, Cloud and Mobile Solutions Enables Seamless Environment for Collaboration and Commerce
San Diego

, (PresseBox) -

Empowers the mobile consumer with smartphone-friendly, millennial-ready contact center capabilities
Protects remote mobile access to the cloud with security capabilities that cloak 4G LTE and 5G mobile applications
Extends real-time communications directly into the workflows of leading SaaS platforms
Improves large enterprise campus capabilities with advanced monitoring, analytics and mass-notification tools


Mitel® (Nasdaq:MITL) (TSX:MNW), a global leader in real-time business, cloud and mobile communications, today announced its next series of innovations for businesses and services providers as the company continues to deliver the technology and capabilities for mobile-first, cloud-enabled and millennial-focused communications and collaboration.

Delivering a Millennial-Ready Contact Center Experience: The advent of 4G and 5G networks is driving a consumer's natural point of entry into businesses through mobile applications. With the corresponding emergence of Internet of Things and machine-to-machine services, businesses need added agility to adapt and prosper. The newest generation of Mitel's MiContact Center, a mobile-first, millennial-ready customer engagement platform delivers that agility, transforming every interaction into an opportunity to build customer loyalty. By enabling an advanced digital customer experience across real-time communications social media and CRM integration, MiContact Center offers a cohesive view into a customer's profile, which can intertwine with advanced skills-based routing capabilities to find an expert and deliver an immediate and satisfying customer experience.

Seamlessly Intersecting Cloud-Based Platforms and Real-Time Communications: MiCloud, Mitel's market-leading cloud communications solution portfolio now natively intersects with more than 20 leading cloud-based CRM platforms along with productivity applications like Microsoft Office 365 and Google Apps. In addition, MiCloud also integrates into key cloud-based application environments for HR and recruiting, dealer and franchise management, financial management and more. Today, information workers like contact center agents, customer support, sales, emergency and healthcare personnel compose nearly one-third of the global workforce. These employees work intensively in cloud-delivered SaaS applications and often from a mobile device. The MiCloud portfolio now integrates directly into even more application workflows, providing access to real-time communications capabilities without the user ever having to leave the application.

Securing Real-Time Communications From Cyber Threats: The growth of multimedia access and corresponding increase in the use of Wi-Fi and personal devices for business communications pose additional challenges as businesses evolve to meet the demands of on-the-go workers and consumers. In partnership with Unisys, Mitel is introducing MiStealth security technology to provide enterprises and service providers secure mobile access to the cloud to ensure they remain protected against security threats and data breaches. Combining Mitel's communications leadership with the security of Unisys StealthTM identity-driven segmentation and encryption, MiStealth allows businesses to control who can access enterprise networks based on users' identities - whether within the enterprise or on the cloud - while reducing the attack surface and providing the elevated levels of security typically associated with private cloud deployments. MiStealth additionally simplifies security management, as users can access public networks (such as the Internet) without threat of exposure to their real-time communications. The solution also integrates with Mitel's RCS/VoLTE/VoWiFi clients to provide a seamless experience.

Making Large Campus Communications Even More Intelligent and Capable: As large campus environments seek to seamlessly blend wireline and wireless environments with cloud and premises-based applications, the demands for enabling professional grade voice, video and collaboration capabilities have grown more complex. Mitel seeks to make real-time communications for large campuses more intelligent and capable with advanced monitoring, analytics and mass-notification tools. Mitel Performance Analytics proactively detects and addresses performance problems before they impact the user, with 24/7 monitoring, real-time alerts and testing tools for fast problem resolution. Further, Mitel Mass Notification services provide a reliable communications channel when conventional email, text, voice and video communications fail due to throughput, technical or "contact-ability" issues.

These new innovations, showcased at the Mitel Next event in San Diego, continue to demonstrate Mitel's leadership in shaping the future of the mobile enterprise, driven by the need to power enhanced customer experiences and seamlessly support new business models.

Quotes

"Our users are seeking the convenience of a mobile phone, the speed of deployment and ease of management found in a cloud solution and the proven capability of a traditional desktop deployment," said Marcell Galatiano, board member, Mitel User Group. "Mitel has invested in making communications and collaboration seamless, whether wireless or wireline, cloud or on-premises, providing a pathway to the future for the companies it serves."

"In the 1990s, it was predicted that email would replace voice as the choice for customer care, then web chat was forecast to take over, most recently social media," said Sheila McGee-Smith, founder and principal analyst, McGee-Smith Analytics. "What has happened instead is that companies are expected to excel in voice and digital channels, both singly and in combination. Brand reputation is heavily impacted by an organization's ability to meet this expectation, making customer experience strategy more important than ever before."

"Workplace and consumer communications are becoming increasingly centered on mobile devices with network users expecting instant and seamless access to services from anywhere," said Rich McBee, CEO, Mitel. "Mitel is uniquely positioned to help businesses understand how to overcome these challenges and gain the benefits of tying together different modes of communications for greater speed and simplicity."

Important Facts


More than two million cloud business communications users trust Mitel each day, representingnearly one in four cloud communications subscribers.
Mitel is the only communications brand across five Gartner Magic Quadrant reports for business communications.
Mitel customers include 15 of the top 20 mobile carriers in the world.
Mitel powers VoLTE/ VoWiFi services in 18 countries.


Related Materials


Download the eBook "Customer Experience for Dummies"
Download the infographic "The Power of the Mobile Consumer"
Download the eBook "Top Customer Experience Tips to Steal from the Pros"
Download the white paper "Delivering a Digital Customer Experience for Today's Mobile Consumer"
Download the white paper "Securing Real-Time Mobile Communications"
Download the infographic on preparing for the "Rise of the Mobile Enterprise"


Social Media

Twitter: Mitel showcases real-time comms for mobile workers & consumers at #MitelNext in San Diego
Twitter: New Mitel contact center, cloud and mobile solutions enable seamless environment for collaboration and commerce #MitelNext
Mitel Networks GmbH
A global market leader in enterprise and mobile communications powering more than 2 billion business connections and 2 billion mobile subscribers every day, Mitel (Nasdaq:MITL) (TSX:MNW) helps businesses and mobile carriers connect, collaborate and provide innovative services to their customers. Our innovation and communications experts serve more than 60 million business users in more than 100 countries, and 130 mobile service providers including 15 of the top 20 mobile carriers in the world. That makes us unique, and the only company able to provide a bridge between enterprise and mobile customers. For more information, go to www.mitel.com and follow us on Twitter @Mitel.

Mitel is the registered trademark of Mitel Networks Corporation.

All other trademarks are the property of their respective owners.


Press releases you might also be interested in
Weitere Informationen zum Thema "Hardware":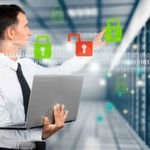 Hyperkonvergente Infrastrukturen vereinfachen den IT-Betrieb
Un­ter­neh­men müs­sen ih­re IT-Be­reit­stel­lungs-Pro­zes­se und In­fra­struk­tu­ren mo­der­ni­sie­ren, um di­gi­tal mit dem Wett­be­werb Schritt zu hal­ten. An den IT-Be­trieb stellt sich des­halb die An­for­de­rung, Fle­xi­bi­li­tät, ein­fa­ches Ma­na­ge­ment, Au­to­ma­ti­sie­rung und Ska­lier­bar­keit zu lie­fern. Wie das mit hy­per­kon­ver­gen­ten Sys­te­men ge­lin­gen kann.
Weiterlesen