Mitel Accelerates Lead in Mobile Enterprise With Mobile and Cloud Innovations
Unveils New, Real-Time Applications and Expands Cloud and Mobile Services
Berlin

, (PresseBox) -
.


Introduces hosted Voice over LTE, Video over LTE and Voice over WiFi (VoLTE, ViLTE and VoWiFi) for mobile carriers
Delivers capability for associating all of a user's phone lines and functionality with one device
Unveils embedded mobile real-time communications for SaaS applications targeting highly mobile, real-time field service workers
Debuts a mobile-first, team collaboration solution with real-time, native integration that supports the way teams work today
Announces integrated mobile, M2M (machine-to-machine) and cloud services that will enhance and redefine healthcare choices
Expands new cloud services in France and Germany, enabling large businesses to become more nimble while smaller companies gain access to more enterprise tools and resources


Mitel® (Nasdaq:MITL) (TSX:MNW), a global leader in real-time business, cloud and mobile communications, today announced a disruptive series of new solutions that accelerates its lead in the mobile enterprise market. The announcements, made in Berlin at the Mitel Next event, reflect rapid implementation of the company's strategic vision of the cloud-based mobile enterprise designed to address the evolving needs of a mobile-first world for enterprises, workers and consumers.

This latest wave of Mitel innovations is aimed at eliminating legacy barriers and enabling seamless, real-time communications and collaboration including:

Mitel Mobile Cloud Suite: A platform that lets Tier 2 and 3 mobile carriers quickly and cost-effectively provision hosted VoLTE, ViLTE, VoWiFi and Advanced Messaging services.

Mobile Multi-ID: A capability that intersects mobile and business identities, making it no longer necessary to have both a personal and business phone. Multi-ID integrates a user's identity from their individual devices making it possible to associate multiple phone lines on a single device and enjoy all the same features.

Mitel Embedded Communications: The first product from the Mitel Accelerator initiative targets the highly mobile field service industry. It embeds Mitel's real-time, enterprise-class communications and contact center capabilities into mobile field service-scheduling software from FieldAware. The result is the integration of location-based technology, CRM tools and real-time communications that turn multiple service calls into one, enhancing the customer experience, creating operational efficiencies and providing valuable business intelligence.

MiTeam: A mobile-first, team collaboration solution with real-time, native integration that supports the way teams work today. With instant collaboration, work teams can initiate on-the-go screen sharing, content collaboration, real-time voice and video meetings and seamlessly extend them to participants outside of the work environment including partners, vendors and customers. MiTeam is a workflow-oriented application with project and topic-based workstreams and is embedded into existing Mitel technology.

Real-Time Healthcare: A cloud-based, mobile and M2M integrated technology that addresses the growing eldercare segment. As the population ages and the cost of healthcare increases, Mitel is introducing real-time communications technology and tools to enhance lifestyle choices.

Global Cloud Expansion: Mitel MiCloud expands in Europe with launches in Germany and France. Mitel enters 2016 with the fastest growing cloud communications business in the world and number one market share position based on total cloud users globally, according to Synergy Research Group.

Quotes"The vision of the mobile enterprise we outlined in October is becoming a reality," said Rich McBee, CEO, Mitel. "With today's announcements we're taking that strategy a step further by enabling the mobile cloud - the backbone for seamless, mobile communications. Now, industries across the board, from healthcare to education to sports, can seamlessly bridge what was once a costly and inefficient dividing line between the consumer and enterprise network. This enables a workplace that is ready for the mobile future and the benefits of the connected world brought on by M2M and the Internet of Things (IoT)."

"Market-leading field service organizations need professional grade, mobile communications applications to drive business growth and profitability," said Charles Jackson, CEO, FieldAware. "Many of the communications capabilities we looked at were limited to only one mode of communication and didn't scale to the level of industrial needs. We were excited to co-ideate and develop a solution with Mitel. We expect it to improve customer service and increase revenue for our customers."

"The influence of mobile and cloud applications is rapidly seeping into everyday enterprise communications in a way that is reshaping how, when and on what device work gets done," said Diane Myers, Senior Research Director, VoIP, UC and IMS at IHS. "Mitel understands that, and over the past year has taken steps to address that transformation. Their developments announced today recognize the need for real-time communication services and the impact M2M and the IoT are having on everyday workplace workflows."

Important Facts


Mitel added 20 new cloud partners in EMEA during the fourth quarter of 2015
Mitel powers VoLTE/ VoWiFi services in 18 countries
MiCloud services are available in six countries: United States, Canada, United Kingdom, Australia, France and Germany
Mitel enters 2016 with the fastest growing cloud communications business in the world and number one market share position based on total cloud users globally, according to Synergy Research Group
Visit Mitel at Mobile World Congress in Barcelona at Booth 7A21 and Enterprise Connect in Orlando at Booth 2001


Related Materials


Download the infographic "The Rise of the Mobile Enterprise"
Download the white paper "Seamless Communications and Collaboration"
Download the case study T-Mobile Netherlands Turns to Mitel for New FMC Cloud Service
Download the white paper "Five Ways to Ensure Quality Eldercare While Reducing Costs"
Watch the MiTeam Collaboration video
Watch the Mobile Cloud Suite video


Social MediaTwitter: Mitel Accelerates Lead in Mobile Enterprise with Mobile and Cloud Innovations #MitelNextTwitter: Mitel Announces New, Real-Time Applications and Expands Cloud and Mobile Services #MitelNext #VoLTE #ViLTE #VoWiFi
Mitel Networks GmbH
A global market leader in enterprise and mobile communications powering more than 2 billion business connections and 2 billion mobile subscribers every day, Mitel (Nasdaq:MITL) (TSX:MNW) helps businesses and mobile carriers connect, collaborate and provide innovative services to their customers. Our innovation and communications experts serve more than 60 million business users in more than 100 countries, and 130 mobile service providers including 15 of the top 20 mobile carriers in the world. Our unique cloud-based mobile enterprise solutions address the evolving needs of a mobile-first world for enterprises, workers and consumers, making Mitel the only company able to provide a bridge between enterprise and mobile customers. For more information, go to www.mitel.com and follow us on Twitter @Mitel.

Mitel is the registered trademark of Mitel Networks Corporation.
All other trademarks are the property of their respective owners.

Press releases you might also be interested in
Weitere Informationen zum Thema "Kommunikation":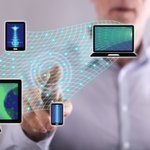 Mobilgeräte verlangen besonderen Schutz
Die Her­aus­for­de­rung bei der mo­bi­len IT in der Öf­f­ent­li­chen Ver­wal­tung be­ginnt ganz am An­fang: bei der um­fas­sen­den Ein­g­lie­de­rung, Kon­trol­le und Si­cher­heit mo­bi­ler End­ge­rä­te als Er­gän­zung zur be­ste­hen­den In­fra­struk­tur.
Weiterlesen