Home Appliances @ IFA: Micronas To Offer Its Smart Sensor Solutions For White Goods Applications
Freiburg

, (PresseBox) -
Micronas (SWX Swiss Exchange: MASN), a leading supplier of innovative application-specific IC system solutions for automotive and consumer electronics, announced today that the company will strengthen its strategy to actively pursue entering the industrial and white goods market with its broad range of Hall-effect sensors. Micronas will showcase its Hall-sensors for white goods at the Home Appliances arena at IFA 2008 in Berlin, Germany - IFA's new platform focusing on electrical home appliances.

"Leveraging its extensive know-how in Hall-effect sensors for automotive applications, Micronas is in an ideal position to support customers from the white goods arena," says Peter Zimmermann, Head of Market Management Automotive, who will be heading the company's initiative to enter the white goods market segment: "We are also looking at the 'green' factor: Household appliances are major energy users and our technology helps to reduce power consumption and thus CO2 emission."

Many appliance manufacturers use multiple sensors for precise control. For example, in washing machines they are part of the variable-speed motor drive. This saves energy by agitating the clothes only enough to get them clean.

Micronas' sensor solutions are already employed in different types of white goods, such as washing machines, clothes dryers, coffee machines, induction cookers, as well as heating and cooling systems.

Micronas will showcase its smart sensor solutions for home appliances at IFA 2008 in Berlin, Germany, from August 29 to September 3, hall 8.1, stand 105.
Micronas
Micronas today offers the world's broadest range of Hall-effect sensors. A Hall-effect sensor detects the presence of a magnet without requiring actual physical contact. Thus, it can be used to sense movement and rotation without requiring contact with the moving object. Other parameters like pressure, force or torque can be sensed by noting the slight movements of a magnet caused by changes of the applied parameter.

While Hall-effect sensors can be made from various materials, Micronas pioneered the market in CMOS Hall-effect sensors and was the first to manufacture in CMOS technology. This technology allows integration of the Hall-effect sensing element with standard electronic devices such as amplifiers, logic circuits, and volatile and non-volatile memories.

Micronas' expertise in Hall sensors combines perfectly with its CMOS and mixed-signal design resources to create accurate, intelligent sensors for a broad range of applications. The ever-increasing demand for energy-efficient and highly reliable machines means that demand for these smart sensors will continue to grow.
Press releases you might also be interested in
Weitere Informationen zum Thema "Consumer-Electronics":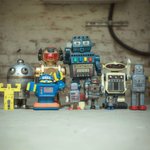 Roboter erobern die Fertigung
Wie misst man den Au­to­ma­ti­sie­rungs­grad der Fer­ti­gungs­in­du­s­trie in ver­schie­de­nen Län­dern? Der Welt­ro­bo­ter­ver­band hat neue Zah­len zur Ro­bo­ter­dich­te im Län­der­ver­g­leich ver­öf­f­ent­licht. Die Au­to­ma­ti­on der Volks­wirt­schaf­ten läuft welt­weit auf Hoch­tou­ren: Mit ei­ner durch­schnitt­li­chen Ro­bo­ter­dich­te von 74 Ein­hei­ten pro 10.000 Mit­ar­bei­ter hat der glo­ba­le Durch­schnitt in der Fer­ti­gungs­in­du­s­trie ei­nen neu­en Re­kord er­reicht.
Weiterlesen