Oerlikon Saurer shows Volkmann FT eco at India ITME 2012
Arbon

, (PresseBox) -
Oerlikon Saurer will be presenting the latest innovative solutions in embroidery and twisting systems to visitors of India ITME in Mumbai from 2-7 December. Oerlikon welcomes visitors at its booth (J10 in Hall 1) with the product lines Allma and Volkmann, the leading suppliers of twisting and cabling systems for staple fibre, carpet yarn, industrial yarn and tire cord, and with the product line Saurer - the market leader in the area of shuttle embroidering.

The new Volkmann FT eco is setting standards yet again

The new Volkmann FT eco continues the tradition of the Volkmann Product Line, always achieving new performance and quality targets. Built on a future proof platform, it offers customers the entire production spectrum. Volkmann's new FusionTwister is equipped with proven components and completes the e-save spindle family with the new eco spindle technology, resulting in significantly reduced power requirements of the twisting machine and the realisation of cost-savings. The newly developed eco spindles form a different balloon geometry and can thus save up to 40% in energy costs compared to traditional spindles. The eco spindles are available in the models VTS-08 eco and VTS-09 eco. Through a newly designed winding-on geometry and the extended winding triangle, the best yarn and bobbin evenness is produced. With its modular construction, the Volkmann FT eco covers all areas of raw materials and count ranges. And through its high yarn and bobbin quality it offers the best conditions for the highest creation of value, today and tomorrow.

Volkmann CC for the best carpet yarns

BCF carpet yarns are successfully processed on Volkmann twisting and cabling machines throughout the world. Thanks to the new expanded e-save spindle family, energy costs can be reduced by up to 40%. And with the new thread brake systems (spherical thread and roller thread brake) the handling of the machine has been considerably simplified. These are substantial contributions for increasing efficiency and quality while simultaneously reducing process costs.

The Allma TC2 has perfected industrial twisted yarns

Today's market for industrial twisted yarns is characterised by strong growth and an ever-increasing variety of applications. The new Allma TC2 two-for-one twisting machine fully meets the requirements of the market and has perfected the production of industrial twisted yarns with unparalleled flexibility and productivity. Any material imaginable can be processed with production speeds of up to 450 m/min, and innovative process technologies help to further perfect the bobbin quality.

The Allma CC4 energy-saving miracle

Allma has established a new milestone in cabling technology with the tire cord cabling system. Depending on the yarn count and spindle type, the Allma CC4 can provide energy savings of up to 50%. These are revolutionary production cost savings for producers. For this forward-looking technology, Allma was awarded the "Tire Technology Award for Innovation and Excellence 2011" in the category "Tire Industry Supplier of the Year".

The Saurer Epoca 6 pro represents perfection and maximum productivity

The average production speed of the Epoca 6 pro is up to 30% higher, and this with complete reliability and the highest quality of embroidery. The unparalleled setting options of the machine set new standards in shuttle embroidering. The innovative and fast thread cut, with the new individual control and secure thread clamping system, results in minimal residual threads. Thus complex patterns with different yarns can also be economically produced.
Melco Oerlikon Saurer Arbon AG
Oerlikon Saurer with its product lines Saurer, Allma and Volkmann is a Business Unit in the textile segment of the globally successful technology group OC Oerlikon.The product line Saurer located in Arbon (Switzerland) is the world's leading partner for high-quality shuttle embroidery machines, innovative embroidery software and a wide range of accessories. The product lines Allma (Kempten, Germany) and Volkmann (Krefeld, Germany) are the leading international suppliers of two-for-one twisting machines, cabling machines and ring twisting machines for tire cord, industrial yarns, all staple fibre yarns, carpet yarns and glass filament yarns.

Further information can be found under: www.saurer.oerlikontextile.com

About Oerlikon

Oerlikon (SIX: OERL) is a leading high-tech industrial group specializing in machine and plant engineering. The Company is a provider of innovative industrial solutions and cutting-edge tech-nologies for textile manufacturing, drive, vacuum, thin film, coating, and advanced nanotechnology. A Swiss company with a tradition going back over 100 years, Oerlikon is a global player with more than 17 000 employees at over 150 locations in 38 countries and sales of CHF 4.2 billion in 2011. The Company invested in 2011 CHF 213 million in R&D, with over 1 200 specialists working on future products and services. In most areas, the operative businesses rank either first or second in their respective global markets.

For further information, please see: www.oerlikontextile.com
Press releases you might also be interested in
Weitere Informationen zum Thema "Industrial Engineering":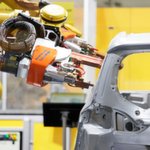 1,7 Millionen Industrie-Roboter erneuern Fabriken weltweit bis 2020
Bis 2020 wer­den mehr als 1,7 Mil­lio­nen neue In­du­s­trie-Ro­bo­ter in den Fa­bri­ken der Welt in­stal­liert. Die Ro­bo­tik-Bran­che in Asi­en ver­zeich­net da­bei ak­tu­ell das stärks­te Wachs­tum – an­ge­führt von Chi­na als Welt­markt­füh­rer. Im Jahr 2017 sind die Ro­bo­ter­in­stal­la­tio­nen in der Re­gi­on Asi­en-Aus­tra­li­en vor­aus­sicht­lich um 21 Pro­zent ge­s­tie­gen, in Nord- und Süda­me­ri­ka um 16 Pro­zent und in Eu­ro­pa um acht Pro­zent. Das sind Er­geb­nis­se aus dem World-Ro­botics-Re­port 2017, der von der In­ter­na­tio­nal Fe­de­ra­ti­on of Ro­botics (IFR) ver­öf­f­ent­licht wur­de.
Weiterlesen