Medigene AG: Medigene presented preclinical data on its PRAME-specific TCR at AACR conference
Planegg/Martinsried

, (PresseBox) -
.

- T-cell receptor (TCR) T4.8-1-29 isolated from healthy blood donor
- Natural high avidity and favorable preclinical safety profile

Medigene AG (FSE: MDG1, Prime Standard, TecDAX) today announced that preclinical data on the T-cell receptor (TCR) T4.8-1-29 was presented during an oral presentation at the American Association for Cancer Research (AACR) Annual Meeting in Washington, D.C., USA. This PRAME-specific TCR will be used in Medigene's first TCR immunotherapy "MDG1011" which will be tested in a clinical phase I/II trial scheduled to be started by the end of 2017.

Dr. Manon Weis, Scientist at Medigene, held an oral presentation on the "Isolation and Characterization of a PRAME-specific TCR for Immunotherapy", describing the target antigen PRAME, the procedures to identify and select the TCR candidate and data that showed its safety and efficacy.

Medigene selected PRAME (PReferentially expressed Antigen in MElanoma) as antigen target for its first clinical TCR therapy MDG1011, as it is overexpressed in a variety of solid cancer indications and several hematological malignancies, while its expression pattern in normal tissue is mainly limited to testis. This makes it an attractive target for adoptive T-cell therapy.

Medigene used blood from a healthy donor and a rapid in vitro process to isolate CD8-positive T cells specific for PRAME. T cells and PRAME expressing dendritic cells (DCs) from the same donor were co-cultured to activate antigen specific T cells, which were isolated using FACS technology and re-tested for specific recognition of PRAME after expansion. The TCR-sequences of antigen-specific clones were identified by Next Generation Sequencing and the TCRs further characterized in terms of safety and efficacy.

This characterization revealed that the TCR clone T4.8-1-29 is highly specific for the target antigen and leads to a recognition and lysis of PRAME-expressing tumor cells. To assess its safety profile, the potential recognition of healthy tissues derived from different organs from HLA-A*02:01-positive donors was investigated. Multiple normal tissue cells were neither recognized nor lysed by TCR expressing T cells, underpinning the very favorable safety profile of this TCR.

Dr. Markus Dangl, Senior Vice President Research & Preclinical Development of Medigene, said: "Effector cells with our TCR against PRAME show a high natural avidity for the target epitope without the need of further manipulation, e.g. functional efficacy enhancement by affinity maturation. In addition, the toxicity assessment using various in vitro and in silico tools revealed a favorable preclinical safety profile for this TCR."

To view the abstract(1) of the presentation please visit: http://bit.ly/2nExnY

This press release contains forward-looking statements representing the opinion of Medigene as of the date of this release. The actual results achieved by Medigene may differ significantly from the forward-looking statements made herein. Medigene is not bound to update any of these forward-looking statements. Medigene® is a registered trademark of Medigene AG. This trademark may be owned or licensed in select locations only.

In case you no longer wish to receive any information about Medigene, please inform us by e-mail (investor@medigene.com). We will then delete your address from our distribution list.
MediGene AG
The TCR technology aims at arming the patient's own T cells with tumor-specific T-cell receptors. The receptor-modified T cells are then able to detect and efficiently kill tumor cells. This immunotherapy approach attempts to overcome the patient's tolerance towards cancer cells and tumor-induced immunosuppression by activating and modifying the patient's T cells outside the body (ex vivo).

TCR therapy is developed to utilize a higher number of potential tumor antigens than other T cell-based immunotherapies, such as chimeric antigen receptor T cell (CAR T) therapy. Medigene is preparing the clinical development of its first TCR candidates and is establishing a pipeline of recombinant T-cell receptors, and has established Good Manufacturing Practice (GMP)-compliant processes for their combination with patient-derived T cells.

Medigene's TCR technology for adoptive T-cell therapy is one of the company's three highly innovative and complementary immunotherapy platforms in immuno-oncology.

Medigene AG (FSE: MDG1, ISIN DE000A1X3W00, Prime Standard, TecDAX) is a publicly listed biotechnology company headquartered in Martinsried near Munich, Germany. The company is developing highly innovative immunotherapies to target various forms and stages of cancer. Medigene concentrates on the development of personalized T cell-based therapies, with associated projects currently in pre-clinical and clinical development.

For more information, please visit www.medigene.com


Press releases you might also be interested in
Weitere Informationen zum Thema "Forschung und Entwicklung":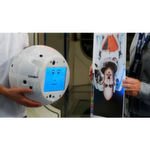 Mobiler Flugbegleiter CIMON fliegt zur ISS
Der in­ter­ak­ti­ve Flu­gas­sis­tent CI­MON (Cr­ew In­ter­ac­ti­ve Mo­bi­le Com­pa­ni­on) soll ab Früh­som­mer 2018 die Cr­ew auf der Raum­sta­ti­on ISS un­ter­stüt­zen.
Weiterlesen