Avoiding the Pitfalls - the Smarter Future of TEM
London, New York, Paris,Tokyo, Gothenburg, Hong Kong

, (PresseBox) -
MDSL, the leading provider of international Telecom Expense Management (TEM) and Market Data Management solutions, today announced that it is taking to the road in 2012 to showcase to the North American market the new developments in its market-leading TEM software suite, MDSL Smart TEM and MDSL Smart MDM.

MDSL will be joined by leading independent information provider, AOTMP, who will be presenting their latest findings on the TEM industry and the key trends to watch for in 2012.

The Road Show visits New York on Tuesday February 21; Houston on Wednesday February 22 and Chicago on Thursday February 23. It consists of a series of breakfast seminars, timed to finish by midday so that delegates can be back in the office by the afternoon, where existing users and potential customers can catch up on the latest developments in the TEM market, share experiences and best practice, have their questions answered in one-to-one sessions with MDSL's panel of TEM specialists and see demonstrations of MDSL Smart TEM and MDSL Smart MDM.

Ben Mendoza, MDSL CEO explained: "While MDSL is an international organization, the USA is one of our most important markets and we're always keen to find companies who want to get a better understanding of the benefits a TEM solution can bring them".

He continued: "This is the culmination of several months' research into customer needs and feedback from users groups around the world, with the findings incorporated into the next-generation Smart TEM and Smart MDM solutions which we'll be launching at the AOTMP Conference in February and demonstrating at these events".

Under the banner "Avoiding the Pitfalls - the Smarter Future of TEM", a highlight of each event will be the TEM User Panel, where existing customers and industry specialists will take part in a moderated discussion of what goes to make a successful TEM deployment and some of the hazards to avoid. Existing MDSL customers will be available to answer questions on every aspect of investing in and installing TEM solutions in their respective organizations.

Whether they already have a TEM solution or are simply considering one, the Road Show agenda has been carefully planned to offer the best opportunity in 2012 for delegates to:
- Shine a light on the secrets of successful TEM deployment
- Take away practical, actionable ideas to use in their day-to-day operation
- Discuss their situation in one-to-one meetings with MDSL experts
- Meet their peers and exchange ideas and tips on TEM best practice
- Learn from one of the leading independent TEM consultancies about the state of the TEM market-place and some of the key challenges facing the industry
- See hands-on demonstrations of the latest MDSL Smart TEM and Smart MDM solutions, to learn how they can assist in their businesses

MDSL Smart TEM includes major changes to the user interface, making it significantly easier for the user to find and manage information. New risk management and optimization tools simplify tasks for administrators, while a new open-API platform enables seamless integration with both internal IT infrastructures and adjacent management products from third party vendors.

MDSL Smart MDM marks the first implementation of the new open-API approach and extends the capabilities of MDSL Smart TEM for the first time into the Mobile Device Management (MDM) market, enabling users and administrators to visualize and manage the use and security of global mobile devices over the air, in real-time, from a single intuitive interface. Operating as a stand-alone tool or as part of a total TEM solution, MDSL Smart MDM's modular construction allows it to be seamlessly integrated into the overall telecom lifecycle management process.

Philippe Lignac, MDSL TEM Sales Director, commented: "This event marks a major step forward in TEM and MDM solutions for the telecom market as a whole. We're extremely pleased with the feedback we've received on the pre-release versions from our pilot groups, and are now keen to make sure that our users, potential customers, the analyst community and the media all get the chance to judge the results for themselves and hear our plans for 2012".

Timothy C. Colwell, SVP of Global Information Management, AOTMP, added: "MDSL scores very highly in our December customer satisfaction survey, achieving a 95 per cent score for customer satisfaction from senior management of large organizations and enterprises deploying its TEM solution internationally. We are therefore delighted to be sharing a platform with MDSL to bring more attention to bear on the efficiencies and savings achievable by large enterprises implementing TEM best practice throughout their businesses".

Venue details will be made available shortly, but demand will be high and places will go quickly - so reserve your seat NOW to avoid disappointment. Click here to register.

About AOTMP

AOTMP, headquartered in Indianapolis, IN, is the leading provider of information solutions for managing fixed and wireless telecom environments. AOTMP's proprietary certifications, benchmarks, standards and best practices deliver measurable improvement in efficiency and productivity for managing wireless, voice, and data services.

From Fortune 50 companies to SMB, enterprises seeking the best return on telecom and IT services turn to AOTMP's industry research, advisory services, educational programs and performance management systems to achieve operational and financial efficiency.
MDSL
MDSL is the market leader in international Telecom Expense Management (TEM) and Market Data Expense Management solutions with offices in London, New York, Paris, Gothenburg, Tokyo and Hong Kong. The company features in the 2010 Gartner TEM Magic Quadrant, and is one of very few providers to carry ISO 27001, ISO 9001 and Safe Harbor certification.

Established in 1995, MDSL's award-winning software and services assist enterprises around the world to manage their communications and market data costs more efficiently, and achieve significant cost savings on a global scale. With a range of solutions covering the full life cycle, from procurement to invoice reconciliation, more than 150 customers in over 34 countries trust MDSL products and services to deliver tangible and measurable benefits to their bottom line.

MDSL is a member of the TEM Industry Association (TEMIA). The company was recently rated top international TEM provider in the AOTMP 2011 survey of customer satisfaction and is ranked in the Top-25 UK businesses in the Sunday Times 2011 International Track 100 list, as well as featuring in the Sunday Times 2011 Tech Track 100 list. MDSL was recently voted "Best Supporting Services Provider" in the 2011 Inside Market Data Awards and was short-listed for 2011 National Business Awards "Business Enabler of the Year".

Press releases you might also be interested in
Weitere Informationen zum Thema "Software":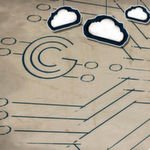 Warum "Minimum Viable Cloud" ein Schreckgespenst ist
Et­wa vor ei­nem Jahr hör­te ich im Rah­men ei­ner Pro­jekt­be­sp­re­chung erst­mals das sch­reck­li­che Akr­o­nym "MVC". Mein Kon­takt nann­te die­se Ab­kür­zung wie­der und wie­der und ich wuss­te nicht, was sie be­deu­te­te. Zu­nächst tipp­te ich auf "Mo­del-View-Con­trol­ler", bis ich lern­te, dass MVC für "Mi­ni­mum Via­b­le Clou­d" steht. Der Be­griff lei­tet sich von "Mi­ni­mum Via­b­le Pro­duc­t", kurz MVP ab, wört­lich ein "mi­ni­mal über­le­bens­fähi­ges Pro­duk­t".
Weiterlesen