Martin @ PLASA Focus Leeds 2012: A new breed of light!
Karlsfeld

, (PresseBox) -
Martin Professional heads to Leeds on April 17th for PLASA Focus 2012 where a new breed of moving head - the MAC Viper Profile - and much more will be on display at Martin stand S-E16.

Join Martin April 17-18 at the Royal Armouries Museum for an up close look at the MAC Viper along with a host of other new products like the all-new VC series of creative LED video solutions, a new portable lighting controller in the M-Series, and a new compact hazer in Martin's Jem family.

MAC Viper Profile(TM) : The Martin MAC Viper Profile is a new breed of high-performance profile luminaire with the qualities of a better industry workhorse. It features intense light output from advanced lamp technology and innovative feature set. Its highly efficient optical system outperforms market-leading profiles in the 1200-watt range and with over 25000 lumens of power from a 1000-watt HID source is convincingly brighter than 1200-watt fixtures. It also outperforms them in terms of speed and compactness. Power consumption is lower and output is approximately 50% more efficient than the 1200-watt fixtures it replaces.

Creative LED Video Series: Martin launches the world's first series of 'true video' products to combine an all-new level of simplicity with a high level of quality. Instead of relying on DMX, new creative LED video elements like Dots and Grids are driven by Martin's award-winning P3 System Controller family to give true video control with superb ergonomics. No more complicated setups involving DMX pixelmapping, loose power supplies, tons of cabling and time-consuming addressing procedures. Add video-quality calibration, video frame rates, and true video processing (gamma curves, color control, synchronization and more) and Martin's Creative LED Video Series is a real winner.

Part of the Series is formed by a variety of video dots called VC-Dot 1(TM) , VC-Dot 4(TM) and VC-Dot 9(TM) (each offering a different size and brightness). VC-Dots are the perfect solution for integrating LED video technology into a façade, stage design, ceiling or any other structure (indoors or out).

Also available is the VC-Grid 25(TM) , a small, 200 x 200 mm LED video module with 25 mm pixel pitch. Its compact size makes it extremely suitable for integration into stage designs, set elements, creative ceilings and more. Used with or without a front diffuser, multiple VC-Grids can be combined in a countless variety of ways for ultimate design freedom.

All creative LED video products are supported by the P3 PowerPort 1500(TM) , an integrated power and data processor with flexible installation options. Forget about setups involving different types of power supplies, custom cables and loose converter boxes. A single P3 PowerPort 1500 supports all products in a simple daisy-chain of hybrid cable.

M2PC(TM) : M2PC is the complementary control surface to Martin's M-PC controller software. Featuring the same layout and portable size as the M2GO, the M2PC delivers a professional level of features directly from any PC. Following the philosophy and simplicity of our current controller platform, such as the Martin M1, the Martin M2PC is one of the most powerful and affordable PC-based lighting controllers on the market.

Jem Compact Hazer Pro(TM) : The Jem Compact Hazer Pro is a versatile new haze machine from Martin Professional designed for the highly demanding professional market. Its ability to produce exceptional atmospheric haze effects in a short period of time makes it ideal for nearly any application. Low noise operation at slow fan speeds means it is suitable for noise-sensitive environments while a host of other innovative features make the Jem Compact Hazer Pro the perfect choice for rental houses, shows, theatres, TV studios, clubs, bars, cruise ships, theme parks and much more.
Martin Professional GmbH
Founded in 1987 and celebrating our 25th Anniversary, the company is headquartered in Aarhus, Denmark, with local service and sales operations in London and Lincolnshire. Martin Professional is a world leader in the creation of dynamic lighting and video solutions for the entertainment, architectural, and commercial sectors. Martin lighting products are industry standard on top tours and events, grace prestigious theatres, energize nightclubs, and decorate major television studios around the globe. Other important areas of application are indoor and outdoor architecture and commercial applications where Martin products are increasingly being used to transform spaces through dynamic light and visual effects. Martin also offers a range of advanced lighting controllers and media servers, as well as a complete line of smoke machines as a complement to intelligent lighting. The company operates the industry's most complete and capable distributor network with local partners in nearly 100 countries. For more information please visit www.martin.com


Press releases you might also be interested in
Weitere Informationen zum Thema "Optische Technologien":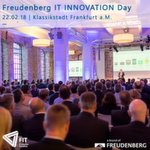 Freudenberg IT lädt zum Customer Innovation Day
Der IT-Di­enst­leis­ter Freu­den­berg IT ver­an­stal­tet am 22. Fe­bruar 2018 in Frank­furt am Main den "Cu­sto­mer In­no­va­ti­on Day". Teiln­meh­mer er­war­tet ei­ne span­nen­de Agen­da rund um die The­men Di­gi­ta­li­sie­rung, In­du­s­trie 4.0, Big Da­ta, Cloud Com­pu­ting, SAP HA­NA und En­ter­pri­se Mo­bi­li­ty.
Weiterlesen