Drive train optimisation by dynamic torque measurement based on advanced sensor telemetry
Spaichingen

, (PresseBox) -
In order to optimise a vehicle's drive train, it is imperative to measure the dynamic torque on the drive train during every type of manoeuvre. Such measurement is indispensable for tuning the vehicle and optimising drive train efficiency. This in turn increases driving comfort and fatigue life. When developing new vehicles an optimised drive train is a significant competitive advantage.

The dynamic torque on the half shafts is typically determined using strain gauges to measure the torque with the measurement signals transmitted by near-field telemetry systems.

Given increasingly confined spaces, larger lateral movements of the half shafts especially in the front, and in harsh environments, the demands on signal transmission technology are enormous.

MANNER has met these demands with an advancement in sensor telemetry. The innovation is an auto-synchronising stator antenna in the form of a flexible loop that can be moulded and thus can be adapted to the vehicle body shape. The distinctive feature of the newly patented method is the self-synchronising loop antenna which automatically optimises the power transmission. This guarantees a "plug and play" solution for virtually all situations. It is simply placed around the rotating shaft and fastened to the vehicle body. Integrated shielding makes any contact with body parts inconsequential. This solution tolerates distances of 0 to 120 mm between the stator antenna and half shaft. Most importantly, the digital transmission technology guarantees absolutely reliable transmission even on extremely rough terrain or in bad weather.

Combined with MANNER Flex technology solutions can be found for the smallest clearances between half shaft and body. The measuring range settings and auto-zero function can be remotely controlled over the telemetry link (RMC technology).

Dependable MANNER digital sensors with 16 bit resolution ensure highest resolution and accuracy at temperatures down to -50° Celsius. The industry standard CAN bus interface allows straightforward integration into data capture networks.
Press releases you might also be interested in
Weitere Informationen zum Thema "Automotive Engineering":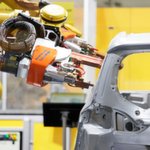 1,7 Millionen Industrie-Roboter erneuern Fabriken weltweit bis 2020
Bis 2020 wer­den mehr als 1,7 Mil­lio­nen neue In­du­s­trie-Ro­bo­ter in den Fa­bri­ken der Welt in­stal­liert. Die Ro­bo­tik-Bran­che in Asi­en ver­zeich­net da­bei ak­tu­ell das stärks­te Wachs­tum – an­ge­führt von Chi­na als Welt­markt­füh­rer. Im Jahr 2017 sind die Ro­bo­ter­in­stal­la­tio­nen in der Re­gi­on Asi­en-Aus­tra­li­en vor­aus­sicht­lich um 21 Pro­zent ge­s­tie­gen, in Nord- und Süda­me­ri­ka um 16 Pro­zent und in Eu­ro­pa um acht Pro­zent. Das sind Er­geb­nis­se aus dem World-Ro­botics-Re­port 2017, der von der In­ter­na­tio­nal Fe­de­ra­ti­on of Ro­botics (IFR) ver­öf­f­ent­licht wur­de.
Weiterlesen