The press service for journalists and influencers in the technological sector
MAHLE GmbH

BoxId: 125678 – Behr at the IAA Cars 2007: Contributions to Sustainable and Comfortable Mobility
Press release BoxID: 125678 (MAHLE GmbH)
MAHLE GmbH
Pragstraße 26 - 46
70376 Stuttgart
http://www.mahle.com
Contact person
René Lehnert
+49 (711) 896-2304
Recommend Behr at the IAA Cars 2007: Contributions to Sustainable and Comfortable Mobility press release
QrCode
What its a QR code?
Three steps: Scanning of a QR code: Find your way to a press release without typing. Use the QR code on the print version of a press release to get redirected to the corresponding page on PresseBox.
How does scanning a QR code work? Just follow these simple steps.
Everything you need is an internet-enabled mobile phone or smartphone with a built-in camera and a QR code reading software.
QR stands for Quick Response - with one step you can quickly reach a website. QR codes work like bar codes, which you can find on your milk carton, for example. A software decrypts the QR code and directs you to a web page - so you do not even need to know the web address to reach it.
Download and print your digital press kit now
Please send the following information to my email address:
*) Please confirm your email address to get daily information about new releases with PresseMail.
Behr at the IAA Cars 2007: Contributions to Sustainable and Comfortable Mobility
MAHLE GmbH
Behr GmbH & Co. KG, based in Stuttgart, Germany, is a systems partner for the international automobile industry. A specialist in automotive air conditioning and engine cooling systems, the Behr Group is one of the world's leading manufacturers and suppliers of original equipment for passenger and commercial vehicles. Group sales in the 2007 business year came to around 3.4 billion euros. Currently, Behr employs some 20,000 staff at 17 development locations, 28 production sites and 12 joint ventures worldwide.
You may also be interested in
Additional information on the topic of "Automotive Engineering"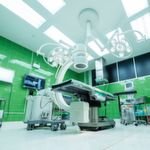 Deep Learning, Robotik und AR: Die Medizin der Zukunft
Dass uns Dr. Algorithmus sagt, welche Krankheit wir haben, ist bislang noch Zukunftsmusik. Doch die Medizinforschung legte in den vergangenen Jahren gewaltig zu – nicht zuletzt mithilfe neuer Technologien. Dabei geht die Medizin mittlerweile weit über vernetzte Geräte hinaus.
Read more

Company address
MAHLE GmbH

Pragstraße 26 - 46

D

-

70376

Stuttgart