LumeJet spotlights potential for high-speed, high volume inkless printing at InPrint 2014
Coventry

, (PresseBox) -
Digital print innovator, LumeJet, is attending InPrint 2014 (8-10th April, Hannover Messe, Stand C10) to showcase its new high-speed, high-volume inkless Digital Print Head (DPH) technology. The initial iteration of the LumeJet DPH technology - the Lumejet S200 printer - has been designed for ultra-high quality short run lay-flat A4/A3 books. At Inprint Lumejet will unveil the LumeBar DPH linehead which is aimed at manufacturers of industrial packaging, security and printed electronics machines, where high speed, high volume and high accuracy are critical.

The LumeJet S200 printer features a dual print head which traverses photo-sensitive print substrate. The LumeBar, in contrast, is made up of multiple DPHs mounted together to create a static imaging head. LumeBars contain a number of separate "LumeChips", each of which has many hundreds of micron-sized light emitting elements and associated driver electronics. LumeBars are custom-built with required output dot size, wavelength and power tuned to the specific application.

LumeBar technology, which is still 2 or 3 years away from commercial production, is an exciting new area of research and development at the forefront of photonics, and includes solid state micro LED, organic LED (OLED) and laser diode arrays. LumeJet's research is currently centred on applications for inkless printing and direct-write lithography, both of which require higher output powers and higher speeds than for conventional digital printing.

LumeJet's DPH technology, with its pinpoint accuracy, minute dotsize, inkless direct-print process and faultless repeatability is a perfect match for high speed, high volume applications. Plugged into a static LumeBar configuration the DPH transmit light beyond the visible spectrum (UV & IR) to print directly at production speed onto any object that has a light-sensitive pre-coating.

"2014 will be a really exciting year for us," says LumeJet's Commercial Director, Miles Bentley. "There is significant interest in the LumeJet S200 printer, and we are currently working on the development of a high-speed LumeBar-enabled version of the technology in association with leading labelling technology manufacturers. The LumeBar is still two or three years from commercialisation, but offers exciting possibilities for the future."

The quality of LumeJet photonic print has been praised by Frank Romano, US print guru who said: "The real point is that this is the highest quality printing I have ever seen." (see Frank Romano's video review in full http://youtu.be/02Lup6bIOKQ)
LumeJet Holdings Ltd
LumeJet is a digital print innovator, based in Coventry and founded in 2010, developing photonic platform technology for inkless printing and patterning applications. For further details, see : http://www.lumejet.com

The LumeJet S200 is a photonic, digital printer and LumeJet's first commercial offering. The inkless technology features LumeJet's innovative, patented Digital Print Head, and works in a similar way to an inkjet using light, rather than ink to make tiny dots (less than 0.005 mm) on photosensitive media. The RGB colour model achieves outstanding colour fidelity, including hard-to-print Pantone special inks like reflex blue, and flawless black across the entire printable area. With maximum print size of 1000 x 305 mm, output from the LumeJet S200 is ideally suited to A3 landscape layflat books and panoramic images.

The LumeBar is a static imaging head made up of a number of LumeJet Digital Print Heads.

LumeBars contain a number of separate "LumeChips", each of which has many hundreds of micron-sized light emitting elements and associated driver electronics. LumeBars are custom-built, their design and composition depending on the required output dot size, wavelength and powers.

LumeBar technology is an exciting new area of research and development at the forefront of photonics, and includes solid state micro LED, organic LED (OLED) and laser diode arrays. LumeJet's research is currently centred on applications for inkless printing and direct-write lithography, both of which require higher output powers and higher speeds than for conventional digital printing.

LumeJet and the chromaticity field logo are registered trademarks.

Press releases you might also be interested in
Weitere Informationen zum Thema "Produktionstechnik":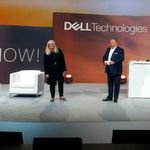 Digitalisierung erfordert nahtlose Kommunikation
Dells Ta­ges­ver­an­stal­tung The Next Now! In Mün­chen woll­te Hil­fe­stel­lung leis­ten auf dem Weg zur Di­gi­ta­li­sie­rung der Un­ter­neh­men in Deut­sch­land. Wel­che St­ra­te­gi­en und Rah­men­be­din­gun­gen er­wei­sen sich als güns­tig, was soll ver­mie­den wer­den?
Weiterlesen