Tiny Dual Hot Swap Controller for Optical Networks
MILPITAS, CA

, (PresseBox) -
Linear Technology Corporation introduces the LTC4224, a compact, low voltage Hot Swap(TM) controller for protecting boards and backplanes that use two 1V to 6V voltage supplies. Systems, including fiber optic networks, will benefit from the simplified control with independent turn-on and adjustable ramp of the two supplies. In recent years, multisource agreements like XENPAK have defined fiber optic transceiver modules that provide transmission rates up to 10Gbits/sec over distances as long as 80km. Since then, more versatile definitions like X2 or Xpak have emphasized smaller form factors for space-constrained applications. The LTC4224 supports the trend in shrinking modules by providing a compact Hot Swap solution that requires minimal external components. The LTC4224 enables safe insertion and removal of a module into a rail by limiting any inrush currents large enough to create a glitch on the rail which can cause other plug-in modules to malfunction.

The LTC4224 is suitable for optical networking, as well as low voltage Hot Swap control and electronic circuit breaker applications, especially in cases where space is very limited. An internal diode OR circuit ensures that the LTC4224 is properly supplied with power by one of the two monitored supplies, whichever is greater, both of which can be turned on and off independently. This allows the LTC4224 to control a supply voltage as low as 1V, provided the other supply is 2.7V or greater. An adjustable current limit allows users to match the current limit threshold to their load while a 5ms electronic circuit breaker monitors for an overcurrent condition and protects the external MOSFETs against shorts or excessive load currents. Peak fault currents are controlled in less than 1µs and an optional gate capacitor can be used to adjust the gate slew rate. Otherwise, all traditional Hot Swap timing parameters are internally generated to save board area if minimization of components is desired.

The LTC4224 is offered in two versions: the LTC4224-1 latches off after a fault, whereas the LTC4224-2 provides automatic retry after a fault. Commercial and industrial grades offer different operating temperature ranges from 0°C to 70°C and -40°C to 85°C, respectively. The LTC4224 is available in 10-lead 3mm x 2mm DFN or 10-lead MSOP RoHS compliant packages. Please visit www.linear.com for more product selection and information.

Summary of Features: LTC4224

- Allows Safe Board Insertion & Removal from a Live Backplane
- Controls Load Voltage from 1V to 6V
- No Gate Components Required
- Adjustable Current Limit with Circuit Breaker
- Limits Peak Fault Current in </1us
- No External Timing Capacitor Required
- Adjustable Supply Voltage Power-Up Rate
- Gate Drive for External N-Channel MOSFET
- LTC4224-1: Latchoff after Fault
- LTC4224-2: Automatic Retry after Fault
- 10-Lead MSOP & 3mm x 2mm DFN Packages
LINEAR TECHNOLOGY GmbH
Linear Technology Corporation, a manufacturer of high performance linear integrated circuits, was founded in 1981, became a public company in 1986 and joined the S&P 500 index of major public companies in 2000. Linear Technology products include high performance amplifiers, comparators, voltage references, monolithic filters, linear regulators, DC-DC converters, battery chargers, data converters, communications interface circuits, RF signal conditioning circuits, uModule(TM) products, and many other analog functions. Applications for Linear Technology's high performance circuits include telecommunications, cellular telephones, networking products such as optical switches, notebook and desktop computers, computer peripherals, video/multimedia, industrial instrumentation, security monitoring devices, high-end consumer products such as digital cameras and MP3 players, complex medical devices, automotive electronics, factory automation, process control, and military and space systems. For more information, visit www.linear.com.

LT, LTC, LTM, Burst Mode and are registered trademarks and uModule is a trademark of Linear Technology Corp. All other trademarks are the property of their respective owners.
Press releases you might also be interested in
Weitere Informationen zum Thema "Hardware":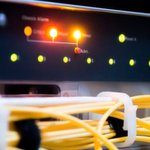 Mehr Effizienz für speicherintensive Anwendungen
IBM über­rascht schon jetzt mit der Markt­ein­füh­rung neu­er PO­WER-9-Sys­te­me-Ein­s­tei­ger­mo­del­le. Ge­plant war Früh­jahr 2018. Das Ser­ver-Port­fo­lio ist vor al­lem für spei­cher­in­ten­si­ve An­wen­dun­gen wie zum Bei­spiel SAP HA­NA, IBM DB2 oder Or­a­c­le-Da­ten­ban­ken kon­zi­piert.
Weiterlesen