Synchronous 700mA (ISW) Boost & 250mA (IOUT) Buck Regulators & 100mA LDO in a 3mm x 3mm QFN
Mulpitas, CA

, (PresseBox) -
Linear Technology Corporation announces the LTC3100, a triple output converter which includes a 700mA (ISW) synchronous boost regulator, a 250mA (IOUT) synchronous buck regulator and a 100mA (IOUT) LDO in a 3mm x 3mm QFN-16 package. Both the boost and the buck regulators switch at 1.5MHz and use current mode, synchronous topologies. The LTC3100's boost converter operates from an input voltage range of 0.65V (start-up) to 5V making it compatible with single or multiple cell alkaline/NiMH and single cell Li-Ion/Polymer batteries and can deliver output voltages from 1.5V to 5.25V. The 250mA buck converter can be run directly from the output of the boost converter or from an independent 1.8V to 5.5V input and can deliver outputs as low as 0.6V. The LDO's input is tied to the output of the boost converter and requires only 130mV of dropout voltage offering an additional low noise output adjustable down to 0.6V.

The combination of a boost, buck and LDO make the LTC3100 ideal for applications powered by low voltage inputs, such as single or dual cell alkaline batteries. For example: from a single cell alkaline input, the synchronous boost converter can deliver a higher voltage rail, such as 3.3V for microprocessor I/O, then the LDO will deliver a 3.0V output for memory and the synchronous step-down (connected to the output of the boost regulator) regulator can deliver a 1.0V VCORE rail. Synchronous rectification enables efficiencies of over 90% and Burst Mode® operation lowers quiescent current to only 15uA, providing extended battery run-time. Constant 1.5MHz frequency operation ensures low noise and high efficiency operation with tiny external inductors and capacitors.

The boost converter in the LTC3100 incorporates an integrated output disconnect function for reliable operation and also regulates when VIN>VOUT, extending usable battery run-time. Its output voltage is adjustable between 1.5V and 5.25V. Both switching converters offer internal compensation, soft start and have separate Power Good pins. All three channels have independent enable pins for power sequencing. For low noise applications, the Burst Mode feature can be replaced with a lower noise forced continuous mode via an external MODE pin. Offered in a 3mm x 3mm QFN-16 package, the LTC3100 offers a very compact solution footprint.

LTC3100EUD is available from stock in a 16-lead QFN package. 1,000-piece pricing starts at $3.10 each.

Summary of Features: LTC3100
- Extremely Compact Triple-Rail Solution
-Burst Mode® Operation, IQ=15uA
-1.5MHz Fixed Frequency Operation
-Power Good Indicators
-700mA (ISW) Synchronous Step-Up DC/DC
-0.65V to 5V VIN Range
-1.5V to 5.25V VOUT Range
-94% Peak Efficiency
-VIN>VOUT Operation
-Output Disconnect
-250mA (IOUT) Synchronous Step-Down DC/DC
-1.8V to 5.5V VIN Range
-0.6V to 5.5V VOUT Range
-LDO (VIN Internally Tied to VBST)
-0.6V to 5.25V VOUT Range
-200mV Dropout Voltage at 100mA
-Available in a 16-Lead 3mm × 3mm QFN Package
LINEAR TECHNOLOGY GmbH
Linear Technology Corporation, a manufacturer of high performance linear integrated circuits, was founded in 1981, became a public company in 1986 and joined the S&P 500 index of major public companies in 2000. Linear Technology products include high performance amplifiers, comparators, voltage references, monolithic filters, linear regulators, DC-DC converters, battery chargers, data converters, communications interface circuits, RF signal conditioning circuits, uModule(TM) products, and many other analog functions. Applications for Linear Technology's high performance circuits include telecommunications, cellular telephones, networking products such as optical switches, notebook and desktop computers, computer peripherals, video/multimedia, industrial instrumentation, security monitoring devices, high-end consumer products such as digital cameras and MP3 players, complex medical devices, automotive electronics, factory automation, process control, and military and space systems. For more information, visit www.linear.com.

LT, LTC, LTM, Burst Mode and are registered trademarks and uModule is a trademark of Linear Technology Corp. All other trademarks are the property of their respective owners.
Press releases you might also be interested in
Weitere Informationen zum Thema "Elektrotechnik":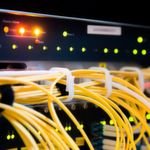 IoT-Basics: PLUGandWORK für Industrie 4.0
Un­ter­schied­li­che Bus­sys­te­me, Kom­mu­ni­ka­ti­ons­pro­to­kol­le und Netz­werk­tech­no­lo­gi­en er­schwe­ren den durch­gän­gi­gen In­for­ma­ti­ons­aus­tausch von der Fel­de­be­ne über die Leit­e­be­ne bis zur Pla­nungs­e­be­ne. Die Fol­ge: Da­ten wer­den nicht ge­nutzt oder dop­pelt er­fasst. Die­sem ent­ge­gen steht die Grund­i­dee von PLU­Gand­WORK.
Weiterlesen