Eight-Channel Configurable 1A Buck DC/DCs for Multi-Rail Systems
Milpitas,CA

, (PresseBox) -
Linear Technology Corporation announces the LTC3375, a highly-integrated general-purpose power management solution for systems requiring multiple low voltage power supplies. The device features eight independent 1A channels with I²C control, flexible sequencing and fault monitoring in a compact QFN package. Each channel is a high efficiency synchronous step-down regulator with its own independent 2.25V to 5.5V input supply and an output voltage range of 0.425V to VIN. In addition, the LTC3375's buck DC/DCs may be connected in parallel to achieve higher output currents up to 4A per output with a single shared inductor. Up to four adjacent regulators can be combined, resulting in 15 different possible output configurations. All of the switching regulators are internally compensated and need only external feedback resistors to set the default output voltage.

The LTC3375's pushbutton ON/OFF/RESET control, power-on reset and watchdog timer provide flexible and reliable power-up sequencing and system monitoring. All buck output voltages can be adjusted via I²C for margining or power optimization. The LTC3375 features a programmable and synchronizable 1MHz to 3MHz oscillator with a 2MHz default switching frequency. The device also contains a high voltage input shunt regulator controller, and quiescent current is only 11µA with all DC/DCs off. It is ideal for a wide variety of multichannel applications including industrial, automotive and communications systems.

Adjacent buck regulators can be combined in a master/slave configuration by connecting their VIN and SW pins together, and connecting the slave bucks' FB pin(s) to the input supply. The switching regulators offer two operating modes: Burst Mode® operation (power-up default mode) for higher efficiency at light loads, and forced continuous PWM mode for lower noise at light loads. The I²C interface can be used to select mode of operation, phasing, feedback regulation voltage and switch slew rate. The bucks have forward and reverse current limiting, soft-start to limit inrush current during start-up, short-circuit protection and slew rate control for lower radiated EMI. Other features include a die temperature monitor output (readable via I²C or the analog voltage on the TEMP pin), which indicates internal die temperature and an overtemperature (OT) warning function, indicating high die temperature.

The LTC3375 is available from stock in a thermally enhanced, low profile (0.75mm) 48-pin 7mm x 7mm exposed pad QFN package. E and I grades are specified over an operating junction temperature range of -40°C to +125°C, and the H grade features operation from -40°C to +150°C. 1000-piece pricing starts at $5.45 each for the E grade. For more information, visit www.linear.com/product/LTC3375.

Summary of Features: LTC3375

- 8-Channel Independent Step-Down DC/DCs Master/Slave Configurable for Up to 4A per Output Rail with a Single Inductor
- Independent VIN Supply for Each DC/DC (2.25V to 5.5V)
- All DC/DCs Have 0.425V to VIN Output Voltage Range
- Precision Enable Pin Thresholds for Autonomous Sequencing (or I²C Control)
- 1MHz to 3MHz Programmable/Synchronizable Oscillator Frequency (2MHz Default)
- I²C Selectable Phasing (90° Steps) per Channel
- Programmable Power-On Reset/Watchdog/Pushbutton Timing
- Die Temperature Monitor Output
- 48-Lead 7mm × 7mm QFN Package
LINEAR TECHNOLOGY GmbH
Linear Technology Corporation, a member of the S&P 500, has been designing, manufacturing and marketing a broad line of high performance analog integrated circuits for major companies worldwide for three decades. The Company's products provide an essential bridge between our analog world and the digital electronics in communications, networking, industrial, automotive, computer, medical, instrumentation, consumer, and military and aerospace systems. Linear Technology produces power management, data conversion, signal conditioning, RF and interface ICs, µModule® subsystems, and wireless sensor network products. For more information, visit www.linear.com.

LT, LTC, LTM, Linear Technology, the Linear logo, Burst Mode and µModule and are registered trademarks of Linear Technology Corp. All other trademarks are the property of their respective owners.

Press releases you might also be interested in
Weitere Informationen zum Thema "Elektrotechnik":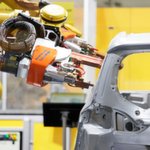 1,7 Millionen Industrie-Roboter erneuern Fabriken weltweit bis 2020
Bis 2020 wer­den mehr als 1,7 Mil­lio­nen neue In­du­s­trie-Ro­bo­ter in den Fa­bri­ken der Welt in­stal­liert. Die Ro­bo­tik-Bran­che in Asi­en ver­zeich­net da­bei ak­tu­ell das stärks­te Wachs­tum – an­ge­führt von Chi­na als Welt­markt­füh­rer. Im Jahr 2017 sind die Ro­bo­ter­in­stal­la­tio­nen in der Re­gi­on Asi­en-Aus­tra­li­en vor­aus­sicht­lich um 21 Pro­zent ge­s­tie­gen, in Nord- und Süda­me­ri­ka um 16 Pro­zent und in Eu­ro­pa um acht Pro­zent. Das sind Er­geb­nis­se aus dem World-Ro­botics-Re­port 2017, der von der In­ter­na­tio­nal Fe­de­ra­ti­on of Ro­botics (IFR) ver­öf­f­ent­licht wur­de.
Weiterlesen