DC/DC µModule Regulator Family Verified by Xilinx for High Speed RocketIO SERDES
Milpitas/CA

, (PresseBox) -
Linear Technology Corporation announces that four of its low noise DC/DC µModule(TM) regulators have been verified by Xilinx to power multigigabit RocketIO SERDES (serializer deserializer) systems. These DC/DC uModule converters are complete switchmode regulator systems incorporating special design techniques to deliver clean power at high efficiency for high-speed RocketIO interfaces. All four uModule regulators have passed Xilinx's jitter tolerance, BERT (Bit Error Rate Test) and eye-scan tests.

"Linear Technology has worked closely with Xilinx to develop new products specifically targeted for applications requiring low noise performance. Our tests on these new DC/DC µModules provided comparable, and in some cases, better noise performance and jitter tolerance than linear regulators for powering RocketIO," according to Panch Chandrasekaran, Senior Product Marketing Manager for the SERDES Technology Group at Xilinx.

"Our mutual customers have asked us to develop high power, high efficiency and low noise DC/DC solutions for powering multigigabit transceivers because linear regulators dissipate too much heat in some customer applications," said Afshin Odabaee, Product Marketing Manager for DC/DC uModule regulators at Linear Technology.

The four DC/DC µModule regulators are the LTM8023 (2A), LTM4604 (4A), LTM4606 (6A) and LTM4616 (dual output, 8A). This family addresses output currents from 2A to 8A and operates from inputs ranging from 2.375V to 36V. Their LGA (Land Grid Array) packages vary in size from 9mm x 11.25mm x 2.8mm to 15mm x 15mm x 2.8mm, depending on their power capabilities and features.

In summary, the test setup used 8 different SERDES channels--2 channels to measure jitter tolerance and 6 channels in loopback mode. The test equipment used included the HP461A and Agilent DSO 54855 for TX output jitter measurement and BERT Scope-S for RX jitter tolerance. A detailed presentation of the test setup, equipment and results is available at FPGA Journal Chalk Talk webcast: https://admin.acrobat.com/_a700655680/xilinx080826/. For more information, visit www.linear.com.

Summary of Features:

LTM8023, LTM4604, LTM4606, LTM4616

- Complete DC/DC Systems in an Encapsulated Surface-Mount Package with Inductor, Power Stages, DC/DC Regulator IC & Supporting Circuitry
- 2A-8A Output Current
- Low Noise Operation, No Filtering Required
- Low Heat Dissipation, High Frequency
- Small Land Grid Array (LGA) Package
- Simple Copy-&-Paste Layout
- Output Over-Voltage & Short Circuit Protection
LINEAR TECHNOLOGY GmbH
Linear Technology Corporation, a manufacturer of high performance linear integrated circuits, was founded in 1981, became a public company in 1986 and joined the S&P 500 index of major public companies in 2000. Linear Technology products include high performance amplifiers, comparators, voltage references, monolithic filters, linear regulators, DC-DC converters, battery chargers, data converters, communications interface circuits, RF signal conditioning circuits, uModule(TM) products, and many other analog functions. Applications for Linear Technology's high performance circuits include telecommunications, cellular telephones, networking products such as optical switches, notebook and desktop computers, computer peripherals, video/multimedia, industrial instrumentation, security monitoring devices, high-end consumer products such as digital cameras and MP3 players, complex medical devices, automotive electronics, factory automation, process control, and military and space systems.

LT, LTC and LTM are registered trademarks and µModule is a trademark of Linear Technology Corp. All other trademarks are the property of their respective owners.


Press releases you might also be interested in
Weitere Informationen zum Thema "Hardware":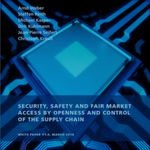 Open-Source auch für Hardware?
Ein Whi­te­pa­per emp­fiehlt, die Ent­wick­lung von Open-Sour­ce-Hard­wa­re zu be­sch­leu­ni­gen. Die Au­to­ren kom­men aus For­schungs­in­sti­tu­ten, aus de­nen ei­nen so weit­ge­hen­de For­de­rung eher nicht zu er­war­ten war.
Weiterlesen