New update released for BORN OF BLOOD the offical add-on to 4x Space
EW Haarlem

, (PresseBox) -
Leading Publisher Lighthouse Interactive and accomplished developer Kerberos Productions continue to show their commitment to the vast Sword of the Stars community by releasing Update 1.5.2 for Born of Blood, the official add-on to critically acclaimed 4X space strategy game Sword of the Stars. Update 1.5.2 allows current owners of Born of Blood to play on custom maps created by others, and engage in multiplayer action with those who are playing the recently released version included in Sword of the Stars: Collector's Edition. The Update however does not contain many of the robust features that are exclusive to the Collector's Edition, such as the ability to share custom maps or create stand-alone servers.

Update 1.5.2 is English only and can be installed over all previous versions of Born of Blood. Some of the key features include:

- Play custom maps created by other players and access example custom maps in the Maps folder
- New encounters added
- Addtional visual feedback to polygon targeting an enemy in combat (i.e. during mass missile launches)
- AI enhancements (i.e. prevention of the AI from surrendering too early)
- Various performance issues corrected
- The ability to observe encounters even if players have other combats queued
- The Zuul receive one additional colony despite the map settings and a free bore ship is provided at every initial world
- Build queue is now visible from the trade tab in the Empire Summary
- New AI player names, badges and portraits to reflect characters and references from The Deacons Tale (visible to 1.5.2 players, but not accessible for personal use)
- Drag & drop multiple ships from side list into fleet manager Though Update 1.5.2 is quite comprehensive, it does not include the following features that are found exclusively in the retail version of Sword of the Stars: Collector's Edition, which is out now:

- Create a stand-alone game server
- Ability to permanently save a copy of a custom map created by other players
- New ship badges and player avatars
- Use of custom maps in single and multiplayer modes
- The first ever Sword of the Stars novel entitled, The Deacon's Tale by acclaimed science fiction author Arinn Dembo
- Bonus CD with full music tracks (including never-before-released tracks), concept art, video trailers and interviews, and detailed bios for each race To download Update 1.5.2 and view the complete feature list, visit: www.lighthouse-interactive.com

For more information about Sword of the Stars, please visit: www.swordofthestars.com or www.lighthouse-interactive.com.

GAME SUMMARY

Take control and build the ultimate empire in Sword of the Stars. In classic 4X style, prepare to eXplore mysterious star systems, claim planets to eXpand your empire, eXploit your resources, then design and build your own bigger, faster, stronger ships to eXterminate your enemies in epic, tactical, 3D battles in single or multiplayer.

In Born of Blood, over 30 years have passed since the first stellar empires began to expand. Four races once set out to explore and conquer the galaxy, meeting in fiery clashes that spanned the universe, but now a promising age of diplomacy emerges.

A new alien race rises shattering the uneasy peace. With new drive systems, ships, technology and tactics, the Zuul burst onto the scene with a devastating agenda. Form alliances and learn to work with your foes as you lead your fleets to victory in a universe at war.

About Kerberos Productions

Kerberos Productions is a gathering of seasoned video game developers, with over 35 years of collective experience, based in Vancouver, British Columbia, Canada. Before forming their own company, the team was responsible in the development of both Homeworld: Cataclysm for Sierra and Treasure Planet: Battle at Procyon for Disney Interactive. Team members have also worked on over a dozen hit games, including: Homeworld, Ground Control, Team Fortress, and Counterstrike. With an interest in games of all types, Kerberos intends to establish a reputation in the gaming industry by applying their experience against a high standard of strategy and action games. Kerberos is a unified group of industry veterans who do not just make video games... but play and understand them! www.kerberos-productions.com
Lighthouse Interactive
Lighthouse Interactive, a division of SilverBirch Inc. (SVB:TSXV), is a fast growing publisher of interactive entertainment with offices established in Toronto and Montreal, Canada, Haarlem, The Netherlands and London, England. The company is focused on bringing strong titles to the worldwide market in a wide array of genres including: RPG, Simulation, Adventure, Action and Strategy. Staffed with industry veterans, Lighthouse is the right choice for developers looking to bring their products to a worldwide audience.

www.lighthouse-interactive.com.
Press releases you might also be interested in
Weitere Informationen zum Thema "Software":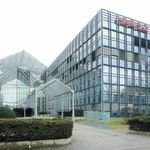 Oracle: Von der Database zur Blockchain
Or­a­c­le nennt sich ei­gent­lich die Da­ten­bank, die Lar­ry El­li­sons ­Fir­ma "Soft­wa­re De­ve­lop­ment La­bo­ra­to­ries" von 1977 bis 1979 für den US-Ge­heim­di­enst CIA ent­wi­ckel­te. Die nächs­ten 40 Jah­re ver­b­rei­ter­te sich das An­ge­bot bis hin zu KI-, IoT- und Block­chain-Di­ens­ten.
Weiterlesen