Lexar Launches DRAM Upgrades for Mobile Devices and Desktop Computers to Enhance Consumer Experience
Lexar-Branded DRAM to be Available at Popular Mobile Retail Outlets
Fremont, CA

, (PresseBox) -
Lexar DRAM Upgrade Key Messages:

- Designed for sale through retail channels
- Offers an easytoinstall, affordable way to increase overall system performance
- Compatible with most netbook, notebook, and desktop models
- Support for retailers includes customizable selector tool to match appropriate DRAM upgrades to consumer computing devices
- Available in a wide selection of DRAM form factors types and capacities

Multimedia Elements:

- Lexar Image Gallery
- Supporting Product Info

Lexar Media, a leading global provider of memory products for digital media, today announced it is rolling out DRAM upgrades through traditional and online retail channels. The Lexar(R) Netbook/Notebook Performance Upgrade, Notebook Performance Upgrade, and Desktop Performance Upgrade DRAM solutions are an attractive option for retailers looking to offer consumers an easytoinstall and affordable way to increase the performance of popular netbook, notebook, and desktop computers. Available in densities from 512MB modules to 6GB kits, the Lexarbranded DRAM upgrades boost the speeds of multimedia and software applications, while also allowing for faster multitasking and Web browsing in multiple windows. For additional information about Lexar DRAM upgrades, visit http://www.lexar.com.

"With many consumers looking to increase the performance of their existing computing devices rather than replacing them, retailers need to offer solutions that enable their customers to extend the life of their devices," said Terrence Groth, worldwide system product group manager, Lexar Media. "In fact, according to a recent study by Parks Associates, 64 percent of consumers who experienced slow computer performance have considered improving the performance of their laptop or netbook computers, so we're providing retailers with upgrades endusers can install themselves with the Lexar DRAM solutions." While desktop and traditional notebook computers remain a reliable computing option for many customers, sales of smaller netbooks are rapidly rising, due to their appeal as a popular secondary computer for business travelers, a lowcost first computer for families, and the primary computer for consumers in emerging markets. Parks Associates found that 37 percent of new laptop and netbook customers consider DRAM density to be a very important feature, and with the popularity of these devices steadily increasing, Lexar is providing retailers with performance upgrades to improve their customers' overall user experience.

The Lexar Notebook Performance Upgrade supports DDR (double data rate), DDR2, and DDR3 platforms for all major operating systems, and is available in densities ranging from 512MB modules to 4GB kits. The Lexar Netbook/Notebook Performance Upgrade is compatible with computers that support 200pin 1GB and 2GB DDR2 memory modules. The Lexar Desktop Performance Upgrade is designed for SDRAM, DDR, DDR2, and DDR3 platforms for all major operating systems, and comes in densities from 512MB modules to 6GB kits. Lexar Media is offering retailers a DRAM selector tool to help sales representatives match DRAM upgrades with consumers' computing devices instore, based on the products individual retailers wish to emphasize. The selector tool is customizable to meet the needs of individual retailers, and includes easytouse dropdown menus to find the appropriate, compatible Lexarbranded DRAM upgrades for dozens of different computer brands. The Lexarbranded DRAM upgrades are also supported by new consumerfriendly sales collateral, messaging, and packaging and are now shipping to leading retail outlets, including Best Buy and Amazon.com.

Lexar DRAM upgrades include a limited lifetime warranty. For additional information on product warranty information, visit http://www.lexar.com/support.

Follow us online!

Twitter: http://www.twitter.com/lexarmedia
YouTube(TM): http://www.youtube.com/lexarmediainc
Facebook: http://www.facebook.com/LexarMedia

About Micron

Micron Technology, Inc., is one of the world's leading providers of advanced semiconductor solutions. Through its worldwide operations, Micron manufactures and markets DRAM, NAND flash memory, CMOS image sensors, other semiconductor components, and memory modules for use in leadingedge computing, consumer, networking, and mobile products. Micron's common stock is traded on the NASDAQ Global Select Market under the MU symbol. To learn more about Micron Technology, Inc., visit http://www.micron.com.
Lexar Media, Inc.
Lexar Media is a leading designer, manufacturer, and marketer of NAND flash and DRAM memory products under the Lexar and Crucial(R) brand names. Lexar offers products in all major flash and DRAM memory categories, including consumer and enterpriselevel USB flash drives, industryleading memory cards for photography, and all popular form factors of memory cards for mobile devices. For computers, Lexar also offers a full range of DRAM computer memory upgrades for PCs and Mac(R) systems, and solid state drives (SSDs). An industry leader in innovative, patented flash memory technology, Lexar is vertically integrated with Micron Technology, one of the largest semiconductor manufacturers worldwide.

For more information about Lexar, visit http://www.lexar.com. For more information about Crucial products, visit http://www.crucial.com, http://www.crucial.com/uk or http://www.crucial.com/eu. Lexar Media, Inc. is a subsidiary of Micron Technology, Inc. Lexar Media is a division of Micron Europe Limited, a division of Micron Semiconductor Asia Pte. Ltd., and a division of Micron Japan, Ltd.

Press releases you might also be interested in
Weitere Informationen zum Thema "Hardware":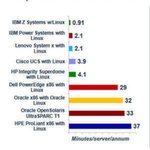 Höchste Zuverlässigkeit bei IBM und Lenovo, schlechteste Werte bei Oracle und HPE
All­jähr­lich be­fragt In­for­ma­ti­on Tech­no­lo­gy In­tel­li­gen­ce Con­sul­ting Corp. (ITIC) 800 Or­ga­ni­sa­tio­nen welt­weit zur Zu­ver­läs­sig­keit ih­rer Ser­ver und Ser­ver-Be­triebs­sys­te­me. Um mög­lichst un­vor­ein­ge­nom­me­ne Er­geb­nis­se zu prä­sen­tie­ren zu kön­nen, ak­zep­tiert das Un­ter­neh­men kein Spon­so­ring von An­bie­tern. Auch im Re­port 2017/2018 lie­gen IBM und Le­no­vo vor­ne – zum zehn­ten Mal hin­te­r­ein­an­der – Or­a­c­le und "HPE Pro­li­an­t" nicht.
Weiterlesen