Laird Technologies to Attend 4G World(TM) 2011 Trade Show
Company to Display LTE/Cellular/Backhaul/WIMAX/WLAN/WISP Antenna Product Lines
St. Louis, Missouri, USA

, (PresseBox) -
Laird Technologies, Inc., a global leader in the design and supply of customized performance-critical components and systems for advanced electronics and wireless products, today announced it will be attending the 4G World(TM) 2011 trade show. The trade show is being held at the McCormick Place in Chicago, Illinois, October 24-27, 2011. Laird Technologies can be found at booth #1422.

Laird Technologies will showcase its Long Term Evolution (LTE), Cellular, Backhaul, Worldwide Interoperability for Microwave Access (WiMAX), Wireless Local Area Network (WLAN), RFID and Wireless Internet Service Provider (WISP) antenna product lines. These antennas are produced using proprietary artificial intelligence antenna design software, creating antenna designs with the tightest patterns and highest gain in the most compact packages.

With proven expertise in high-volume and low-cost manufacturing, a wide selection of gain and mounting styles ensures that virtually every application can be covered. A PowerPoint presentation focusing on the antenna products will also be included.

"4G World(TM) is the largest show of its kind that encompasses all the aspects of 4G technology for wireless network and telecommunication applications," said Quaid Rasheed, Laird Technologies BWA Antenna Product Manager. "Attending this sizable event presents Laird Technologies with an excellent opportunity to directly interact with all attendees, and to also to showcase it antenna product lines to strategic and new customers alike."

4G World(TM) is the only event focused on the future of the fast-growing mobile broadband and mobile Internet markets. Attracting more than 12,000 attendees, the event presents a world-class comprehensive conference program that highlights the rapidly evolving interdependencies between operator business models, mobile network technology and architecture, and mobile Internet applications and services.

An industry leader in the design and manufacture of antennas for mobile devices and wireless data, Laird Technologies possesses end-to-end system knowledge and employs advanced, proprietary design tools to bring novel antenna designs to market with unmatched performance that maximize total system performance and user satisfaction.
Laird Technologies GmbH
Laird Technologies designs and manufactures customized, performance-critical products for wireless and other advanced electronics applications.

The company is a global market leader in the design and supply of electromagnetic interference (EMI) shielding, thermal management products, specialty metal products, signal integrity components, and antenna solutions, as well as radio frequency (RF) modules and wireless remote controls and systems.

Custom products are supplied to all sectors of the electronics industry including the handset, telecommunications, data transfer and information technology, automotive, aerospace, defense, consumer, medical, mining, railroad and industrial markets.

Laird Technologies, a unit of Laird PLC, employs over 12,000 employees in more than 49 facilities located in 16 countries.


Press releases you might also be interested in
Weitere Informationen zum Thema "Hardware":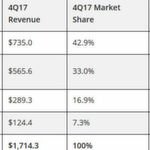 Umsatz konvergenter Systeme legt weltweit zu
Nach An­ga­ben der In­ter­na­tio­nal Da­ta Cor­po­ra­ti­on (IDC) ver­mel­de­te der "World­wi­de Quar­t­er­ly Con­ver­ged Sys­tems Tra­cker" für das vier­te Quar­tal 2017 ei­nen welt­wei­ten An­s­tieg der Um­sät­ze im Be­reich des kon­ver­gen­ten System­mark­tes um 9,1 Pro­zent. Hy­per­kon­ver­gen­te Sys­te­me out­per­for­men, an­de­re Teil­seg­men­te er­leb­ten Rück­gän­ge.
Weiterlesen