Laird Technologies Launches the First in a Series of Product Demonstration Videos
Video Highlights Advanced Laser Marking and Coloring Process for Handset Metals
St. Louis, Missouri, USA

, (PresseBox) -
Laird Technologies, Inc., a global leader in the design and supply of customized performancecritical components and systems for advanced electronics and wireless products, today announced the launch of its product demonstration video series. This first video discusses in detail the advanced laser marking and metal coloring processes that are involved in handset metal manufacturing. The video is available for viewing and downloading on the Laird Technologies Website.

The video examines how laser marking is used to design custom markings, patterns, logos, part numbers, or any other information desired on the handset metal surfaces. This is accomplished by focusing a laser beam directly onto the metal surface, applying a precise amount of power and balance with proper movement, so the metal is not destroyed. Aluminum and stainless steel are the most common metals used in this marking process.

Laser marking includes several benefits such as being permanent or not easily removed, can be easily integrated into the existing manufacturing process, and replacing the use of some adhesive labels on handset metals; thus reducing the overall cost. As the leading supplier of metals using laser marking as a key technology, Laird Technologies has the capability to perform this process in all of its major metal facilities throughout the world.

"Laird Technologies has been using lasers for many different processes for many years now. Laird Technologies' handset metals utilize processing technologies to provide custom products for our customers," said Steve Ulm, Laird Technologies Vice President and General Manager of Handset Metals. "This video series we are working on will help explain to our customers how we use advanced technologies to create many new options in our visual metals, as well as structural metals products. If pictures are worth a thousand words, videos can tell the story even better of how Laird Technologies uses lasers to create unique customer products."

The video also explains how color is created in a logo with the use of a laser on stainless steel metal. Color is constructed in the marking of the stainless steel metal by creating an oxide film that creates a reflective interference of light on the surface of the metal. A variety of colors can be produced including silver, white, gold, violet, orange, red, brown, black, blue, green, and yellow.

As a leading supplier of metals to the handset industry with expertise in the application of laser technology for multiple processes, Laird Technologies is focused on the reliability, repeatability, lowcost, and high yield of handset metals through the automation of processes.

Later handset metal tutorial videos will cover the capabilities of Laird Technologies in laser welding, cutting, and engraving of handset metals. For more information, please logon to www.lairdtech.com.

Contact Information

For additional information, visit http://www.lairdtech.com or contact us at:

Americas: +1-800-323-3757 or LHP.Sales@lairdtech.com
Europe: +46-8-555-722-00 or LHP.Sales@lairdtech.com
Asia: +86-10-5933-3682 LHP.Sales@lairdtech.com
Laird Technologies GmbH
Laird Technologies designs and manufactures customized, performancecritical products for wireless and other advanced electronics applications. The company is a global market leader in the design and supply of electromagnetic interference (EMI) shielding, thermal management products, mechanical actuation systems, signal integrity components, and wireless antenna solutions, as well as radio frequency (RF) modules and systems. Custom products are supplied to all sectors of the electronics industry including the handset, telecommunications, data transfer and information technology, automotive, aerospace, defense, consumer, medical, and industrial markets.Laird Technologies, a unit of Laird PLC, employs over 10,000 employees in more than 39 facilities located in 13 countries.


Press releases you might also be interested in
Weitere Informationen zum Thema "Hardware":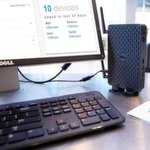 Neues und Aktualisiertes für Thin Clients von Wyse
Mit er­wei­ter­ten Ver­sio­nen des Be­triebs­sys­tems "Wy­se Thi­nOS" und der "Wy­se Ma­na­ge­ment Sui­te" so­wie den neu­en Soft­wa­re­lö­sun­gen "Wy­se Con­ver­ter" für PCs und "Wy­se Ea­sy Se­tup" möch­te Dell die Ein­rich­tung, Ver­wal­tung und Ska­lie­rung von di­gi­ta­len Ar­beits­plät­zen und Vir­tual Desk­top In­fra­struc­tu­re (VDI) er­leich­tern.
Weiterlesen