Major order from Korea for Kreyenborg, BKG and Witte
Münster

, (PresseBox) -
Recently the KREYENBORG GmbH and the Bruckmann & Kreyenborg GmbH (BKG), (both belonging to the Kreyenborg Group, Münster, Westphalia) together with their partner company WITTE PUMPS & TECHNOLOGY GmbH (Uetersen); were able to win a major contract from the South Korean concern, Hyosung.

The challenge is to provide equipment for a new PET plant in Ulsan, South Korea. The plant will be producing 150,000 tons of PET chips annually for use in polyester fiber production.

The equipment consists of melt filters from KREYENBORG, underwater pelletizing systems from BKG together with one discharge pump and several booster pumps manufactured by WITTE.

Crucial to Hyosung's decision in choosing these vendors as partners was primarily the complete package concept, supported by the vendors numerous references in the field of PET polymerization.

The commissioning of the equipment is scheduled for the second quarter in 2011.

About WITTE:

WITTE Pumps & Technology GmbH has specialised in the production of precision gear pumps since 1984. In order to offer the customer an extraordinarily high standard of service, WITTE has built up a worldwide network of international branches and agencies and can thus adapt optimally to regional factors, guidelines and requirements.

WITTE precision gear pumps find applications in the plastics, chemicals, pharmaceuticals, cosmetics and foodstuffs industries.

WITTE can fall back on a wide portfolio of pump variants of differing materials and configurations in order to meet the demands of the customer. Whereby flexibility in the technical implementation and project handling are of extreme significance. Whether standard or individualised, WITTE give a performance guarantee with every pump they deliver and provide their customer with an after-sales service including maintenance contracts, optimisation recommendations and spare parts.

Certification according to ISO9001 supports the WITTE quality policy and thus affords a maximum of customer satisfaction. Continual process optimisation, a high degree of willingness to innovate and a high level of technology and quality are the hallmarks of WITTE as one of the world leaders in the field of gear pumps and as a contact for special solutions and high-performance pumps.
Nordson PPS GmbH
The KREYENBORG GROUP is comprised of the following companies: KREYENBORG GmbH, BKG Bruckmann & Kreyenborg Granuliertechnik GmbH, Bruckmann Steuerungstechnik GmbH (BSG) and KREYENBORG Plant Technology GmbH & Co. KG (KPT).

As family owned and operated companies, the members of the KREYENBORG GROUP have been recognized for more than 50 years as a byword symbolizing quality components and machines for the extrusion and polymerization industries. Customers around the world know and trust the equipment and systems of the KREYENBORG GROUP. This has allowed us to become a global partner for the plastics industry.

We have realized that providing a complete system with each of the various components designed to be compatible as a unit, offers the optimal solution and ensures an efficient utilization of the equipment. All of our systems are manufactured in-house; combining automation technology together with screen changers, melt pumps, pelletizers and bulk material handling equipment. All of the components are from a single source. Therefore, problems with interfacing between the various components are completely eliminated.

The family run KREYENBORG GROUP has over 300 employees world-wide, all of whom share a common corporate philosophy - to support our customers in achieving their goals through continuous improvements and constant self-monitoring. Quick decision-making, a focus on long-term business strategy and the close relationship between the owners and their companies and employees play a crucial role. Customer satisfaction is at the centre of our daily routine.

Our engineering can provide the smooth integration of all components into existing systems while maintaining a minimum of process interfaces and ensuring the synergy of the overall project. Due to significant vertical integration, a high proportion of the components for our machines are manufactured in-house. Components may also be custom designed to suit the requirements of individual customers. The member companies of the KREYENBORG GROUP support our customers individually and flexibly.

As a special service we offer customers the opportunity to perform trials of their materials in our own, modern, test laboratory. Here it is possible for the customer to view their own material being processed under real production conditions using the different equipment items produced by the KREYENBORG GROUP.

We are focused on the production location remaining in Germany. Because of this we are able to offer the advantages of "Made in Germany" to our customers.

For our customers this means:

- Reliable and precise manufacturing
- Complete, in-house, quality control
- A high level of innovation demonstrated by many patents
- Quality certified, "Made in Germany"

Because of our own sales and service branches in China and the USA; together with our industrial representatives world-wide; the KREYENBORG GROUP is able to assure a high level of customer service.
Press releases you might also be interested in
Weitere Informationen zum Thema "Industrial Engineering":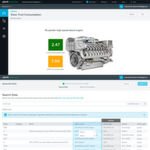 Splunk wertet industrielle IoT-Daten aus
Mit Sp­lunk In­du­s­trial As­set In­tel­li­gen­ce (IAI) stellt der Spe­zia­list für Ma­schi­nen­da­ten sei­ne ers­te Lö­sung für das In­ter­net der Din­ge (IoT) vor. Sie er­mög­licht die Aus­wer­tung in­du­s­tri­el­ler IoT-Da­ten.
Weiterlesen