Kontron microETXexpress-SP: Computer-on-Module with Intel® Atom(TM) processor and COM Express(TM) Pinout Type 2 compliance
SDVO graphics performance for energy saving mini devices
Eching

, (PresseBox) -
Today, Kontron unveiled the new Kontron microETXexpress-SP Computer-on-Module that is based on the Intel® Atom(TM) processor and offers full COM Express(TM) Pinout Type 2 compliance including SDVO graphics.

The Kontron microETXexpress-SP Computer-on-Module is designed to extend the COM Express(TM) specification to include a small module format (95 x 95 mm) with the commonly used COM Express(TM) Type 2 connector. This will enable the development of energy-saving, high-end graphics devices based on the Intel® Atom(TM) processor without having to stray from the secure development path of utilizing the established and future-proof COM Express(TM) specification and its PICMG-defined Type 2 pinout.

Compared with the very compact Kontron nanoETXexpress-SP Computer-on-Module that was also presented today, the Kontron microETXexpress-SP offers in addition PCI as well as more sophisticated graphics support with SDVO. Via the PEG pinout, SDVO delivers additional video signals for VGA and DVI monitor outputs, SDTV and HDTV television outputs and TV tuner inputs that greatly simplify system graphics design. This special feature makes this 95 x 95 mm Computer-on-Module ideal for small mobile and extremely energy-efficient multimedia devices as well as for mobile test and measurement applications.

Solar-powered distributed devices and stationary devices used in medical, POS/POI and kiosk applications as well as automation applications will also benefit from the graphics performance and extended, sophisticated feature set. The Kontron microETXexpress-SP Computer-on-Module comes with the Intel® Atom processor Z5XX series from 1.1 GHz to 1.6 GHz and Intel® System Controller Hub US15W and offers a 533 MHz FSB and a socket for up to 1 GByte DDR2 400/533 RAM. An impressive array of interfaces are available via the COM Express(TM) Type 2 connector including 1 x Gigabit Ethernet, 2 x SerialATA, 1 x PATA, 7 x USB 2.0 (one of which is client capable) as well as two PCI-Express x1 lanes and one PCI lane for application-specific expansions. In order to support small format SD/SDIO interfaces, the Kontron microETXexpress-SP Computer-on-Module offers a socket for SD / MMC media. The SDVO port for HDMI and DVI as well as the 18/24 bit LVDS single or dual-channel graphic performance with 256MB of graphic memory, HDTV support and integrated MPG2 decoder as well as H.264 offer more than mini devices require. Intel® HD audio round off the feature set. The Kontron microETXexpress-SP Computer-on-Module supports Linux and VxWorks as well as Windows XP, XPe and CE. This extensive support underlines the one-for-all approach of this Computer-on-Module for a wide range of different markets.

The Benefits of the Intel® Atom(TM) processor
Thanks to its especially small and energy efficient design, the Intel® Atom(TM) processor (13 x 14 mm) and single chip chipset (22 x 22 mm), now called the Intel® System Controller Hub, have a TDP of < 5 watts. This makes the Kontron microETXexpress-SP Computer-on-Module ideal for ultra-mobile applications that require energy saving x86 processor performance, high-end graphics, PCI Express, USB 2.0 and Serial ATA combined with longer battery power availability. These include handheld devices for medical or multi-media applications, small mobile data systems and a host of new applications that prior to now have not been possible due to size or power consumption limitations.

The advantages of the COM Express(TM) connector
The Kontron microETXexpress-SP is 100 percent compatible with the COM Express(TM) COM.0 Type 2 connector. The placement and assignment of the pins also conforms 100 percent to COM.0. Compared with, for example, card edge connectors, the COM Express(TM) connector is significantly more future-proof. Since it has less electronic attenuation, it enables longer pathways on the carrier board. This is important since green IT trends will reduce the possible pathway length in the long term. In addition, it offers greater shock and vibration resistance as well as a clear advantage when it comes to EMC (electromagnetic certification). This is also important since the demands on shielding are increasing due to factors such as second generation PCIe, for example, that doubles the wire speed and thereby the frequency, resulting in the need for greater shielding. Therefore, it makes the most sense to use this Computer-on-Module design that clearly offers the longest lifecycle. The specification for the "micro" module can be downloaded from http://www.Kontron.com/COM-Express-Micro-Specification. Kontron looks forward to working with other PICMG members to officially incorporate the "micro" form factor into the COM Express(TM) specifications.

Further information: http://www.kontron.com/microETXexpress-SP About COM Express(TM) Computer-on-Modules: http://www.kontron.com/ETXexpress Whitepaper on microETXexpress: http://www.kontron.com/downloads/white_papers/microETXexpress_whitepaper.pdf
Kontron AG
Kontron designs and manufactures standard-based and custom embedded and communications solutions for OEMs, systems integrators, and application providers in a variety of markets. Kontron engineering and manufacturing facilities, located throughout Europe, North America, and Asia-Pacific, work together with streamlined global sales and support services to help customers reduce their time-to-market and gain a competitive advantage. Kontron's diverse product portfolio includes: boards and mezzanines, Computer-on-Modules, HMIs and displays, systems, and custom capabilities. Kontron is a Premier member of the Intel® Embedded and Communications Alliance. The company is a recent three-time VDC Platinum vendor for Embedded Computer Boards. Kontron is listed on the German TecDAX stock exchange under the symbol "KBC". For more information, please visit: www.kontron.com.
Press releases you might also be interested in
Weitere Informationen zum Thema "Hardware":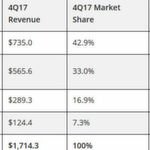 Umsatz konvergenter Systeme legt weltweit zu
Nach An­ga­ben der In­ter­na­tio­nal Da­ta Cor­po­ra­ti­on (IDC) ver­mel­de­te der "World­wi­de Quar­t­er­ly Con­ver­ged Sys­tems Tra­cker" für das vier­te Quar­tal 2017 ei­nen welt­wei­ten An­s­tieg der Um­sät­ze im Be­reich des kon­ver­gen­ten System­mark­tes um 9,1 Pro­zent. Hy­per­kon­ver­gen­te Sys­te­me out­per­for­men, an­de­re Teil­seg­men­te er­leb­ten Rück­gän­ge.
Weiterlesen