Kontron introduces newest COM Express™ Computer-on-Modules with 45nm Intel® processors
High-end Computer-on-Modules are now even better
Eching

, (PresseBox) -
Equipped with space- and energy-saving 45nm high-end processors, the new Kontron ETXexpress®-PC COM ExpressTM Computer-on-Module sets new performance-per-watt standards for embedded applications with high demands on data processing and/or multi-media conversion and output.

Based around the also recently introduced high performance and low-power 45nm Intel® Core(TM) 2 Duo processor SP9300 and Intel® GS45 chipset, this very robust COM Express(TM) module excels over the previous 65nm dual core processor offerings by enabling faster core speeds (up to 2.26 GHz), more L2 cache (6MB) and a faster FSB (1066 MHz), but without a comparable increase in energy consumption.

"Due to the smaller processor footprint, the 45nm technologies are also the ideal basis for developing a new range of cost-effective and energy saving embedded computer applications. Computer-on-Modules are a perfect fit for such applications since the location of the external interface connectors is flexibly determined by the application specific carrier board", explains Dirk Finstel, VP of Global Research and Engineering at Kontron.

"The enhanced performance-per-watt from the 45nm Intel® Core(TM) 2 processor SP9300 enables system designers to improve system efficiency, including DDR3 memory support, fanless designs, improved EMC and MTBF, and longer battery life" says Joe Jensen, general manager, Intel® Embedded Computing Division

For high-end data and media-propcessing applications that requirie maximum performance, the 2.26 GHz (1066 MHz FSB) version of the ETXexpress®-PC module offers uncompromising processing power with a CPU TDP of just 25W. For intensive data-processing applications, the Kontron ETXexpress®-PC is Kontron's first COM Express(TM) pin-out type 2 Computer-on-Module to support up to 8 GB of dual-channel memory via two DDR3 SO DIMM sockets for even faster bus speeds and higher peak throughput. The low voltage version of the Kontron ETXexpress®-PC with the 1.3 GHz Intel® ULV Core(TM) 2 Duo processor (800 MHz FSB) requires a TDP of only 10 W, making it the ideal choice for power-sensitive applications. A 1.86 GHz processor version rounds off the selection of Kontron ETXexpress®-PC modules that together provide enhanced performance-per-watt ratios to suit a wide spectrum of next generation embedded applications in the automation, medical, infotainment, kiosk, POS/POI and portable computing sectors.

In addition to outstanding performance, these latest members of Kontron's COM ExpressTM Computer-on-Modules family will support the built-in, comprehensive Intel® vPro(TM) technology 4.0 that offers enhanced security and remote management for easier maintenance, higher system availability and, therefore, reduced total costs of ownership. System managers benefit from Intel® vPro(TM) technology because they can remotely carry out tasks such as installation of a new OS or setting BIOS parameters without the need for additional remote management hardware or an on-site presence. If there is an operating system failure, managers can run diagnostics, update patches and reboot the system via an out-of-band connection from a central service system within a few minutes. State-of-the-art system security is provided by Intel® Trusted Execution Technology and there is an on-board trusted platform module - TPM 1.2 - for software and data protection. These features make the Kontron COM Express(TM) Computer-on-Modules ideal for distributed systems. For example, railway operators and utility companies (gas, water, electricity) as well as operators of traffic lights, toll collection systems and cash, vending, ticket and gaming machines.

Extensive I/O flexibility for the Kontron COM Express(TM) ETXexpress®-PC Computer-on-Modules is provided by 5x PCI Express® x1 lanes, 4x SerialATA ports, 1x IDE and 8x USB 2.0 ports along with Gigabit Ethernet. Via the multiplexed PEG pinout, SDVO and Display-Port deliver additional video signals for VGA and DVI monitor outputs, SDTV and HDTV television outputs and TV tuner inputs that greatly simplify system graphics design. All the Kontron COM Express(TM) Computer-on-Modules provide PCI Express®, PCI 32, USB 2.0 and SerialATA available on the PICMG® Type 2 connector, guaranteeing scalability within the product family. In particular, the SerialATA ports and native RAID support make the Kontron ETXexpress®-PC ideal for data sensitive applications. There is also continued support for non PCI Express® legacy components such as plug-in cards via the PCI 2.1 interface.

The new Kontron COM Express(TM) ETXexpress®-PC modules support Windows® XP, 2000, XPe, CE and Linux operating systems. With full DirectX® 10 capability, Windows Vista® is also perfectly supported.

Samples of the Kontron ETXexpress®-PC supporting the new DDR3 SO-DIMM memory modules are available now. Series production is scheduled to start in Q4 2008.

Further information is available at: http://www.kontron.com/products/computeronmodules/com+express/etxexpress/etxexpresspc.html
ETXexpress® and COM Express(TM) explained: http://www.kontron.com/truth/
More information about Computer-on-Modules: http://www.kontron.com/COM
Kontron AG
Kontron designs and manufactures standard-based and custom embedded and communications solutions for OEMs, systems integrators, and application providers in a variety of markets. Kontron engineering and manufacturing facilities, located throughout Europe, North America, and Asia-Pacific, work together with streamlined global sales and support services to help customers reduce their time-to-market and gain a competitive advantage. Kontron's diverse product portfolio includes: boards and mezzanines, Computer-on-Modules, HMIs and displays, systems, and custom capabilities. Kontron is a Premier member of the Intel® Embedded and Communications Alliance. The company is a recent three-time VDC Platinum vendor for Embedded Computer Boards. Kontron is listed on the German TecDAX stock exchange under the symbol "KBC". For more information, please visit: www.kontron.com.
Press releases you might also be interested in
Weitere Informationen zum Thema "Hardware":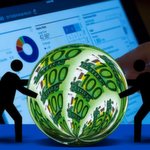 Soll VMware Dell kaufen?
Noch sind es Ge­rüch­te: Of­fen­bar er­wägt Dell Tech­no­lo­gies ei­ne um­ge­kehr­te Über­nah­me durch VM­wa­re. Die­se wür­de dem Com­pu­ter-Her­s­tel­ler er­lau­ben, ein bör­sen­no­tier­tes Un­ter­neh­men zu wer­den, oh­ne auf her­kömm­li­che Art ei­nen Bör­sen­gang (IPO) ab­sol­vie­ren zu müs­sen. Die Bör­se rea­giert: Die VM­wa­re-Ak­ti­en sind ge­fal­len.
Weiterlesen