Kontron extends performance and scalability of COM Express Computer-on-Modules based on Intel Mobile GM45 and GL40 Express chipsets
Three new COM Express compliant ETXexpress-PC module SKUs with the highly-efficient power-off S5 Eco state
Eching/Germany

, (PresseBox) -
Kontron's COM Express Computeron-Modules family ETXexpress now includes three new Kontron ETXexpress-PC SKUs, adding support for the Mobile Intel GM45 Express and Mobile Intel GL40 Express chipsets. Customers benefit from a greater performance range and scalability in Kontron's extensive COM Express compliant (Basic Form Factor, pinout Type 2) ETXexpress product line.

Equipped with the Mobile Intel GM45 Express chipset and Intel Core2 Duo T9400 processor, this new version of the Kontron ETXexpress-PC brings the highest processing power to Kontron's COM Express Basic Form Factor offering. Kontron's COM Express module equipped with the Intel Core(TM) 2 Duo P8400 processor pairs processing power with cost efficiency. The third new Kontron ETXexpress-PC module SKU, based on the Mobile Intel GL40 Express chipset and 2.0 GHz Intel Celeron M Processor M575, is ideal for very costsensitive applications. All three new modules feature Kontron's new highlyefficient poweroff S5 Eco state. The S5 Eco state replaces the conventional S5 mode to reduce the module's power consumption to less than 1 mA, which is a reduction by at least factor 200.

Due to its wide chipset and processor range, the expanded family of Kontron ETXexpress-PC Computeron-Modules now supports even better the fast and easy implementation of COTS solutions. Kontron COM Express products represent the computing core of choice for nearly all highend applications requiring a full feature set that is consistent within the family and a dedicated carrier board. In the infotainment market, they are a perfect fit for POS/POI, electronic billboards, interactive kiosks, and selfservice terminals. Extensive video and graphics capabilities also make Kontron ETXexpress-PC COMs an optimal solution for the gaming, entertainment, and hospitality markets where highdefinition, mediarich platforms are essential. These same graphics capabilities make them wellsuited for realtime Xray imaging and ultrasound devices in the medical sector. Industrial markets such as RF testing, sound/vibration analysis, automatic optical inspection, automation, highend programmable logic controllers (PLCs), human machine interfaces (HMIs), and panel PCs also benefit from COM Express modules. In the military market, COMs drive applications such as training simulators, unmanned vehicles, and portable tactical communications (C4) devices.

Kontron ETXexpress-PC Computeron-Modules offer support for up to 8 GB DDR3 system memory and provide an extensive range of I/Os via the COM Express pinout type 2 connector: 1x PCI Express Graphics (PEG), 5x PCI Express x1, 4x Serial ATA with RAID 0, 1, 5, 10 functionality, 1x PATA, and 8x USB 2.0 ports along with Gigabit Ethernet and Intel High Definition Audio. Via the multiplexed PEG pin out, dual SDVO delivers additional video signals for HDMI and DisplayPort monitor outputs. There is also continued support for non-PCI Express legacy components such as plugin cards via the PCI 2.1 interface. The integrated Trusted Platform Module (TPM 1.2) makes the Kontron ETXexpress-PC suitable for data sensitive applications. The 8.5V - 18V wide range power for simplified power distribution rounds off the feature set.

Samples of the new Kontron ETXexpress-PC Computeron-Modules are available now. Series production will start by the end of Q1/2010. They support Linux, VxWorks as well as the Windows OS family, including Windows Vista, XP, 2000, XPe, CE and the new Windows 7.

Further information on the new Kontron ETXexpress-PC COM Express Computeron-Modules at: http://www.kontron.com/products/computeronmodules/com+express/etxexpress/etxexpresspc.html
Download PDF about the COM Express concept: http://www.kontron.com/comconcept
ETXexpress and COM Express explained: http://www.kontron.com/comexpress
More information about Computeron-Modules: http://www.kontron.com/COM
Kontron AG
Kontron designs and manufactures embedded and communications standardsbased, rugged COTS and custom solutions for OEMs, systems integrators, and application providers in a variety of markets. Kontron engineering and manufacturing facilities, located throughout Europe, North America, and Asia-Pacific, work together with streamlined global sales and support services to help customers reduce their timetomarket and gain a competitive advantage. Kontron's diverse product portfolio includes: boards & mezzanines, Computeron-Modules, HMIs & displays, systems & platforms, and rugged & custom capabilities. Kontron is a Premier member of the Intel® Embedded Alliance and has been a VDC Platinum Vendor for Embedded Computer Boards 5 years running. Kontron is listed on the German TecDAX stock exchange under the symbol "KBC".

For more information, please visit: http://www.kontron.com

Kontron is a trademark or registered trademark of Kontron AG. DIMM-PC®, PISA®, ETX®, ETXexpress®, microETXexpress®, Xboard®, DIMM-IO® and DIMM-BUS® are trademarks or registered trademarks of Kontron Embedded Modules GmbH. Intel and Intel Core, Celeron are trademarks of Intel Corporation in the US and other countries.

PICMG® and COM Express(TM) are trademarks of the PCI Industrial Computers Manufacturers Group. All other brand or product names are trademarks or registered trademarks or copyrights by their respective owners and are recognized. All data is for information purposes only and not guaranteed for legal purposes. Subject to change without notice. Information in this press release has been carefully checked and is believed to be accurate; however, no responsibility is assumed for inaccuracies.

Press releases you might also be interested in
Weitere Informationen zum Thema "Hardware":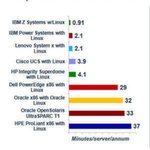 Höchste Zuverlässigkeit bei IBM und Lenovo, schlechteste Werte bei Oracle und HPE
All­jähr­lich be­fragt In­for­ma­ti­on Tech­no­lo­gy In­tel­li­gen­ce Con­sul­ting Corp. (ITIC) 800 Or­ga­ni­sa­tio­nen welt­weit zur Zu­ver­läs­sig­keit ih­rer Ser­ver und Ser­ver-Be­triebs­sys­te­me. Um mög­lichst un­vor­ein­ge­nom­me­ne Er­geb­nis­se zu prä­sen­tie­ren zu kön­nen, ak­zep­tiert das Un­ter­neh­men kein Spon­so­ring von An­bie­tern. Auch im Re­port 2017/2018 lie­gen IBM und Le­no­vo vor­ne – zum zehn­ten Mal hin­te­r­ein­an­der – Or­a­c­le und "HPE Pro­li­an­t" nicht.
Weiterlesen