Kontron Chassis Monitoring Board Selected for Editor's Choice Award by Military Embedded Systems Magazine
New Kontron CMB enables effective condition monitoring and management for VME and VPX systems
Poway, California

, (PresseBox) -
Kontron today announced that its Chassis Monitoring Board (CMB) has been selected as an Editor's Choice Product by Military Embedded Systems Magazine. The Kontron CMB was chosen by the editors for their October 2011 issue for its monitoring and management of key VME and VPX system parameters that help maintain operation even if the system crashes. Kontron's new CMB is designed as an effective VME and VPX system condition monitoring and management unit that enables improved reliability and availability of mission-critical COTS applications. The editors at Military Embedded Systems Magazine regularly evaluate new innovative technologies and products for their selection of Editor's Choice award recipients.

What good is it to be on a ship if the entire ship is sinking, figuratively speaking? The same idea applies to VME and VPX systems managed and monitored exclusively by system-implemented firmware and chipsets: Odds are such a system management scheme won't continue working if the system itself crashes. Enter Kontron's Chassis Monitoring Board (CMB), providing management and monitoring of parameters including power supply, airflow, and temperature of installed boards, according to Military Embedded Systems Magazine. Its power requirements are less than 1 W (yes, you read that right), and it can control and monitor as many as eight temperature sensors, eight power modules, and eight fans at once. It also renders out-of-band management and monitoring for as many as eight VPX or VME boards keeping an effective eye on the system.

The Kontron CMB

The Kontron CMB is a unified solution for VPX and VME systems that streamlines system monitoring and management of rugged applications. The Kontron CMB centralizes out-of-band monitoring and management of installed boards and relevant system parameters such as temperature, airflow and power supply in mission-critical COTS systems with high demands on reliability, availability and ruggedness. The Kontron CMB is currently deployed in a VME chassis used for a satellite navigation system program, which has resulted in optimized application development and improved Total Cost of Ownership (TCO).

The new Kontron CMB is the synthesis of Kontron's experience in delivering highly available (99.999%+ uptime) telco systems with the expertise of 20 years of rugged embedded computing expertise. Instead of relying solely on chipset and firmware implemented management features, the Kontron CMB uses the proven and tested approach of an additional monitoring hardware. This helps OEMs to optimize system availability since a reset or system crash does not influence the crucial monitoring and management solution. Additionally, the Kontron CMB allows customers to add application-dependant information to the managed data and is designed for multi-board and multi-vendor environments. This is why its comprehensive out-of-band chassis management and monitoring functionality is based on common interface technology such as I²C and GPIOs. Interfacing with CMB is possible through an Ethernet connection (snmp and http interface) or via a simple serial line (command line interface).

Its high MTBF, according to the MIL-HDBK217F-2 standard, ensures its success in a wide range of environments from ground benign conditions (603,005 h at 25°C) to extremely demanding air rotary wing applications (20,485 h at 55°C). Its extremely compact footprint and low power requirements (< 1 W) simplifies system development for space-restricted applications. System designers can use the chassis monitoring board to continuously and simultaneously monitor and control up to eight power modules, eight temperature sensors and eight fans in addition to out-of-band monitoring and management of up to eight installed VME and VPX boards. Beyond monitoring, OEMs can use the Kontron CMB to locally or remotely implement the system health management policy, controlling power up / down and reset of boards, fans and power supplies. This enables additional functionality such as variable computing capacity to allow minimal power consumption while the system operates in surveillance mode, switching to maximum computing capacity in activity mode. This also allows the Kontron CMB to disable an interface that is not working correctly or has been compromised. Furthermore, the Kontron CMB collects and forwards relevant data on the installed boards including inventory information, health status and boot stage. This also simplifies the lifecycle management of VME- or VPX-based field replaceable units.

For further information on the Kontron chassis monitoring board CMB, please visit: http://www.kontron.com/products/systems+and+platforms/vpx+systems+and+platforms/accessories/cmb.html

About OpenSystems Media

OpenSystems Media has been a leading publisher of electronics magazines, e-mail newsletters, websites, and product resource guides for more than 20 years. OpenSystems Media offers E-casts and Techcasts for engineers and provides interactive tools where engineers can communicate directly with presenters and top industry editors. Current publications include: CompactPCI, AdvancedTCA, & MicroTCA Systems; DSP-FPGA.com; Embedded Computing Design; Industrial Embedded Systems; Military Embedded Systems; PC/104 and Small Form Factors; and VME and Critical Systems. For more information, visit http://www.opensystemsmedia.com.
Kontron AG
Kontron is a global leader in embedded computing technology. With more than 30% of its employees in Research and Development, Kontron creates many of the standards that drive the world's embedded computing platforms. Kontron's product longevity, local engineering and support, and value-added services, helps create a sustainable and viable embedded solution for OEMs and system integrators. Kontron works closely with its customers on their embedded application-ready platforms and custom solutions, enabling them to focus on their core competencies. The result is an accelerated time-to-market, reduced total-cost-of-ownership and an improved overall application with leading-edge, highly-reliable embedded technology.

Kontron is listed on the German TecDAX stock exchange under the symbol "KBC". For more information, please visit: http://www.kontron.com/


Press releases you might also be interested in
Weitere Informationen zum Thema "Hardware":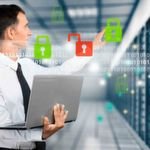 Die fünf wichtigsten Kriterien für ein Next Generation Datacenter
Un­ter­neh­men müs­sen ein­mal mehr neue We­ge fin­den, wie sie Kun­den für sich ge­win­nen. Die Ge­schäfts­ent­wick­lung er­folgt heu­te nicht mehr li­near. Statt­des­sen kön­nen sich Chan­cen je­der­zeit aus al­len Rich­tun­gen auf­tun. Mit ei­nem tra­di­tio­nel­len Re­chen­zen­trum kann die be­nö­t­ig­te Fle­xi­bi­li­tät nicht her­ge­s­tellt wer­den. Ein Mi­kro­re­chen­zen­trum ist der Aus­weg.
Weiterlesen