New York Daily News orders multi-unit 6/2 KBA Commander CT
Prominent US newspaper enters new era with innovative compact wet offset press from Koenig & Bauer
Würzburg

, (PresseBox) -
The New York Daily News has reaffirmed its commitment to print with a contract for a fifteen-tower, triple-width version of KBA's ultra-compact Commander CT. Founded in 1919 as the first US daily printed in tabloid form, the Daily News is the largest and most widely read newspaper in the New York metropolitan market and the fifth largest newspaper in the country. Along with its newly redesigned web site – NYDailyNews.com – the Daily News reaches 4.6 million readers per week. It has won ten Pulitzer Prizes.

Investment in the future of print

"I believe in the future of the Daily News; that's why I am making this significant investment," says chairman and publisher Mort Zuckerman. "When the KBA printing presses are fully operational, the print quality of the Daily News will be head and shoulders above the competition and equal to any newspaper in the world. This will solidify our leadership in the New York market, reinforce our position as the country's leading tabloid and raise the bar on newspaper production in the United States."

"In one leap, we are strategically positioning our printed product to meet the ever-changing demands of today's and tomorrow's advertisers and readers," says Daily News CEO Marc Z Kramer. "When our new KBA Commander CT presses come on line, the Daily News will be the only major market daily newspaper in the United States with 100 per cent colour production capability and positioned brilliantly to maintain and increase our dominance of the New York media landscape."

He continues: "Advertisers' demands for high-quality colour in daily newspapers are a worldwide phenomenon, and nowhere is it in more demand than in New York, the media capital of the world. We live in a world of vivid colour and newspapers have to reflect that. Our new KBA presses will allow us to work even more closely with our advertisers to meet their ever-changing demands. In addition, these new presses will enable us to offer creative and innovative ways for advertisers' messages to reach our millions of loyal readers. It is an opportunity we know they will want to seize."

KBA deputy president Claus Bolza-Schünemann says: "The decision by such a prominent US media house to adopt the most advanced wet offset technology on the international market is proof of KBA's competence. We first explored the idea of six-wide presses with the Daily News exactly forty years ago, but only recent technologies and advances have led this unique concept to reality. The inauguration of a triple-wide KBA Commander CT in New York will mark a further milestone in our 191-year history, and will again focus on KBA as a mover and shaker in newspaper technology."

Compact footprint, 6/2 output Scheduled to go live in autumn 2009, the triple-wide Commander CT press line for the Daily News will have three sections, each with five Pastomat reelstands, five towers and one KF 7 jaw folder. It will be embedded in a Patras A automated reel-logistics system complete with storage and retrieval vehicles, splice preparation and on-demand reel loading.

Automation will include blanket washing, colour registration, fully automated KBA PlateTronic plate changers, KBA RollerTronic roller locks and KBA NipTronic cylinder bearings. The press will also feature cut-off controls and ribbon stitchers. It will be controlled from six consoles incorporating a job scheduling and press presetting system complete with materials management software.
Koenig & Bauer AG
KBA is totally in accord with Polar's wish to increasingly adopt environmental practices for the benefit of society and print employees. Preserving the natural environment has been a central plank in the company's corporate philosophy for many years. Seven years ago, at Drupa 2000, KBA was the first press manufacturer to achieve environmental accreditation for its Rapida sheetfed presses.

KBA's president and chief executive officer, Albrecht Bolza-Schünemann, recently reaffirmed the Group's commitment to preserving the environment:: "Why not seize the initiative and do everything technically possible and economically feasible to protect both the environment and employees? It can pay to go green."

Green and clean is a claim totally appropriate to the products of KBA, one of the largest printing press manufacturers worldwide and the manufacturer with the broadest product range. In the United Kingdom KBA UK has successfully enlarged its installed base with many purchasers of KBA presses using their choice of KBA for environmental marketing advantage.

It is the market-leading Rapida range which has attracted the Polar Print investment – sheetfed presses offering exceptional output, unrivalled substrate flexibility and reduced alcohol or alcohol-free operation.

From small innovative presses like the Genius 52 UV, through the market-leading Rapida sheetfed presses up to giant commercial web and newspaper installations, KBA is a powerful presence in every sector. Across this wide spectrum KBA is striving to advance eco-friendly waterless offset, restrict CO2 emissions and other environmental pollution whilst serving the economic needs of the print media industry.

Press releases you might also be interested in
Weitere Informationen zum Thema "Produktionstechnik":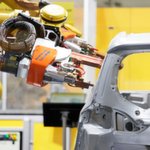 1,7 Millionen Industrie-Roboter erneuern Fabriken weltweit bis 2020
Bis 2020 wer­den mehr als 1,7 Mil­lio­nen neue In­du­s­trie-Ro­bo­ter in den Fa­bri­ken der Welt in­stal­liert. Die Ro­bo­tik-Bran­che in Asi­en ver­zeich­net da­bei ak­tu­ell das stärks­te Wachs­tum – an­ge­führt von Chi­na als Welt­markt­füh­rer. Im Jahr 2017 sind die Ro­bo­ter­in­stal­la­tio­nen in der Re­gi­on Asi­en-Aus­tra­li­en vor­aus­sicht­lich um 21 Pro­zent ge­s­tie­gen, in Nord- und Süda­me­ri­ka um 16 Pro­zent und in Eu­ro­pa um acht Pro­zent. Das sind Er­geb­nis­se aus dem World-Ro­botics-Re­port 2017, der von der In­ter­na­tio­nal Fe­de­ra­ti­on of Ro­botics (IFR) ver­öf­f­ent­licht wur­de.
Weiterlesen