KBA and Vinfoil develop compact cold foil system
Vinfoil Micro SF110 GF
Würzburg

, (PresseBox) -
The ColdFoil Infigo SF110 module has been an integral part of the KBA sheetfed offset product range for a number of years. It is already in use in print companies all over the world. Now, Vinfoil and KBA have once again pooled resources to develop a trimmed-down version of their proven cold foil system, the Micro SF110 GF. It has been conceived as a simple-to-handle, compact alternative for high-quality foil transfer, with which the growing demand for stylish product refinement can also be satisfied by users on a tighter budget.

The market for gloss foil transfer is growing. More and more brand-name manufacturers are looking for ways to lend their products an unmistakable, exclusive appearance - for example through the use of metallic effects. Today, cold foil transfer is even being used for brochures, as a means to help them stand out from the crowd. Cold foil is here able to play out a major advantage over hot-foil stamping, as inline production on an offset press is more efficient and thus cost-effective. They run at higher speeds, even shorter runs become profitable, and no expensive tools are required.

Cold foil systems for every application

The cold foil module ColdFoil Infigo SF110 has been a product of choice on the market for gloss offset foil transfer for several years. Packaging printers all over the world have integrated modules into their Rapida sheetfed offset presses to realise high-quality foil applications inline. Many are using the system on a daily basis, and that at top printing speeds up to 18,000 sheets per hour - performance which definitely merits a world record for this type of finishing.

There are numerous print companies, however, who would like to offer gloss foil transfer, but do not have enough corresponding jobs to work with cold foil every day. With the Micro SF110 GF, KBA is now able to offer such users a perfect solution. The new cold foil module is a compacter, space-saving version of the ColdFoil Infigo SF110 which - with a slightly lower level of automation - offers the same first-class quality, robustness and reliability as the present system. The Micro SF110 is intended for printers whose job structures require occasional production with cold foil refinement.

Simple handling

Vincent van der Heijden, the founding father of manufacturer Vinfoil: "We are naturally using certain proven elements of the Infigo in the Micro version, but the Micro is otherwise a new development from the ground up." One particular characteristic of the ColdFoil Micro SF110 GF is its compact design. As the foil reels are positioned above the printing units, the module is also a very practical option for smaller print companies with limited floor space. Even so, the Micro SF110 GF handles reels with up to 10,000 metres of cold foil. And it runs just as fast as the Rapida press, namely at the highest speeds.

Rapida presses with the ColdFoil Micro SF110 GF module are fitted with a crane for handling of the full and empty reels. This allows reel replacement without physical effort. The remote control unit for opening and closing of the shaft locks also renders an additional walkway superfluous. Accessibility to the inking units is not restricted in any way.

Constant high quality

The lightweight tensioning and friction shafts are driven by a servo motor and were selected specifically for the Micro SF110 GF. They are especially simple to handle. Print companies acquainted with the heavy shafts typically encountered will immediately appreciate the difference. The servo drive permits extremely exact synchronisation of the foil web to the running speed of the press. Combined with the modern technology for web tension control, this ensures efficient production.

Just like the larger ColdFoil Infigo SF110 module, the Micro SF110 GF delivers constantly high quality. The use of servo motors precludes the need for dancer rollers. The sensitive metallised layer of the cold foil never comes into contact with any press parts or rollers, and there is accordingly no risk of damage. The result is outstanding print quality. Annoying contamination of the inking units with aluminium dust is likewise avoided.

Compact system with good market chances

Johannes Naumann, head of the design office for half and medium formats at KBA, welcomes the development of the new Micro SF110 GF: "We have been working with Vinfoil for many years. The cold foil systems meet and even exceed our expectations with regard to speed and performance." Naumann sees good chances for the new product on the market. "KBA has a very strong standing on the packaging market. With the new compact system, we are able to offer our users real added value - an extremely modern, high-performance cold foil system." A ColdFoil Micro SF110 GF module will be available for print demonstrations on a Rapida 106 in the KBA customer centre in Radebeul from the second quarter of 2014.
Press releases you might also be interested in
Weitere Informationen zum Thema "Produktionstechnik":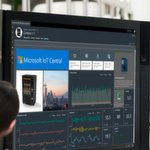 Microsoft startet Public Preview von IoT Central
Die Soft­wa­re-as-a-Ser­vice-Lö­sung Mi­cro­soft IoT Cen­tral ist ab so­fort als Pu­b­lic Pre­view ver­füg­bar. Mit die­ser kön­nen Un­ter­neh­men ver­netz­te Pro­duk­te, Sys­te­me und Ma­schi­nen ent­wi­ckeln, be­reit­s­tel­len und zen­tral ver­wal­ten.
Weiterlesen