Keysight Technologies Enables Prototyping of Next-Generation Mobile Devices with the Industry's First 5G Protocol R&D Toolset
New solution allows global 5G and pre-5G customers to reduce their product development time
SANTA ROSA, Calif.

, (PresseBox) -

Keysight's 5G protocol R&D toolset accelerates chipset and device manufacturers' pre-5G and 5G NR development through efficient testing of advanced protocol features
Keysight is collaborating with 5G market leaders to speed up the development of the latest 5G technologies


Keysight Technologies, Inc. (NYSE: KEYS) today announced the industry's first 5G protocol test solution designed to support leading chipset and device manufacturers developing the next generation of cellular devices. Keysight is currently working with mobile operators on early trials and 5G deployments.

Keysight's 5G Protocol R&D Toolset, the first in a series of network emulation solutions for 5G, covers the diverse global spectrum requirements specified in the pre-5G and 3GPP 5G NR standards. The 5G toolset allows efficient testing of advanced 5G features, including beamforming at mm-Wave frequencies as well as state-of-the-art protocol testing with full access to layer 1 and layer 2 parameters. The built-in protocol state machine enables developers to easily create and execute test cases, debug errors, and fully analyze results, thereby streamlining the 5G device workflow.

5G market leaders across the globe rely on Keysight's experience and expertise in RF and protocol test to speed up the delivery of the latest technologies. Keysight's 5G network emulation solutions offer valuable insights into the performance of prototypes—enabling developers make informed decisions about their designs.

"We are very excited to be at the forefront of the 5G technology and delivering new solutions throughout the 5G ecosystem," said Satish Dhanasekaran, vice president and general manager, Wireless Test, Keysight Technologies. "With the launch of the industry's first 5G protocol R&D toolset, developers will gain the ability to seamlessly prototype designs as they migrate from pre-5G to 5G NR."

Additional Information

More information about the 5G protocol R&D toolset are available at www.keysight.com/find/5G-protocol. Images are available at www.keysight.com/find/5G-protocol-images.  A video demonstration of Keysight's 5G network emulation solutions is available on YouTube.

About Keysight in 5G

The development of 5G depends on up-to-date tools that let designers easily explore new signals, scenarios and topologies. Keysight's 5G solutions are ready to enable deeper insights as development evolves with the standard. In design and test, Keysight is helping industry leaders innovate across new and existing technologies as they transform ideas into reality. Additional information about Keysight's 5G design, test and measurement solutions is available at www.keysight.com/find/5G.
Keysight Technologies Deutschland GmbH
Keysight Technologies is a leading technology company that helps its engineering, enterprise and service provider customers optimize networks and bring electronic products to market faster and at a lower cost. Keysight's solutions go where the electronic signal goes, from design simulation, to prototype validation, to manufacturing test, to optimization in networks and cloud environments. Customers span the worldwide communications ecosystem, aerospace and defense, automotive, energy, semiconductor and general electronics end markets. Keysight generated revenues of $2.9B in fiscal year 2016. In April 2017, Keysight acquired Ixia, a leader in network test, visibility, and security. More information is available at www.keysight.com.
Press releases you might also be interested in
Weitere Informationen zum Thema "Hardware":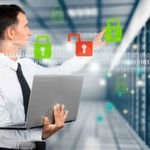 Hyperkonvergente Infrastrukturen vereinfachen den IT-Betrieb
Un­ter­neh­men müs­sen ih­re IT-Be­reit­stel­lungs-Pro­zes­se und In­fra­struk­tu­ren mo­der­ni­sie­ren, um di­gi­tal mit dem Wett­be­werb Schritt zu hal­ten. An den IT-Be­trieb stellt sich des­halb die An­for­de­rung, Fle­xi­bi­li­tät, ein­fa­ches Ma­na­ge­ment, Au­to­ma­ti­sie­rung und Ska­lier­bar­keit zu lie­fern. Wie das mit hy­per­kon­ver­gen­ten Sys­te­men ge­lin­gen kann.
Weiterlesen