Keithley Publishes CD on High Performance Source Measurement Solutions
Cleveland, Ohio

, (PresseBox) -
Keithley Instruments, Inc., Inc., a world leader in advanced electrical test instruments and systems, has published an informative CD entitled, "Configuring Cost-Effective, High Performance Sourcing and Measurement Solutions." A free copy is available upon request from Keithley at: http://www.keithley.com/promo/pr/092.

The CD offers a wide variety of application notes and tutorial information on using Source-Measurement Units (SMUs) in applications such as high power, high brightness LED test, solar cell characterization, and high resistance measurements. SMUs combine the capabilities of a number of instruments, including DC voltage and current sources and a digital multimeter (DMM). These instruments are equally suitable for stand-alone benchtop use and as building blocks in highly scalable system solutions, combining wide I-V dynamic range with tightly synchronized operation. A convenient selector guide simplifies identifying the most appropriate SMUs for a particular application. The CD provides background on Keithley's long-standing position in SMU innovation, as well as a detailed overview of the features and advantages of each of Keithley's SMU families, including links to data sheets, application notes, application briefs, and online demos.

Keithley's 20-year leadership in SMU technology is based on its ability to deliver an unmatched combination of measurement precision and speed for leading applications in the electronics industry. No other SMU product line offers the combination of dynamic signal range, speed and precision, making Keithley's SMU solutions idea for a variety of applications including:

- Semiconductor device fabrication, process development, and product research/design
- Production verification of electronic products such as portable wireless devices
- Production and development of new advanced materials for devices such as solar cells and high brightness LEDs (HBLEDs)

For More Information

To download a free copy of "Cost-effective, High Performance Sourcing and Measurement Solutions" from Keithley, visit: http://www.keithley.com/promo/pr/092. To learn more about Keithley, contact the company at: www.keithley.com.
Keithley Instruments GmbH
With more than 60 years of measurement expertise, Keithley Instruments has become a world leader in advanced electrical test instruments and systems. Our customers are scientists and engineers in the worldwide electronics industry involved with advanced materials research, semiconductor device development and fabrication, and the production of end products such as portable wireless devices. The value we provide them is a combination of products for their critical measurement needs and a rich understanding of their applications to improve the quality of their products and reduce their cost of test. In 2010, Keithley Instruments joined Tektronix as part of its test and measurement portfolio.


Press releases you might also be interested in
Weitere Informationen zum Thema "Hardware":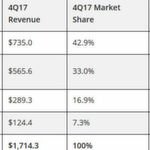 Umsatz konvergenter Systeme legt weltweit zu
Nach An­ga­ben der In­ter­na­tio­nal Da­ta Cor­po­ra­ti­on (IDC) ver­mel­de­te der "World­wi­de Quar­t­er­ly Con­ver­ged Sys­tems Tra­cker" für das vier­te Quar­tal 2017 ei­nen welt­wei­ten An­s­tieg der Um­sät­ze im Be­reich des kon­ver­gen­ten System­mark­tes um 9,1 Pro­zent. Hy­per­kon­ver­gen­te Sys­te­me out­per­for­men, an­de­re Teil­seg­men­te er­leb­ten Rück­gän­ge.
Weiterlesen