New, attractive beach towels
An even wider range of beach towels and cleaning textiles can be produced on the new TM 4 T-EL
Obertshausen

, (PresseBox) -
When you are going on a beach holiday, you must remember one thing - a beach towel. These large terry textiles can be used as a soft surface to lie on. They also keep the sand away and create that special holiday feeling from the moment we begin to pack our suitcases. The new patterns now available mean that this now applies more than ever. Colour plays an important role when designing terry fabrics, but the structures are also becoming more and more important. Smooth edges, relief-like ribs and three-dimensional chessboard patterns increase the range of designs available and highlight the fluffy appearance of these loop-pile fabrics. KARL MAYER has developed a new four-bar tricot machine, the TM 4 T-EL, to produce the various patterns efficiently, and this was successfully launched onto the market in June.

The technical concept

With the introduction of the innovative TM 4 T-EL, KARL MAYER has extended its TM range by another machine for producing home and household textiles. Like its four-bar sister machine that does not have EL control, this new machine features modern drive technology and a new machine concept. All the main components have been harmonised to meet the needs of the customer, from yarn let-off through the knitting elements, to fabric take-down and batching. An important step that was taken to meet the requirements of the market was to integrate electronic guide bar control (EL). In conjunction with the KAMCOS® Motion Control/Multi Speed system, the EL-based technique of producing the patterns has enabled the existing design possibilities to be extended. The Motion Control system manages the electronically controlled yarn let-off, while the Pattern Control is responsible for controlling the ground guide bars. The fabric take-down is also controlled electronically - which gives maximum flexibility during patterning. The parameters of the different designs can be input easily by using a touchscreen. Data can also be transferred using a USB stick or via the company's network.

The patterning advantages of the TM 4 T-EL are combined with a high level of productivity. This new terry machine can reach a maximum speed of 1,400 min-1.

Patterning possibilities and uses

The wide range of options available for designing single- or double-sided loop-pile products are the result of incorporating loop-free areas of any size at any location in both the lengthwise and crosswise directions. The EL control facility is responsible for producing the smooth areas in the horizontal direction. This technical feature also enables large repeats to be worked.

The vertical, flat stripes are produced by the relevant threading-in arrangement. This enables cord-like rib constructions, rectangular patterns in different sizes, multicoloured effects and edges at the end of the piece of fabric to be worked during the warp knitting process. The flat edges can be sewn to produce hems or they can be used as an effective branding tool and embroidered with a trademark. The simulations produced by KARL MAYER's product developers show that the flat areas do not only run in a line but may also be arranged in a zigzag configuration or as a chessboard pattern. In this case, the loops can either be on one side or else not produced at all.

The TM 4 T-EL is particularly suitable for producing different articles sequentially.

In addition to the wide range of patterns that can be produced, the loops are firmly anchored in, and the warp-knitted terry fabrics have a soft feel - characteristics that are not just opening up the market for high-end fleecy fabrics. In fact, these tough microfilament fabrics are also interesting for use as cleaning textiles. The structure of their materials and loop arrangement create a large area for tackling stains and removing even ingrained dirt. They can also be washed easily and dried quickly.

Market launch

The TM 4 T-EL was unveiled at ITMA ASIA + CITME. The venue for this market launch was an in-house show held at KARL MAYER (China) Ltd. that was held on 14 June to coincide with the exhibition. During the course of this show, which was extremely well attended, the new terry machine was showing its capabilities by producing various loop-pile products in sequence. Established Chinese producers of terry fabrics in particular were extremely interested in this new machine. This enabled some promising projects to be initiated and new business to be generated from the moment the machine went on sale.

For the further extension of its four-bar TM series KARL MAYER plans the development of a TM 4-TS EL machine intended for cotton processing. The market launch of the newcomer is scheduled for the fourth quarter 2013.
Press releases you might also be interested in
Weitere Informationen zum Thema "Maschinenbau":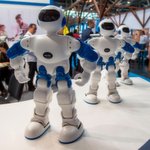 Automatica 2018 mit Themenbereich IT2Industry
Der neue The­men­be­reich "IT2­In­du­s­try" der Au­to­mati­ca 2018 in­for­miert über das Zu­sam­men­spiel von Au­to­ma­ti­sie­rungs- und In­for­ma­ti­ons­tech­no­lo­gie – Kern­be­stand­teil di­gi­ta­ler Au­to­ma­ti­on und Ro­bo­tik. Er lie­fert Un­ter­neh­men Ori­en­tie­rungs­hil­fe zu den ak­tu­el­len Di­gi­ta­li­sie­rung­s­t­rends.
Weiterlesen